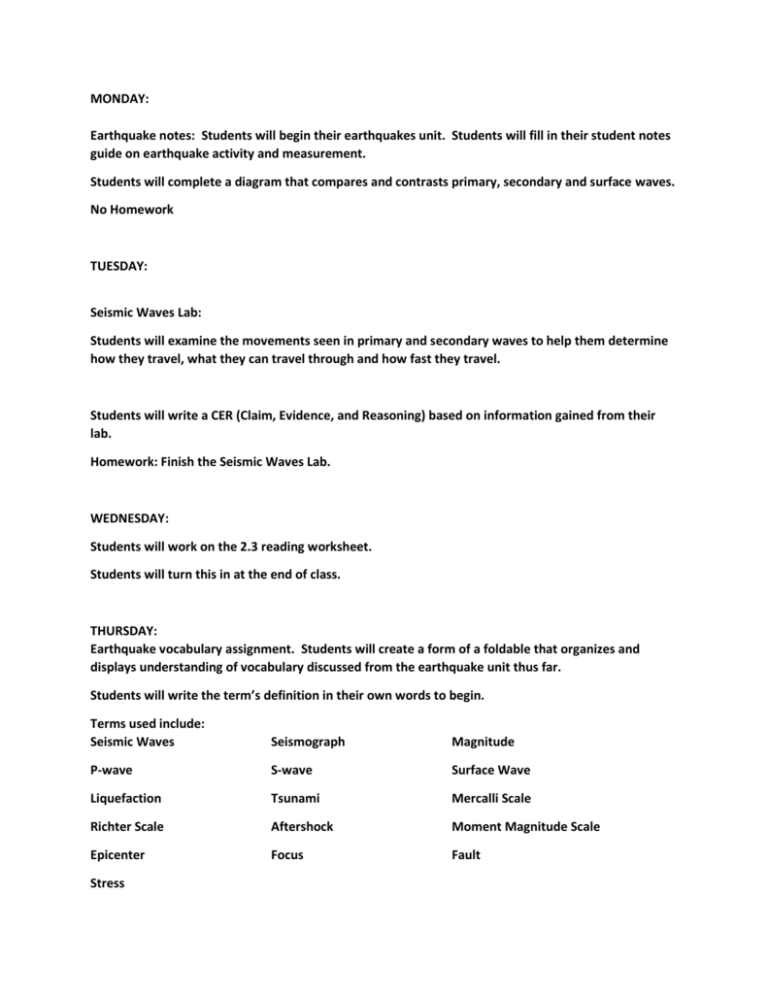 MONDAY:
Earthquake notes: Students will begin their earthquakes unit. Students will fill in their student notes
guide on earthquake activity and measurement.
Students will complete a diagram that compares and contrasts primary, secondary and surface waves.
No Homework
TUESDAY:
Seismic Waves Lab:
Students will examine the movements seen in primary and secondary waves to help them determine
how they travel, what they can travel through and how fast they travel.
Students will write a CER (Claim, Evidence, and Reasoning) based on information gained from their
lab.
Homework: Finish the Seismic Waves Lab.
WEDNESDAY:
Students will work on the 2.3 reading worksheet.
Students will turn this in at the end of class.
THURSDAY:
Earthquake vocabulary assignment. Students will create a form of a foldable that organizes and
displays understanding of vocabulary discussed from the earthquake unit thus far.
Students will write the term's definition in their own words to begin.
Terms used include:
Seismic Waves
Seismograph
Magnitude
P-wave
S-wave
Surface Wave
Liquefaction
Tsunami
Mercalli Scale
Richter Scale
Aftershock
Moment Magnitude Scale
Epicenter
Focus
Fault
Stress
FRIDAY:
Students will take a short quiz covering earthquakes.
Students will complete an earthquake records graph assignment.