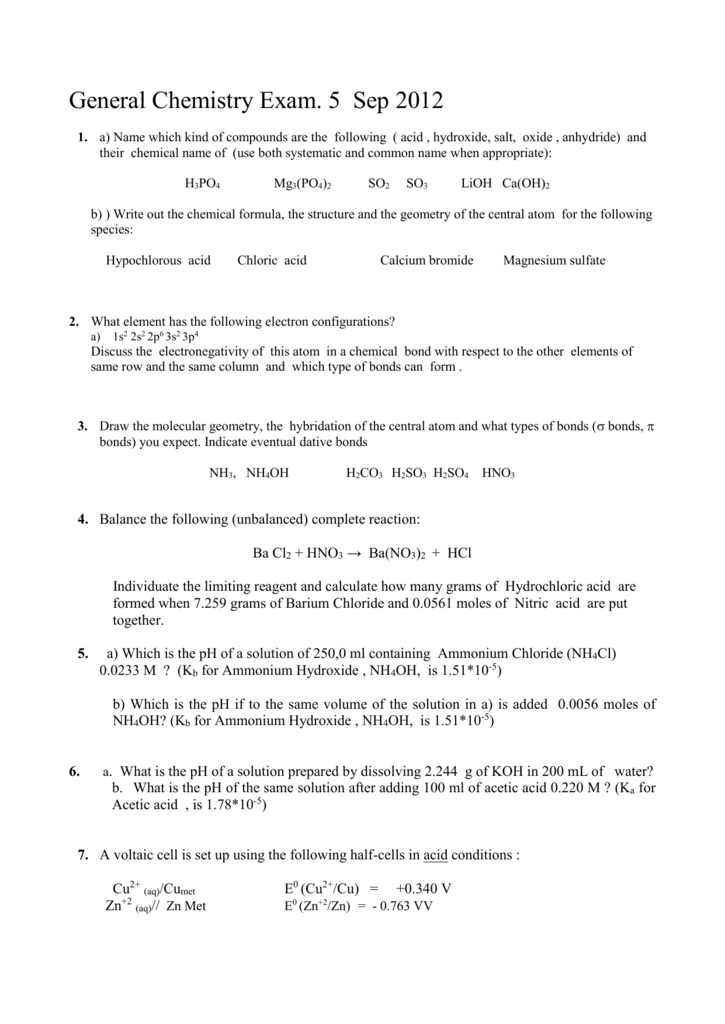 General Chemistry Exam. 5 Sep 2012
1. a) Name which kind of compounds are the following ( acid , hydroxide, salt, oxide , anhydride) and
their chemical name of (use both systematic and common name when appropriate):
H3PO4
Mg3(PO4)2
SO2
SO3
LiOH Ca(OH)2
b) ) Write out the chemical formula, the structure and the geometry of the central atom for the following
species:
Hypochlorous acid
Chloric acid
Calcium bromide
Magnesium sulfate
2. What element has the following electron configurations?
a)
1s2 2s2 2p6 3s2 3p4
Discuss the electronegativity of this atom in a chemical bond with respect to the other elements of
same row and the same column and which type of bonds can form .
3. Draw the molecular geometry, the hybridation of the central atom and what types of bonds ( bonds, 
bonds) you expect. Indicate eventual dative bonds
NH3, NH4OH
H2CO3 H2SO3 H2SO4 HNO3
4. Balance the following (unbalanced) complete reaction:
Ba Cl2 + HNO3 → Ba(NO3)2 + HCl
Individuate the limiting reagent and calculate how many grams of Hydrochloric acid are
formed when 7.259 grams of Barium Chloride and 0.0561 moles of Nitric acid are put
together.
5.
a) Which is the pH of a solution of 250,0 ml containing Ammonium Chloride (NH4Cl)
0.0233 M ? (Kb for Ammonium Hydroxide , NH4OH, is 1.51*10-5)
b) Which is the pH if to the same volume of the solution in a) is added 0.0056 moles of
NH4OH? (Kb for Ammonium Hydroxide , NH4OH, is 1.51*10-5)
6.
a. What is the pH of a solution prepared by dissolving 2.244 g of KOH in 200 mL of water?
b. What is the pH of the same solution after adding 100 ml of acetic acid 0.220 M ? (Ka for
Acetic acid , is 1.78*10-5)
7. A voltaic cell is set up using the following half-cells in acid conditions :
Cu2+ (aq)/Cumet
Zn+2 (aq)// Zn Met
E0 (Cu2+/Cu) =
0
+2
+0.340 V
E (Zn /Zn) = - 0.763 VV
a)
Write down the half-reaction that occurs at the cathode and the one occurring at the anode
and the complete balanced redox reaction.
b) Calculate the cell voltage at 25 ° C when [Cu2+] = 1.00*10-5 M, [Zn+2] = 1.00*10-5 M,
.
8. For the below reaction, you know that at 25°C for the following equilibrium Kc is equal to
0.222 M
H2O+ CO2
H2CO3
a) Calculate the equilibrium composition if one starts
H2O ; 1.00 mole/ L of CO2
and 1.00 mole/L of H2CO3 )
from
(1.00
mole/L
of
9. Describe shortly what is the hybridization in the molecules and its effects in the molecular geometry
with some example.
10. Which is an ionic bond and which are the differences with covalent bonds sigma and Pigrec and
dative. Show some example.
11. Which is the electronegativity ?
12. Which are the differences between atomic s and p orbitals.