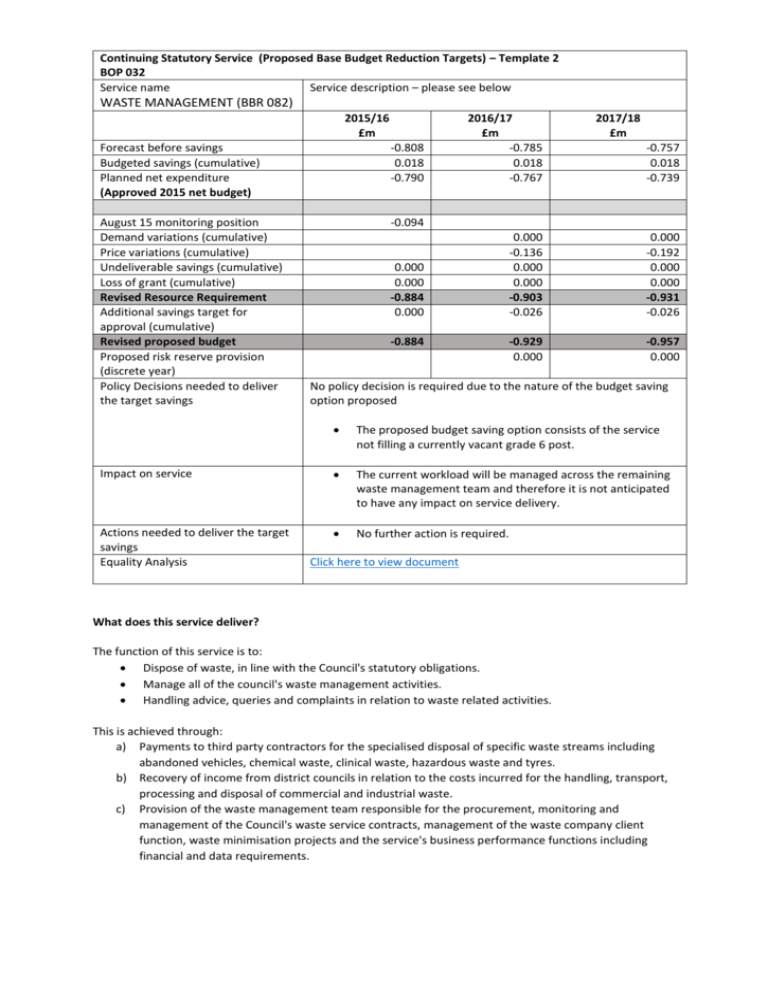 Continuing Statutory Service (Proposed Base Budget Reduction Targets) – Template 2
BOP 032
Service name
Service description – please see below
WASTE MANAGEMENT (BBR 082)
2015/16
£m
Forecast before savings
Budgeted savings (cumulative)
Planned net expenditure
(Approved 2015 net budget)
-0.808
0.018
-0.790
August 15 monitoring position
Demand variations (cumulative)
Price variations (cumulative)
Undeliverable savings (cumulative)
Loss of grant (cumulative)
Revised Resource Requirement
Additional savings target for
approval (cumulative)
Revised proposed budget
Proposed risk reserve provision
(discrete year)
Policy Decisions needed to deliver
the target savings
-0.094
2016/17
£m
-0.785
0.018
-0.767
0.000
0.000
-0.884
0.000
-0.884
2017/18
£m
-0.757
0.018
-0.739
0.000
-0.136
0.000
0.000
-0.903
-0.026
0.000
-0.192
0.000
0.000
-0.931
-0.026
-0.929
0.000
-0.957
0.000
No policy decision is required due to the nature of the budget saving
option proposed

The proposed budget saving option consists of the service
not filling a currently vacant grade 6 post.
Impact on service

The current workload will be managed across the remaining
waste management team and therefore it is not anticipated
to have any impact on service delivery.
Actions needed to deliver the target
savings
Equality Analysis

No further action is required.
Click here to view document
What does this service deliver?
The function of this service is to:
 Dispose of waste, in line with the Council's statutory obligations.
 Manage all of the council's waste management activities.
 Handling advice, queries and complaints in relation to waste related activities.
This is achieved through:
a) Payments to third party contractors for the specialised disposal of specific waste streams including
abandoned vehicles, chemical waste, clinical waste, hazardous waste and tyres.
b) Recovery of income from district councils in relation to the costs incurred for the handling, transport,
processing and disposal of commercial and industrial waste.
c) Provision of the waste management team responsible for the procurement, monitoring and
management of the Council's waste service contracts, management of the waste company client
function, waste minimisation projects and the service's business performance functions including
financial and data requirements.