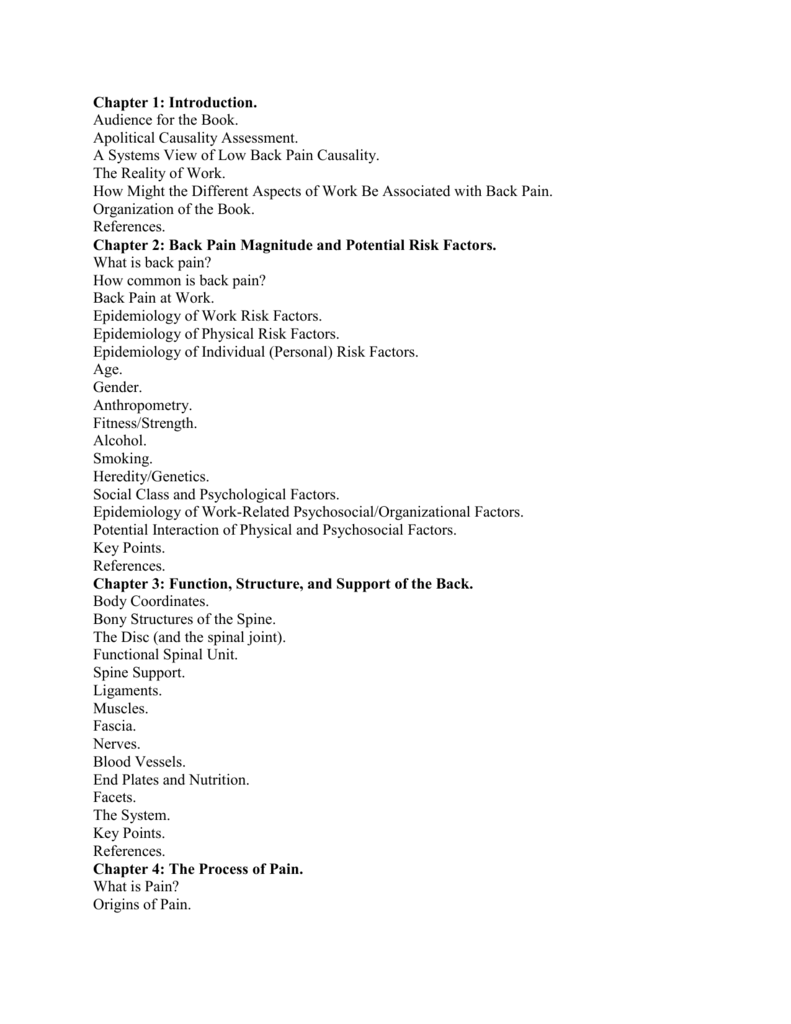 Chapter 1: Introduction.
Audience for the Book.
Apolitical Causality Assessment.
A Systems View of Low Back Pain Causality.
The Reality of Work.
How Might the Different Aspects of Work Be Associated with Back Pain.
Organization of the Book.
References.
Chapter 2: Back Pain Magnitude and Potential Risk Factors.
What is back pain?
How common is back pain?
Back Pain at Work.
Epidemiology of Work Risk Factors.
Epidemiology of Physical Risk Factors.
Epidemiology of Individual (Personal) Risk Factors.
Age.
Gender.
Anthropometry.
Fitness/Strength.
Alcohol.
Smoking.
Heredity/Genetics.
Social Class and Psychological Factors.
Epidemiology of Work-Related Psychosocial/Organizational Factors.
Potential Interaction of Physical and Psychosocial Factors.
Key Points.
References.
Chapter 3: Function, Structure, and Support of the Back.
Body Coordinates.
Bony Structures of the Spine.
The Disc (and the spinal joint).
Functional Spinal Unit.
Spine Support.
Ligaments.
Muscles.
Fascia.
Nerves.
Blood Vessels.
End Plates and Nutrition.
Facets.
The System.
Key Points.
References.
Chapter 4: The Process of Pain.
What is Pain?
Origins of Pain.
Pain Transmission.
The Pain Process.
The Inflammatory Process (Cytokines).
Peripheral Nervous System Sensitization.
Neuropathic Pain: The Cytokine Cascade and Nerve Sensitization.
Pain Mechanisms of the Central Nervous System.
Role of the Environment in Central Sensitization.
Implications for Low Back Pain.
Nerves at Risk of Sensitization.
Tissues at Risk of Sensitization.
Disc and Nerve Roots.
Facet Joints.
Muscular based Pain.
Lumbar Nerve Roots.
Relationship between Tissue Loading and Pain.
Conclusions.
Key Points.
References.
Chapter 5: Potential Pathways to Back Pain.
Views of Back Pain Causality.
A Unifying Model of Low Back Pain Pathways.
The Support Structure Disruption Pathways.
Support Structure Tolerance.
Disc Tolerance Summary.
Pain Tolerance.
The Muscle Function Disruption Pathway.
The Role of Individual Differences in the Pain Pathways.
System Feedback.
Summary.
Key Points.
References.
Chapter 6: The Assessment of Biomechanical Forces Acting on the Low Back.
Biomechanical Concepts Applicable to the Back.
Load - Toleranc.
Moments and Levers.
External vs. Internal Loading.
How can we Modify Internal Spine Loads?
Biomechanical Arrangement of the Musculoskeletal Lever System.
Length-Strength Relationship.
The Impact of Velocity on Muscle Force.
Temporal Relationships.
Incorporating Spine Load Reductions into the Work System.
Loading of the Lumbar Spine.
Spine Load Assessments.
Models of Spine Load.
Biologically-Driven Modeling of Spine Loading.
Stability-Driven Spine Loading Models.
Predictions of Muscle (Motor) Control within Torso.
What Drives Motor Control- - The Mental Model.
Summary.
Key Points.
References.
Chapter 7: The Influence of Physical Work Factors on Muscle Activities and Spine Loads.
Introduction.
Industrial Quantitative Surveillance of Physical Exposure.
Strength Capacity Assessments of Work Load.
Static Analyses of Work Load.
Dynamic Analyses of Work Load.
Surveillance Conclusions.
Spine Loading and Task Performance.
Spine Loading and Primary Physical Workplace Factors.
Moment Exposure.
Role of Trunk Muscle Cocontraction in Spine Loading.
Trunk Motion.
Non-Sagittal Plane Loading.
Lateral Motion.
Twisting Motion.
Task Asymmetry.
Lift Height.
One-Handed vs. Two-Handed Lifting.
Lifting vs. Lowering.
Cumulative Exposure.
Duration of Exposure to Lifting Tasks.
Worker Experience, Task Frequency, and Moment Exposure.
Spine Loading associated with Modification of Physical Workplace Factors.
Handles.
Lifting While Supporting the Body.
Team Lifting.
Pushing and Pulling.
Seated and Constrained Work Postures.
Physical Work Factor Summary.
Relationship between Spine Loading and Observed Risk of Low Back Pain.
Summary.
Key Points.
References.
Chapter 8: Psychosocial and Organizational Factor Influence on Spine Loading.
Introduction.
Psychosocial and Organizational Interactions.
Biomechanical Responses to Psychosocial Environment.
Biomechanical Responses to Mental Stress at Work.
Expectation.
Conclusions.
Key Points.
References.
Chapter 9: Individual Factors Role in Spine Loading.
Introduction.
Gender.
Personality.
Experience.
Conclusions.
Key Points.
References.
Chapter 10: Physical, Individual, and Psychosocial/Organizational Risk Factor
Interactions.
When Risk Factors Collide.
The Magnitude of Influence of the Three Risk Factor Categories.
Can Risk Factor Interactions be Predicted?
Conclusions.
Key Points.
References.
Chapter 11: Engineering Controls to Mediate Back Pain at Work: Tools for the
Assessment of Physical Factor Impact on Spine Loads and Intervention.
Effectiveness.
Introduction.
Static Strength Prediction Programs.
Psychophysical Tolerance Limits.
Job Demand Index.
NIOSH Lifting Guide and Revised Equation.
The 1981 Lifting Guide.
The 1993 Revised Equation.
Video-based biomechanical models.
Lumbar Motion Monitor Risk Assessment.
Lifting Threshold Limit Values (TLVs).
Workplace Assessment Comparisons.
Conclusions.
Key Points.
References.
Chapter 12: Administrative Controls for the Workplace: Psychosocial and Organizational
Interventions.
Implementing Psychosocial and Organizational Change.
Elements of the Process.
Traditional Administrative Controls.
Worker Selection.
Worker Rotation.
Training.
Stretching Programs.
Back Belts.
Summary.
Key Points.
References.
Chapter 13: Integrating Risk Interventions into the Workplace.
Introduction.
Systems Intervention.
Examples of Intervention Effectiveness.
Patient Handling Interventions.
Types of Physical Interventions.
Implementing both Physical and Psychosocial Interventions.
Distribution Center Interventions.
Summary.
Key Points.
References.
Chapter 14: Understanding Recurrent Low Back Pain and Implications for Return to
Work.
Introduction.
The Natural History of Low Back Pain Recovery.
How can one Quantify the Extent of Low Back Pain?
Impairment Assessment.
Effort Sincerity.
Spine Loading of those Experiencing Low Back Pain.
Can Kinematic Impairment Assessments Predict Changes in Spine Loading?
Lifting Exposure Limits for Workers with LBP.
Recurrence of LBP and Work.
A Return-to Work Strategy.
Conclusions.
Key Points.
References.
Chapter 15: Conclusions.
Summary.
References.