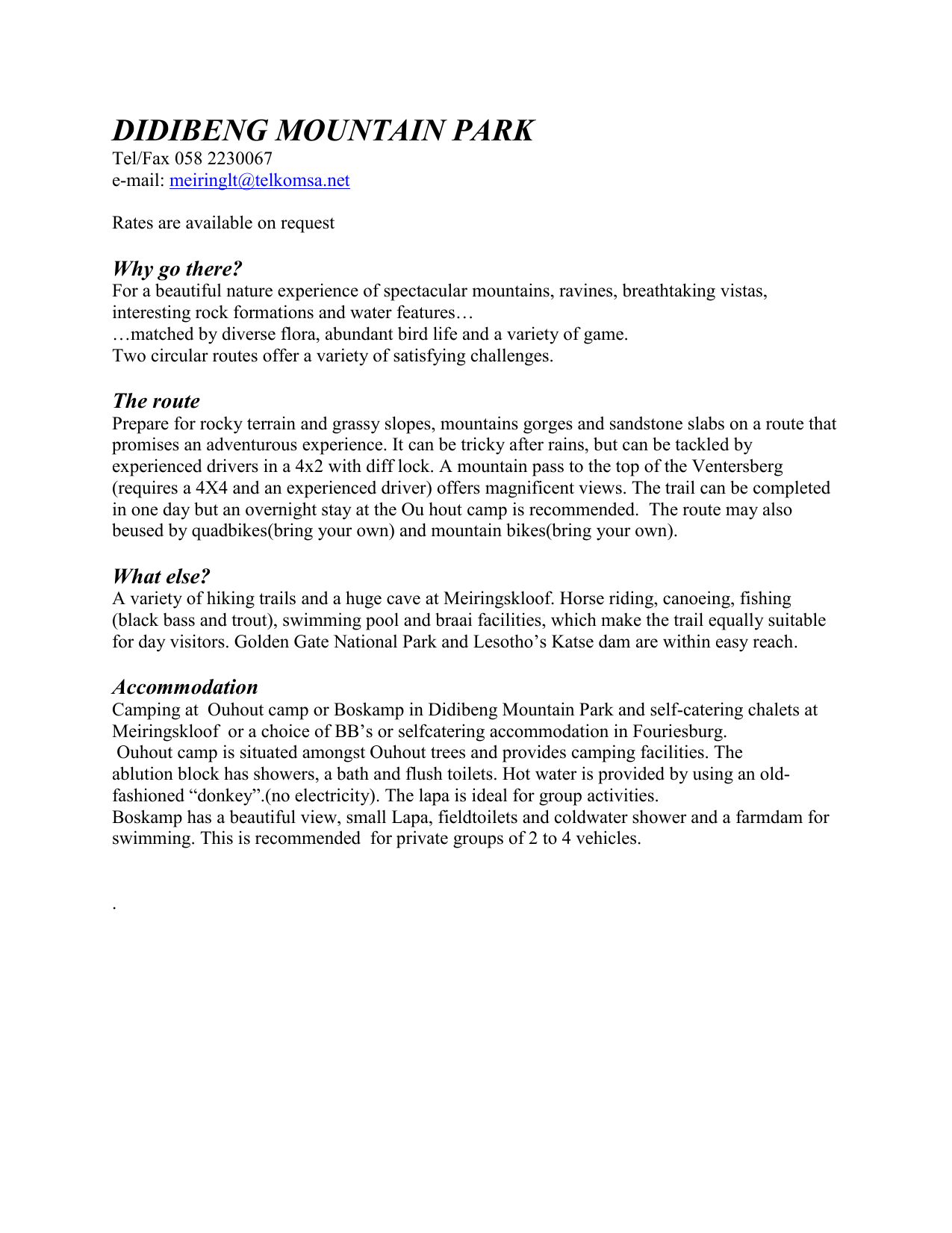 DIDIBENG MOUNTAIN PARK
Tel/Fax 058 2230067
e-mail: [email protected]
Rates are available on request
Why go there?
For a beautiful nature experience of spectacular mountains, ravines, breathtaking vistas,
interesting rock formations and water features…
…matched by diverse flora, abundant bird life and a variety of game.
Two circular routes offer a variety of satisfying challenges.
The route
Prepare for rocky terrain and grassy slopes, mountains gorges and sandstone slabs on a route that
promises an adventurous experience. It can be tricky after rains, but can be tackled by
experienced drivers in a 4x2 with diff lock. A mountain pass to the top of the Ventersberg
(requires a 4X4 and an experienced driver) offers magnificent views. The trail can be completed
in one day but an overnight stay at the Ou hout camp is recommended. The route may also
beused by quadbikes(bring your own) and mountain bikes(bring your own).
What else?
A variety of hiking trails and a huge cave at Meiringskloof. Horse riding, canoeing, fishing
(black bass and trout), swimming pool and braai facilities, which make the trail equally suitable
for day visitors. Golden Gate National Park and Lesotho's Katse dam are within easy reach.
Accommodation
Camping at Ouhout camp or Boskamp in Didibeng Mountain Park and self-catering chalets at
Meiringskloof or a choice of BB's or selfcatering accommodation in Fouriesburg.
Ouhout camp is situated amongst Ouhout trees and provides camping facilities. The
ablution block has showers, a bath and flush toilets. Hot water is provided by using an oldfashioned "donkey".(no electricity). The lapa is ideal for group activities.
Boskamp has a beautiful view, small Lapa, fieldtoilets and coldwater shower and a farmdam for
swimming. This is recommended for private groups of 2 to 4 vehicles.
.