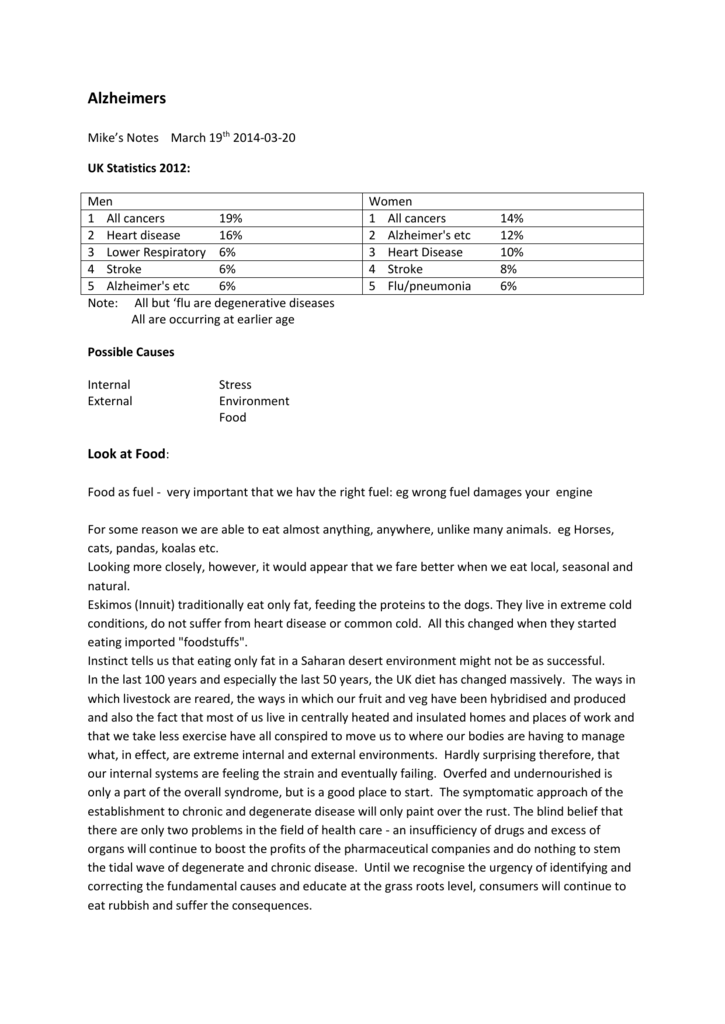 Alzheimers
Mike's Notes March 19th 2014-03-20
UK Statistics 2012:
Men
1 All cancers
19%
2 Heart disease
16%
3 Lower Respiratory 6%
4 Stroke
6%
5 Alzheimer's etc
6%
Note: All but 'flu are degenerative diseases
All are occurring at earlier age
Women
1 All cancers
2 Alzheimer's etc
3 Heart Disease
4 Stroke
5 Flu/pneumonia
14%
12%
10%
8%
6%
Possible Causes
Internal
External
Stress
Environment
Food
Look at Food:
Food as fuel - very important that we hav the right fuel: eg wrong fuel damages your engine
For some reason we are able to eat almost anything, anywhere, unlike many animals. eg Horses,
cats, pandas, koalas etc.
Looking more closely, however, it would appear that we fare better when we eat local, seasonal and
natural.
Eskimos (Innuit) traditionally eat only fat, feeding the proteins to the dogs. They live in extreme cold
conditions, do not suffer from heart disease or common cold. All this changed when they started
eating imported "foodstuffs".
Instinct tells us that eating only fat in a Saharan desert environment might not be as successful.
In the last 100 years and especially the last 50 years, the UK diet has changed massively. The ways in
which livestock are reared, the ways in which our fruit and veg have been hybridised and produced
and also the fact that most of us live in centrally heated and insulated homes and places of work and
that we take less exercise have all conspired to move us to where our bodies are having to manage
what, in effect, are extreme internal and external environments. Hardly surprising therefore, that
our internal systems are feeling the strain and eventually failing. Overfed and undernourished is
only a part of the overall syndrome, but is a good place to start. The symptomatic approach of the
establishment to chronic and degenerate disease will only paint over the rust. The blind belief that
there are only two problems in the field of health care - an insufficiency of drugs and excess of
organs will continue to boost the profits of the pharmaceutical companies and do nothing to stem
the tidal wave of degenerate and chronic disease. Until we recognise the urgency of identifying and
correcting the fundamental causes and educate at the grass roots level, consumers will continue to
eat rubbish and suffer the consequences.