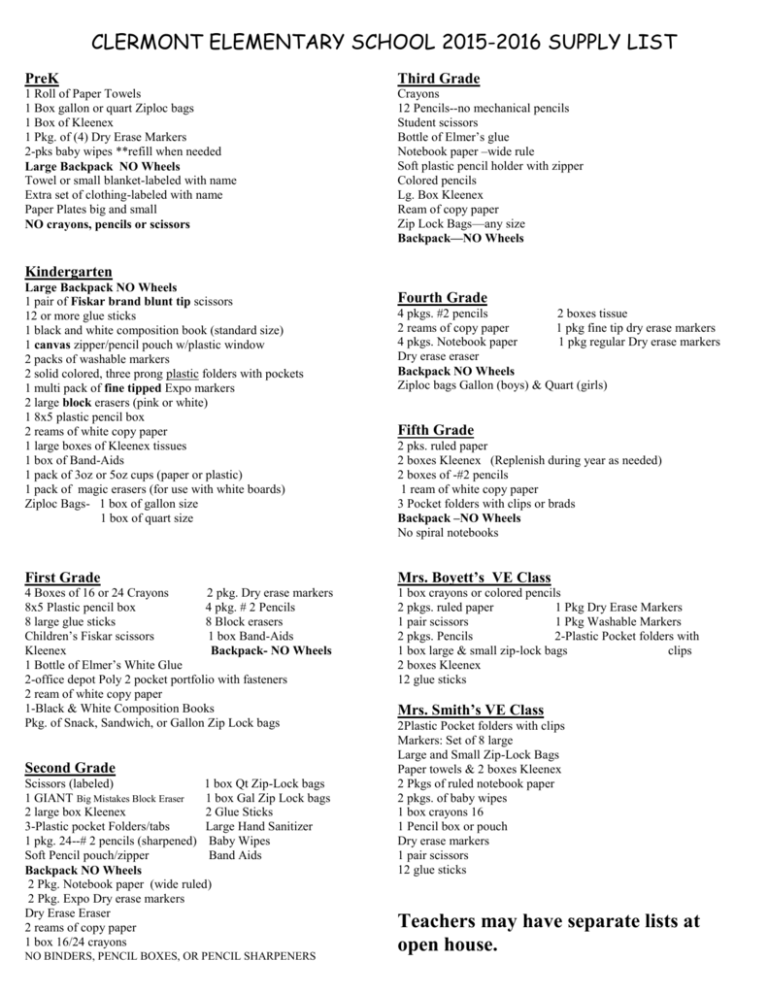 CLERMONT ELEMENTARY SCHOOL 2015-2016 SUPPLY LIST
PreK
Third Grade
1 Roll of Paper Towels
1 Box gallon or quart Ziploc bags
1 Box of Kleenex
1 Pkg. of (4) Dry Erase Markers
2-pks baby wipes **refill when needed
Large Backpack NO Wheels
Towel or small blanket-labeled with name
Extra set of clothing-labeled with name
Paper Plates big and small
NO crayons, pencils or scissors
Crayons
12 Pencils--no mechanical pencils
Student scissors
Bottle of Elmer's glue
Notebook paper –wide rule
Soft plastic pencil holder with zipper
Colored pencils
Lg. Box Kleenex
Ream of copy paper
Zip Lock Bags—any size
Backpack—NO Wheels
Kindergarten
Large Backpack NO Wheels
1 pair of Fiskar brand blunt tip scissors
12 or more glue sticks
1 black and white composition book (standard size)
1 canvas zipper/pencil pouch w/plastic window
2 packs of washable markers
2 solid colored, three prong plastic folders with pockets
1 multi pack of fine tipped Expo markers
2 large block erasers (pink or white)
1 8x5 plastic pencil box
2 reams of white copy paper
1 large boxes of Kleenex tissues
1 box of Band-Aids
1 pack of 3oz or 5oz cups (paper or plastic)
1 pack of magic erasers (for use with white boards)
Ziploc Bags- 1 box of gallon size
1 box of quart size
Fourth Grade
4 pkgs. #2 pencils
2 boxes tissue
2 reams of copy paper
1 pkg fine tip dry erase markers
4 pkgs. Notebook paper
1 pkg regular Dry erase markers
Dry erase eraser
Backpack NO Wheels
Ziploc bags Gallon (boys) & Quart (girls)
Fifth Grade
2 pks. ruled paper
2 boxes Kleenex (Replenish during year as needed)
2 boxes of -#2 pencils
1 ream of white copy paper
3 Pocket folders with clips or brads
Backpack –NO Wheels
No spiral notebooks
First Grade
Mrs. Boyett's VE Class
4 Boxes of 16 or 24 Crayons
2 pkg. Dry erase markers
8x5 Plastic pencil box
4 pkg. # 2 Pencils
8 large glue sticks
8 Block erasers
Children's Fiskar scissors
1 box Band-Aids
Kleenex
Backpack- NO Wheels
1 Bottle of Elmer's White Glue
2-office depot Poly 2 pocket portfolio with fasteners
2 ream of white copy paper
1-Black & White Composition Books
Pkg. of Snack, Sandwich, or Gallon Zip Lock bags
1 box crayons or colored pencils
2 pkgs. ruled paper
1 Pkg Dry Erase Markers
1 pair scissors
1 Pkg Washable Markers
2 pkgs. Pencils
2-Plastic Pocket folders with
1 box large & small zip-lock bags
clips
2 boxes Kleenex
12 glue sticks
Second Grade
Scissors (labeled)
1 box Qt Zip-Lock bags
1 GIANT Big Mistakes Block Eraser
1 box Gal Zip Lock bags
2 large box Kleenex
2 Glue Sticks
3-Plastic pocket Folders/tabs
Large Hand Sanitizer
1 pkg. 24--# 2 pencils (sharpened) Baby Wipes
Soft Pencil pouch/zipper
Band Aids
Backpack NO Wheels
2 Pkg. Notebook paper (wide ruled)
2 Pkg. Expo Dry erase markers
Dry Erase Eraser
2 reams of copy paper
1 box 16/24 crayons
NO BINDERS, PENCIL BOXES, OR PENCIL SHARPENERS
Mrs. Smith's VE Class
2Plastic Pocket folders with clips
Markers: Set of 8 large
Large and Small Zip-Lock Bags
Paper towels & 2 boxes Kleenex
2 Pkgs of ruled notebook paper
2 pkgs. of baby wipes
1 box crayons 16
1 Pencil box or pouch
Dry erase markers
1 pair scissors
12 glue sticks
Teachers may have separate lists at
open house.