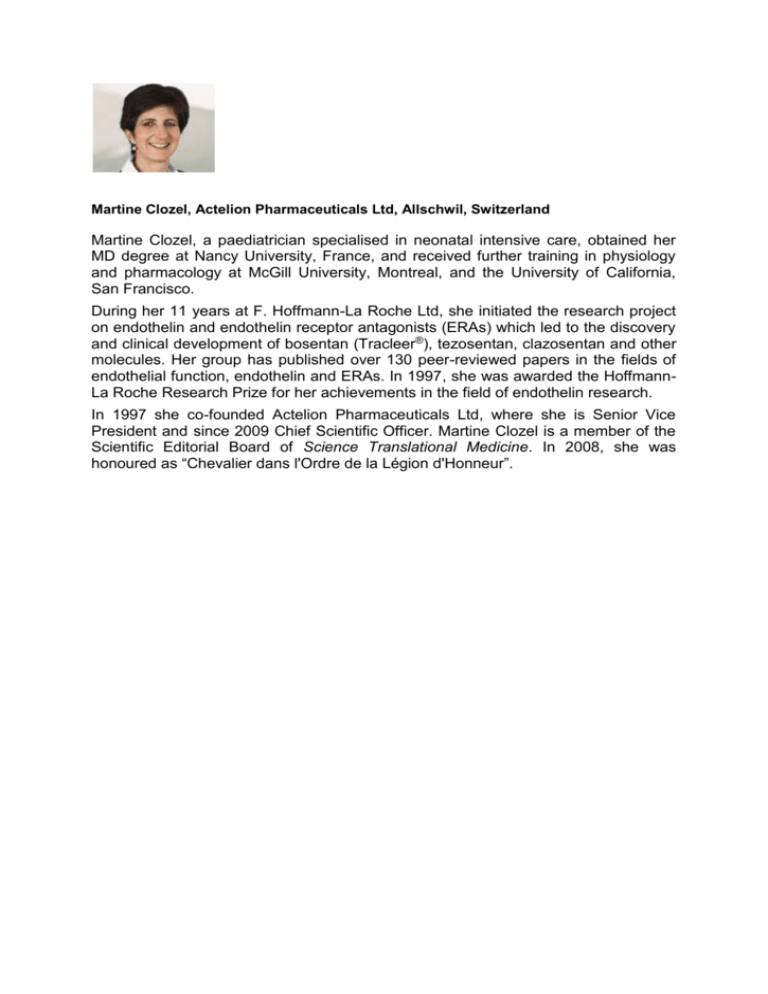 Martine Clozel, Actelion Pharmaceuticals Ltd, Allschwil, Switzerland
Martine Clozel, a paediatrician specialised in neonatal intensive care, obtained her
MD degree at Nancy University, France, and received further training in physiology
and pharmacology at McGill University, Montreal, and the University of California,
San Francisco.
During her 11 years at F. Hoffmann-La Roche Ltd, she initiated the research project
on endothelin and endothelin receptor antagonists (ERAs) which led to the discovery
and clinical development of bosentan (Tracleer®), tezosentan, clazosentan and other
molecules. Her group has published over 130 peer-reviewed papers in the fields of
endothelial function, endothelin and ERAs. In 1997, she was awarded the HoffmannLa Roche Research Prize for her achievements in the field of endothelin research.
In 1997 she co-founded Actelion Pharmaceuticals Ltd, where she is Senior Vice
President and since 2009 Chief Scientific Officer. Martine Clozel is a member of the
Scientific Editorial Board of Science Translational Medicine. In 2008, she was
honoured as "Chevalier dans l'Ordre de la Légion d'Honneur".