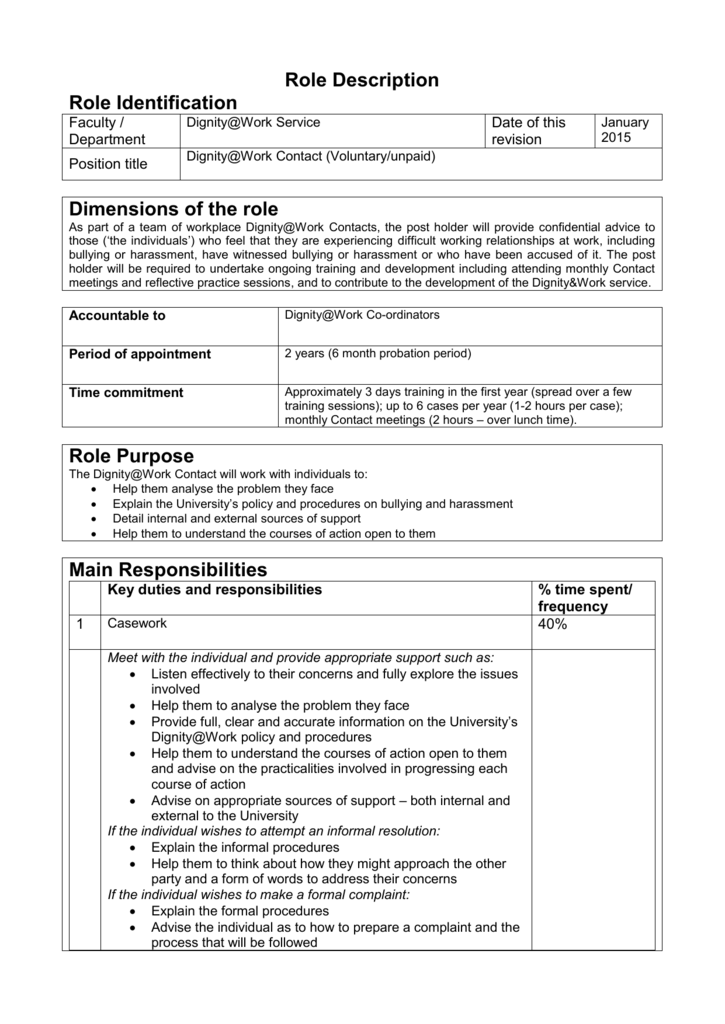 Role Description
Role Identification
Faculty /
Department
Position title
[email protected] Service
Date of this
revision
January
2015
[email protected] Contact (Voluntary/unpaid)
Dimensions of the role
As part of a team of workplace [email protected] Contacts, the post holder will provide confidential advice to
those ('the individuals') who feel that they are experiencing difficult working relationships at work, including
bullying or harassment, have witnessed bullying or harassment or who have been accused of it. The post
holder will be required to undertake ongoing training and development including attending monthly Contact
meetings and reflective practice sessions, and to contribute to the development of the Dignity&Work service.
Accountable to
[email protected] Co-ordinators
Period of appointment
2 years (6 month probation period)
Time commitment
Approximately 3 days training in the first year (spread over a few
training sessions); up to 6 cases per year (1-2 hours per case);
monthly Contact meetings (2 hours – over lunch time).
Role Purpose
The [email protected] Contact will work with individuals to:
 Help them analyse the problem they face
 Explain the University's policy and procedures on bullying and harassment
 Detail internal and external sources of support
 Help them to understand the courses of action open to them
Main Responsibilities
Key duties and responsibilities
1
Casework
Meet with the individual and provide appropriate support such as:
 Listen effectively to their concerns and fully explore the issues
involved
 Help them to analyse the problem they face
 Provide full, clear and accurate information on the University's
[email protected] policy and procedures
 Help them to understand the courses of action open to them
and advise on the practicalities involved in progressing each
course of action
 Advise on appropriate sources of support – both internal and
external to the University
If the individual wishes to attempt an informal resolution:
 Explain the informal procedures
 Help them to think about how they might approach the other
party and a form of words to address their concerns
If the individual wishes to make a formal complaint:
 Explain the formal procedures
 Advise the individual as to how to prepare a complaint and the
process that will be followed
% time spent/
frequency
40%
For statistical records complete an anonymised harassment
monitoring form with the individual and send it to the Dignity at Work
Co-ordinator.
2
Training, Support and Contact Network
 Successfully complete a [email protected] training course prior to
being confirmed as a Contact. Following completion of the
programme the trainers may recommend that certain trainees
should not become Contacts. The trainers will explain the
reasons for their decision to the trainees.
 Successfully complete the Equality and Diversity on-line
training module
 Work with a current [email protected] Contact who will act as a mentor on
initial casework.
 Attend monthly Contact meetings to receive further training
and review work.
 Take part in reflective practice sessions facilitated by the
Counselling Service to learn from shared experience and
explore any emotional feelings or conflicts which arise during
the Contact work. (During these meetings the general nature of
cases will be discussed but the anonymity of particular
individuals will be respected).
 Be available to fellow Contacts to help in assessing how to
support individuals.
30%
3
Operation and Development of the [email protected] Service
 Contribute to the operation and development of the service as
appropriate on a voluntary basis. Assist with:
 Raising awareness of [email protected] (attending
training/presentations)
 Reviewing processes/operating procedures
 Training of new [email protected] Contacts
 Development of marketing material
30%
Person profile
Essential knowledge, skills and experience required for role
Education &
qualifications

No specific requirements
Specialist
knowledge &
skills

An awareness of [email protected] issues and the problems that
might arise in the work place
An awareness of University of Cambridge [email protected] policy
Awareness of issues associated with equality and an
understanding of prejudice
The ability to maintain confidentiality in accordance with existing
policy



Interpersonal &
communication
skills
Communication Skills
 Good listener
 Clear communicator who can engage with people at all levels
 The ability to maintain confidentiality in accordance with existing
policy
 Ability to present information and ideas
 Enquiring and showing interest
 Able to work with clients displaying strong emotions
Interpersonal Skills
 Excellent interpersonal skills
 Empathy for people struggling with [email protected] issues
 Able and willing to be impartial and objective
 Open-minded and non-judgemental
 Ability to help others articulate and explore their problems
 Ability to contribute to learning in a group environment
Relevant
experience
Essential
 Willingness to undertake ongoing personal and professional
development
Desirable
 Prior experience in a listening/support role (inside or outside
work)
 Experience of facilitating and leading informal discussion
 Experience of working with individuals from diverse cultural
backgrounds
Key requirements






Current University of Cambridge employee
Commitment to the principles of equality, dignity and fairness at
work.
Commitment to operating within defined practice standards
The ability to work autonomously
The ability to deal dispassionately with, at times, very disturbing
situations.
The ability to manage workload and time
Additional Information
Contacts are not asked to take cases based in their own department or where there is a potential
conflict of interest.
As the role is voluntary and unpaid, Heads of Department will be asked to allow Contacts to take
reasonable time off work (including, where relevant, time off in lieu of time spent meeting with
staff). For the protection of the individual Contact and his/her work function, there will need to be a
restriction on workloads, a Contact would therefore not be asked to take on a further case if they
are already dealing with one.