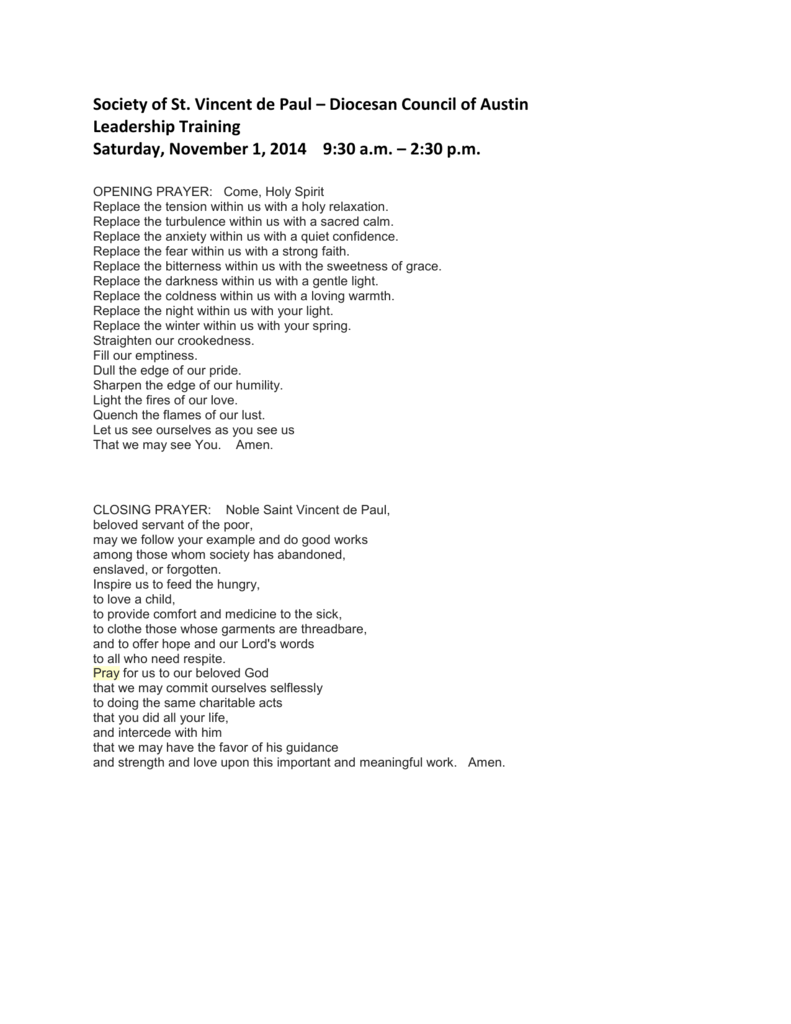 Society of St. Vincent de Paul – Diocesan Council of Austin
Leadership Training
Saturday, November 1, 2014 9:30 a.m. – 2:30 p.m.
OPENING PRAYER: Come, Holy Spirit
Replace the tension within us with a holy relaxation.
Replace the turbulence within us with a sacred calm.
Replace the anxiety within us with a quiet confidence.
Replace the fear within us with a strong faith.
Replace the bitterness within us with the sweetness of grace.
Replace the darkness within us with a gentle light.
Replace the coldness within us with a loving warmth.
Replace the night within us with your light.
Replace the winter within us with your spring.
Straighten our crookedness.
Fill our emptiness.
Dull the edge of our pride.
Sharpen the edge of our humility.
Light the fires of our love.
Quench the flames of our lust.
Let us see ourselves as you see us
That we may see You. Amen.
CLOSING PRAYER: Noble Saint Vincent de Paul,
beloved servant of the poor,
may we follow your example and do good works
among those whom society has abandoned,
enslaved, or forgotten.
Inspire us to feed the hungry,
to love a child,
to provide comfort and medicine to the sick,
to clothe those whose garments are threadbare,
and to offer hope and our Lord's words
to all who need respite.
Pray for us to our beloved God
that we may commit ourselves selflessly
to doing the same charitable acts
that you did all your life,
and intercede with him
that we may have the favor of his guidance
and strength and love upon this important and meaningful work. Amen.