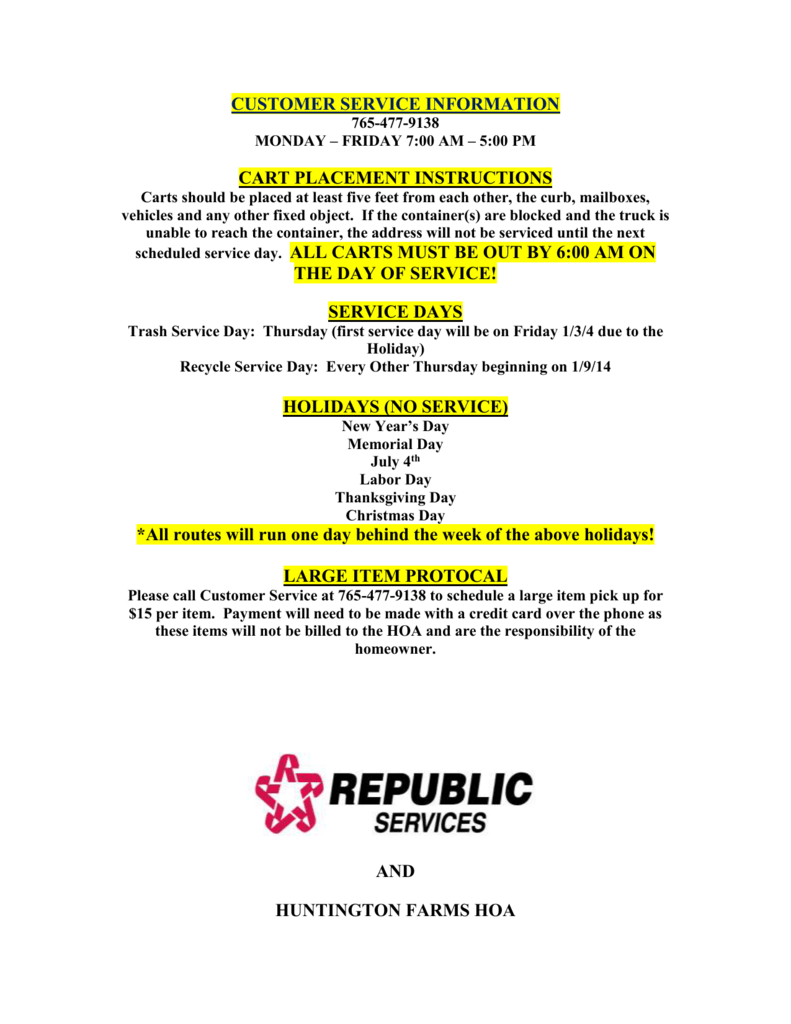 CUSTOMER SERVICE INFORMATION
765-477-9138
MONDAY – FRIDAY 7:00 AM – 5:00 PM
CART PLACEMENT INSTRUCTIONS
Carts should be placed at least five feet from each other, the curb, mailboxes,
vehicles and any other fixed object. If the container(s) are blocked and the truck is
unable to reach the container, the address will not be serviced until the next
scheduled service day. ALL CARTS MUST BE OUT BY 6:00 AM ON
THE DAY OF SERVICE!
SERVICE DAYS
Trash Service Day: Thursday (first service day will be on Friday 1/3/4 due to the
Holiday)
Recycle Service Day: Every Other Thursday beginning on 1/9/14
HOLIDAYS (NO SERVICE)
New Year's Day
Memorial Day
July 4th
Labor Day
Thanksgiving Day
Christmas Day
*All routes will run one day behind the week of the above holidays!
LARGE ITEM PROTOCAL
Please call Customer Service at 765-477-9138 to schedule a large item pick up for
$15 per item. Payment will need to be made with a credit card over the phone as
these items will not be billed to the HOA and are the responsibility of the
homeowner.
AND
HUNTINGTON FARMS HOA
UNACCEPTABLE TRASH ITEMS
ALL APPLIANCES – illegal to dispose of in Indiana landfills
TIRES
PROPANE TANKS
OIL PAINT (we will take latex paint as long as it is dry which you can do by adding
kitty litter)
TREE TRUNKS
ACIDS
AEROSOL SPRAY CANS
AMMUNITION/BULLETTS
ANTIFREEZE
BALLAST
ELECTRONIC WASTE – computers, televisions, LCDs and plasma screens, office
electronics, satellite TV equipment, lithium ion batteries
FIRE EXTINGUISHERS
FIREWORKS – FLARES
FUELS – gas, kerosene, diesel, gas/oil mixes
ITEMS THAT CONTAIN MERCURY
MOTOR OIL
PESTICEDS AND POISONS
POOL AND SPA CHEMICALS
TIPPECANOE COUNTLY SOLID WASTE DISTRICT
Located on N. 9th St. by the County Transfer Station
765-423-9215
*The solid waste district will take most hazardous chemicals listed above. Please
call them for more information
OSCAR WINSKI - METAL
2407 N. 9th St.
765-742-1102
*Oscar Winski will take most metal/recyclable items including appliances. Please
call them for more information.
OSCAR WINSKI – ELECTRONIC DISPOSAL AND RECYCLING
2217 N. 9th St.
765-421-6005
*Please call for more information.
ACCEPTABLE RECYCLING MATERIALS
CARDBOARD
NEWSPAPERS, INSERTS, & JUNK MAIL
EMPTY GLASS JARS AND BOTTLES
ALUMINUM CANS
MAGAZINES
PAPER BACK BOOKS & PHONE BOOKS
PLASTIC MILK, WATER & JUICE JUGS
TIN CANS
OFFICE AND SCHOOL PAPERS
BOXBOARD (cereal, cake & cracker boxes)
BROWN PAPER BAGS (grocery type)
CLEAN FOIL
TIN AND STEEL AEROSOL CANS (empty)
YOUGART CONTAINERS, KETCHUP BOTTLES, BUTTER TUBS ETC.
DETERGENT AND CLEANING CONTAINERS (empty)
COMMONLY MISTAKEN ITEMS – NON RECYCLABLES
LIGHT BULBS
PAINT/SOLVENT CONTAINERS
HANGERS
MIRRORS
TISSUE
STYROFOAM
WINDOWS
SOILED PIZZA BOXES
BATTERIES
PLASTIC BAGS
FOOD WASTE
FOOD TAINTED ITEMS
POLYSTYRENE CUPS OR PLATES
MOTOR OIL BOTTLES
HAZARDOUS CHEMICAL CONTAINERS
PLASTIC TOYS OR SPORTING GOODS
ELECTRONICS
COMPACT DISCS OR DVD'S
FOAM EGG CARTONS
ICE CREAM CARTONS
YARD WASTE
COMMONLY ASKED QUESTIONS
Does the trash inside my cart have to be bagged?
Yes, typically all trash must be bagged and placed inside your cart.
What time does my trash need to be out at the curb?
Carts must be out by 6:00 am on your service day.
Do you take Christmas trees?
Yes. Christmas trees will be taken on your normal service day during the first two weeks
of January. Please remove all tree bags, ornaments, tinsel and stands. Cut all trees taller
than six feet in half.
How can I rent a construction dumpster?
Please call Customer Service at 765-477-9138 for options and pricing.
How do I report a missed pickup?
Please call Customer Service at 765-477-9138.
How do I report a damaged cart?
Please call Customer Service at 765-477-9138 and allow up to one week for replacement.
How do I request a 2nd cart?
Please call Customer Service at 765-477-9138. There is an additional $5 per month
charge and payment is the responsibility of the homeowner and will require a separate
account.