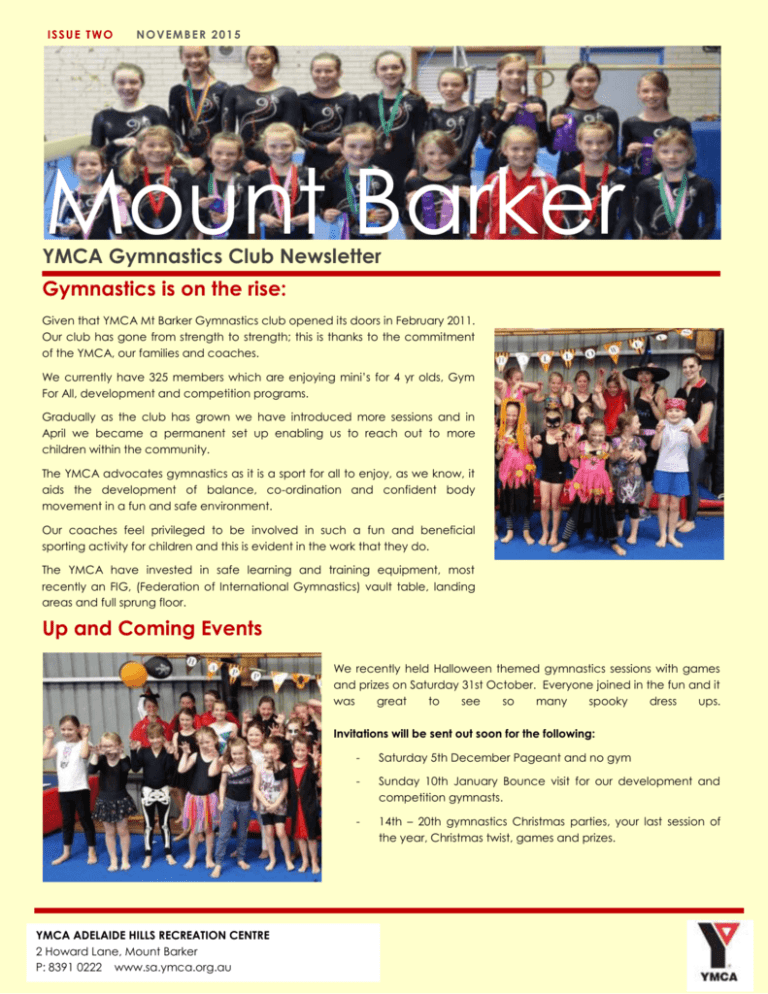 ISSUE TWO
NOVEMBER 2015
Mount Barker
YMCA Gymnastics Club Newsletter
Gymnastics is on the rise:
Given that YMCA Mt Barker Gymnastics club opened its doors in February 2011.
Our club has gone from strength to strength; this is thanks to the commitment
of the YMCA, our families and coaches.
We currently have 325 members which are enjoying mini's for 4 yr olds, Gym
For All, development and competition programs.
Gradually as the club has grown we have introduced more sessions and in
April we became a permanent set up enabling us to reach out to more
children within the community.
The YMCA advocates gymnastics as it is a sport for all to enjoy, as we know, it
aids the development of balance, co-ordination and confident body
movement in a fun and safe environment.
Our coaches feel privileged to be involved in such a fun and beneficial
sporting activity for children and this is evident in the work that they do.
The YMCA have invested in safe learning and training equipment, most
recently an FIG, (Federation of International Gymnastics) vault table, landing
areas and full sprung floor.
Up and Coming Events
We recently held Halloween themed gymnastics sessions with games
and prizes on Saturday 31st October. Everyone joined in the fun and it
was
great
to
see
so
many
spooky
dress
ups.
Invitations will be sent out soon for the following:
YMCA ADELAIDE HILLS RECREATION CENTRE
2 Howard Lane, Mount Barker
P: 8391 0222 www.sa.ymca.org.au
-
Saturday 5th December Pageant and no gym
-
Sunday 10th January Bounce visit for our development and
competition gymnasts.
-
14th – 20th gymnastics Christmas parties, your last session of
the year, Christmas twist, games and prizes.
PAGE 2
Introducing our new
Coaches:
Some new faces you may have noticed
on the floor are our coaches, Holly Oppie
and Emma Mayger both of which have
attained
their
beginner
coach
accreditation and endeavor to achieve
their Intermediate accreditation in
December.
Joanne Mclachlan and Eliza Bullen are
volunteers that you will see assisting in our
sessions, both hold beginner coach
accreditations.
Suspensions:
A reminder on our unique suspension
policy:
Each child is entitled to an additional four
(4) weeks suspension, on top of the four
(4) week break over Christmas. This 4
week suspension can be used at the
parent/guardians discretion throughout
the calendar year. A suspension request
must be made in writing, 24 hours in
advance. Once the reception staff have
received a written request, credits to the
families account will be made. Once the
4 week suspension has been used,
sessions will be charged as normal, unless
it is due to injury or illness again 24 hours'
notice is required unless a doctor's
certificate is provided.
YMCA ADELAIDE HILLS RECREATION CENTRE
2 Howard Lane, Mount Barker
P: 8391 0222 www.sa.ymca.org.au
YMCA GYMNASTICS CLUB NEWSLETTER
Introducing adult gymnastics:
There have been many requests for adult gymnastics. We are extremely
pleased to announce we are starting classes from Monday the 18th
January, this will provide an opportunity for adults to try out or continue in
our amazing sport. You can test yourself in a range of different activities,
build your strength, flexibility and control. Bookings will be required to
participate, please enquire at the reception desk for further information.
Coach Jo Moar, start time 09.30, 1hr session.
Hot weather policy:
Due to the centre not being equipped with a sufficient cooling system,
Adelaide Hills RC has a strict hot weather policy. In these cases,
management will unfortunately have to cancel Adelaide Hills classes and
process a credit onto families' accounts. Classes are cancelled if the
temperate is forecast for 36 degrees or higher in Mount Barker as per the
Bureau of Meteorology website, at 6pm the night before.
Christmas break:
Please be advised our last gym session will be Sunday 20th December
and will recommence on Monday 18th January.
Competition news:
In National competition this year our gymnasts tested their routines and
skills against some of SA's best averaging from 21 to 38 contenders.
Our competition squad excelled and received several medals from first to
third place plus ribbons up to sixth spot on all apparatus. Special mentions
to Ella-Bree Zobel, 3rd place overall trophy winner at the Port Pirie
Invitational. Also, Mia Hutchins on her trophy win at the State
Championships, receiving third place all around.
Well done to our WAG competition squad!