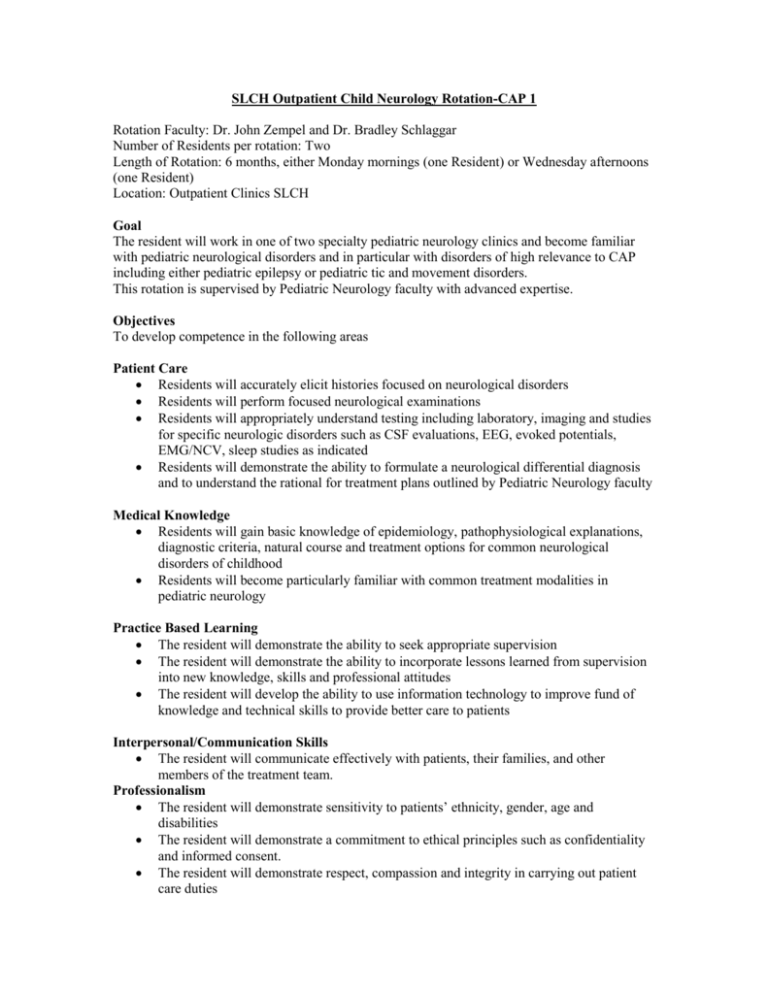 SLCH Outpatient Child Neurology Rotation-CAP 1
Rotation Faculty: Dr. John Zempel and Dr. Bradley Schlaggar
Number of Residents per rotation: Two
Length of Rotation: 6 months, either Monday mornings (one Resident) or Wednesday afternoons
(one Resident)
Location: Outpatient Clinics SLCH
Goal
The resident will work in one of two specialty pediatric neurology clinics and become familiar
with pediatric neurological disorders and in particular with disorders of high relevance to CAP
including either pediatric epilepsy or pediatric tic and movement disorders.
This rotation is supervised by Pediatric Neurology faculty with advanced expertise.
Objectives
To develop competence in the following areas
Patient Care
 Residents will accurately elicit histories focused on neurological disorders
 Residents will perform focused neurological examinations
 Residents will appropriately understand testing including laboratory, imaging and studies
for specific neurologic disorders such as CSF evaluations, EEG, evoked potentials,
EMG/NCV, sleep studies as indicated
 Residents will demonstrate the ability to formulate a neurological differential diagnosis
and to understand the rational for treatment plans outlined by Pediatric Neurology faculty
Medical Knowledge
 Residents will gain basic knowledge of epidemiology, pathophysiological explanations,
diagnostic criteria, natural course and treatment options for common neurological
disorders of childhood
 Residents will become particularly familiar with common treatment modalities in
pediatric neurology
Practice Based Learning
 The resident will demonstrate the ability to seek appropriate supervision
 The resident will demonstrate the ability to incorporate lessons learned from supervision
into new knowledge, skills and professional attitudes
 The resident will develop the ability to use information technology to improve fund of
knowledge and technical skills to provide better care to patients
Interpersonal/Communication Skills
 The resident will communicate effectively with patients, their families, and other
members of the treatment team.
Professionalism
 The resident will demonstrate sensitivity to patients' ethnicity, gender, age and
disabilities
 The resident will demonstrate a commitment to ethical principles such as confidentiality
and informed consent.
 The resident will demonstrate respect, compassion and integrity in carrying out patient
care duties


The resident will demonstrate a commitment to pursuing professional development
activities
Residents will complete documentation of patient encounters in a timely fashion
Systems-Based Practice
 The resident will demonstrate effective coordination of care with a multidisciplinary
treatment team
Measurement of Objectives
The objectives will be measured by attendance and by formal evaluation of the resident's
participation and knowledge.
Description of Rotation
Residents will be assigned to teams consisting of an attending neurologist, neurology resident
physicians and medical students doing neurology clerkships. They will evaluate and treat patients
requiring inpatient hospitalization on the neurology service. Residents may be assigned to the
neurology consultation service if they choose a selective in neurology. Residents are expected to
attend didactic conferences occurring in the Department of Neurology during their rotations.