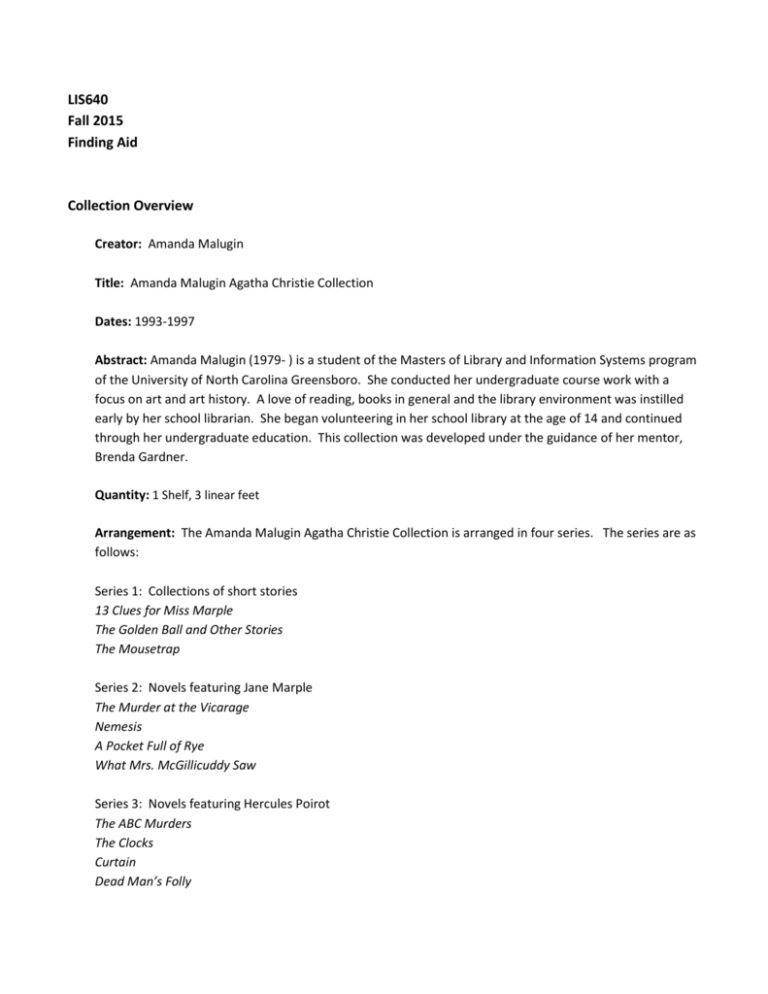 LIS640
Fall 2015
Finding Aid
Collection Overview
Creator: Amanda Malugin
Title: Amanda Malugin Agatha Christie Collection
Dates: 1993-1997
Abstract: Amanda Malugin (1979- ) is a student of the Masters of Library and Information Systems program
of the University of North Carolina Greensboro. She conducted her undergraduate course work with a
focus on art and art history. A love of reading, books in general and the library environment was instilled
early by her school librarian. She began volunteering in her school library at the age of 14 and continued
through her undergraduate education. This collection was developed under the guidance of her mentor,
Brenda Gardner.
Quantity: 1 Shelf, 3 linear feet
Arrangement: The Amanda Malugin Agatha Christie Collection is arranged in four series. The series are as
follows:
Series 1: Collections of short stories
13 Clues for Miss Marple
The Golden Ball and Other Stories
The Mousetrap
Series 2: Novels featuring Jane Marple
The Murder at the Vicarage
Nemesis
A Pocket Full of Rye
What Mrs. McGillicuddy Saw
Series 3: Novels featuring Hercules Poirot
The ABC Murders
The Clocks
Curtain
Dead Man's Folly
Death on the Nile
Elephants Can Remember
Funerals are Fatal
A Holiday for Murder
Murder in the Mews
The Murder of Roger Ackroyd
Murder on the Links
Murder on the Orient Express
The Mysterious Affair at Styles
The Mystery of the Blue Train
Peril at End House
Poirot Loses a Client
Surprise! Surprise!
There is a Tide…
Third Girl
Series 4: Novels without common character
And Then There Were None
Crooked House
The Man in the Brown Suit
Murder is Easy
Passenger to Frankfurt
Postern of Fate
Scope and Content Note:
The collection contains 33 novels by mystery writer Agatha Christie. This includes both hardback and
paperback printings with publication dates ranging from 1954 to 1992.
Administrative Information
Repository: Malugin Thomas Personal Library, Charlotte, NC
Access Restrictions: Open for research without restrictions.
Use Restrictions: Copyright is retained by the creator. Permission to remove articles from the direct
premises must be obtained in writing in advance.
Acquisition Source: The books in this collection were purchased over a period of four years from Melody's
Preowned Paperback, Columbia TN.