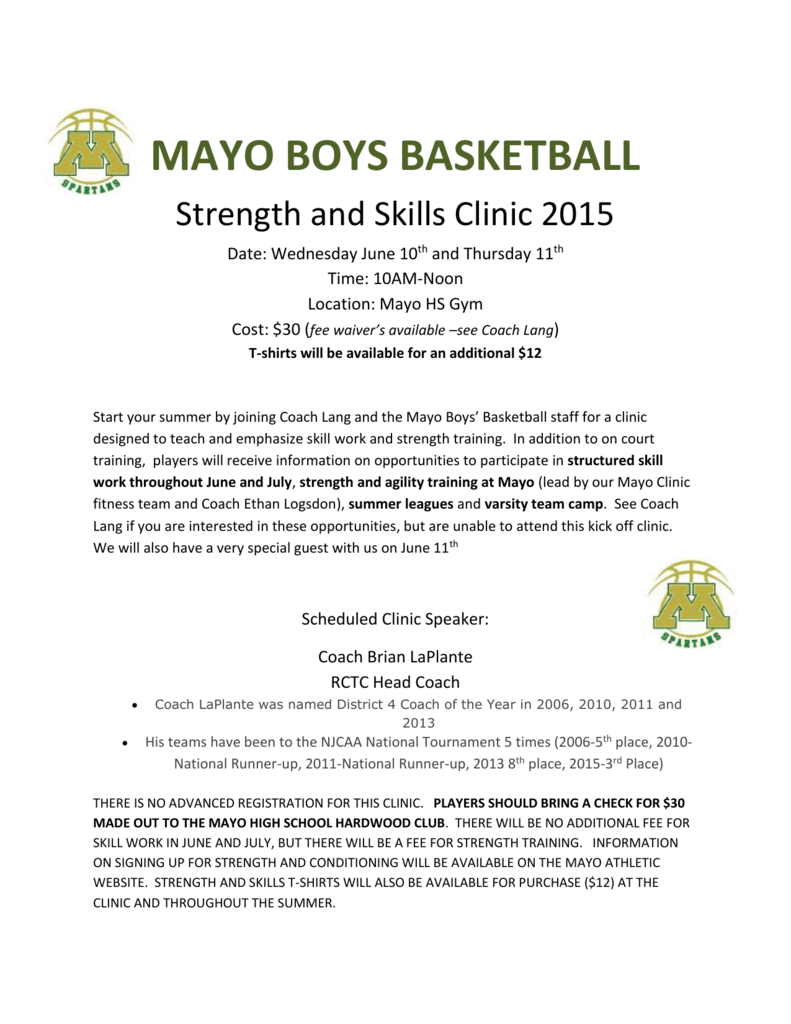 MAYO BOYS BASKETBALL
Strength and Skills Clinic 2015
Date: Wednesday June 10th and Thursday 11th
Time: 10AM-Noon
Location: Mayo HS Gym
Cost: $30 (fee waiver's available –see Coach Lang)
T-shirts will be available for an additional $12
Start your summer by joining Coach Lang and the Mayo Boys' Basketball staff for a clinic
designed to teach and emphasize skill work and strength training. In addition to on court
training, players will receive information on opportunities to participate in structured skill
work throughout June and July, strength and agility training at Mayo (lead by our Mayo Clinic
fitness team and Coach Ethan Logsdon), summer leagues and varsity team camp. See Coach
Lang if you are interested in these opportunities, but are unable to attend this kick off clinic.
We will also have a very special guest with us on June 11th
Scheduled Clinic Speaker:
Coach Brian LaPlante
RCTC Head Coach


Coach LaPlante was named District 4 Coach of the Year in 2006, 2010, 2011 and
2013
His teams have been to the NJCAA National Tournament 5 times (2006-5th place, 2010National Runner-up, 2011-National Runner-up, 2013 8th place, 2015-3rd Place)
THERE IS NO ADVANCED REGISTRATION FOR THIS CLINIC. PLAYERS SHOULD BRING A CHECK FOR $30
MADE OUT TO THE MAYO HIGH SCHOOL HARDWOOD CLUB. THERE WILL BE NO ADDITIONAL FEE FOR
SKILL WORK IN JUNE AND JULY, BUT THERE WILL BE A FEE FOR STRENGTH TRAINING. INFORMATION
ON SIGNING UP FOR STRENGTH AND CONDITIONING WILL BE AVAILABLE ON THE MAYO ATHLETIC
WEBSITE. STRENGTH AND SKILLS T-SHIRTS WILL ALSO BE AVAILABLE FOR PURCHASE ($12) AT THE
CLINIC AND THROUGHOUT THE SUMMER.