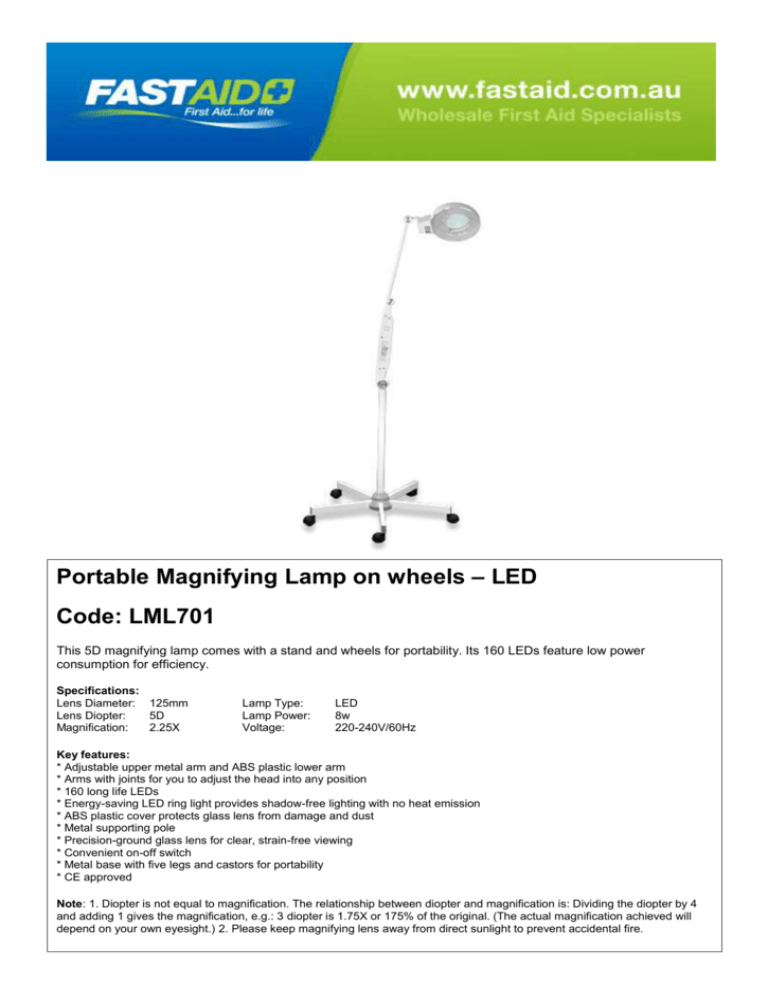 Portable Magnifying Lamp on wheels – LED
Code: LML701
This 5D magnifying lamp comes with a stand and wheels for portability. Its 160 LEDs feature low power
consumption for efficiency.
Specifications:
Lens Diameter: 125mm
Lens Diopter:
5D
Magnification:
2.25X
Lamp Type:
Lamp Power:
Voltage:
LED
8w
220-240V/60Hz
Key features:
* Adjustable upper metal arm and ABS plastic lower arm
* Arms with joints for you to adjust the head into any position
* 160 long life LEDs
* Energy-saving LED ring light provides shadow-free lighting with no heat emission
* ABS plastic cover protects glass lens from damage and dust
* Metal supporting pole
* Precision-ground glass lens for clear, strain-free viewing
* Convenient on-off switch
* Metal base with five legs and castors for portability
* CE approved
Note: 1. Diopter is not equal to magnification. The relationship between diopter and magnification is: Dividing the diopter by 4
and adding 1 gives the magnification, e.g.: 3 diopter is 1.75X or 175% of the original. (The actual magnification achieved will
depend on your own eyesight.) 2. Please keep magnifying lens away from direct sunlight to prevent accidental fire.