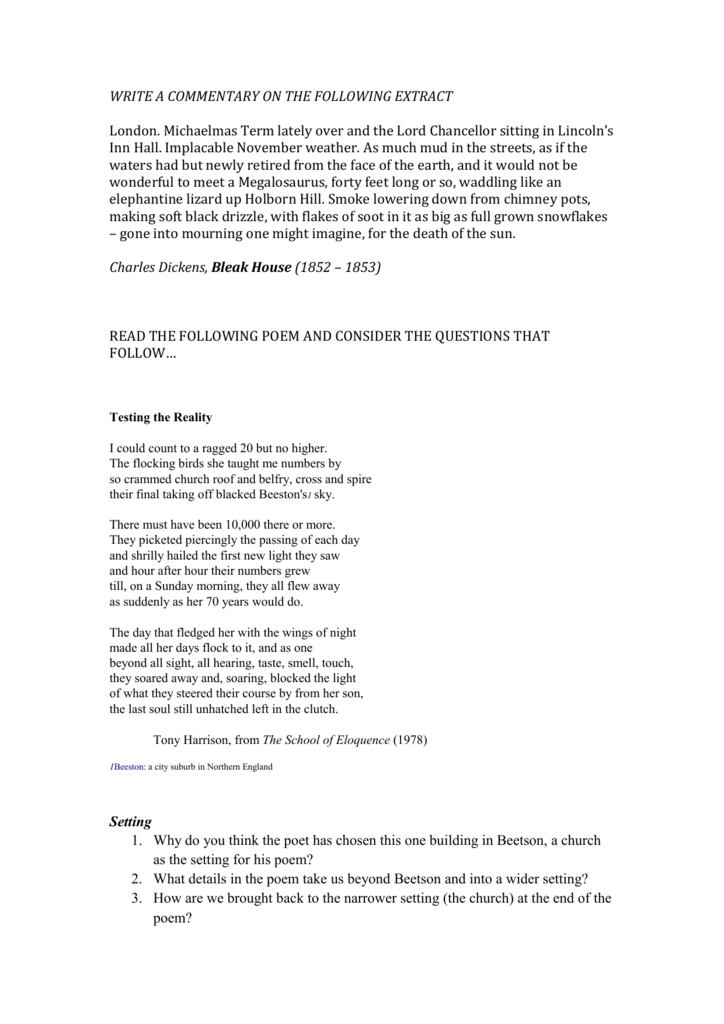 WRITE A COMMENTARY ON THE FOLLOWING EXTRACT
London. Michaelmas Term lately over and the Lord Chancellor sitting in Lincoln's
Inn Hall. Implacable November weather. As much mud in the streets, as if the
waters had but newly retired from the face of the earth, and it would not be
wonderful to meet a Megalosaurus, forty feet long or so, waddling like an
elephantine lizard up Holborn Hill. Smoke lowering down from chimney pots,
making soft black drizzle, with flakes of soot in it as big as full grown snowflakes
– gone into mourning one might imagine, for the death of the sun.
Charles Dickens, Bleak House (1852 – 1853)
READ THE FOLLOWING POEM AND CONSIDER THE QUESTIONS THAT
FOLLOW…
Testing the Reality
I could count to a ragged 20 but no higher.
The flocking birds she taught me numbers by
so crammed church roof and belfry, cross and spire
their final taking off blacked Beeston's1 sky.
There must have been 10,000 there or more.
They picketed piercingly the passing of each day
and shrilly hailed the first new light they saw
and hour after hour their numbers grew
till, on a Sunday morning, they all flew away
as suddenly as her 70 years would do.
The day that fledged her with the wings of night
made all her days flock to it, and as one
beyond all sight, all hearing, taste, smell, touch,
they soared away and, soaring, blocked the light
of what they steered their course by from her son,
the last soul still unhatched left in the clutch.
Tony Harrison, from The School of Eloquence (1978)
1Beeston: a city suburb in Northern England
Setting
1. Why do you think the poet has chosen this one building in Beetson, a church
as the setting for his poem?
2. What details in the poem take us beyond Beetson and into a wider setting?
3. How are we brought back to the narrower setting (the church) at the end of the
poem?
Character
1. lines 1 – 2 How does the poet suggest the age of the poet when this first
event (the flying away of the birds) occurred?
2. lines 14 – 16 What do we learn in thes lines about the poet's feelings at
the death of his mother?
Action
1. Two events are described in the poem. How are the connected?
2. How much time separates the events?
Style
1. How does the poet convey the idea that the number of birds was very
high?
2. Lines 13 and 16 are connected by their rhyme. How does that emphasise
the feelings you identified in your previous answer?
Ideas
1. Try to suggest in a short phrase of your own what the poem is 'about'.