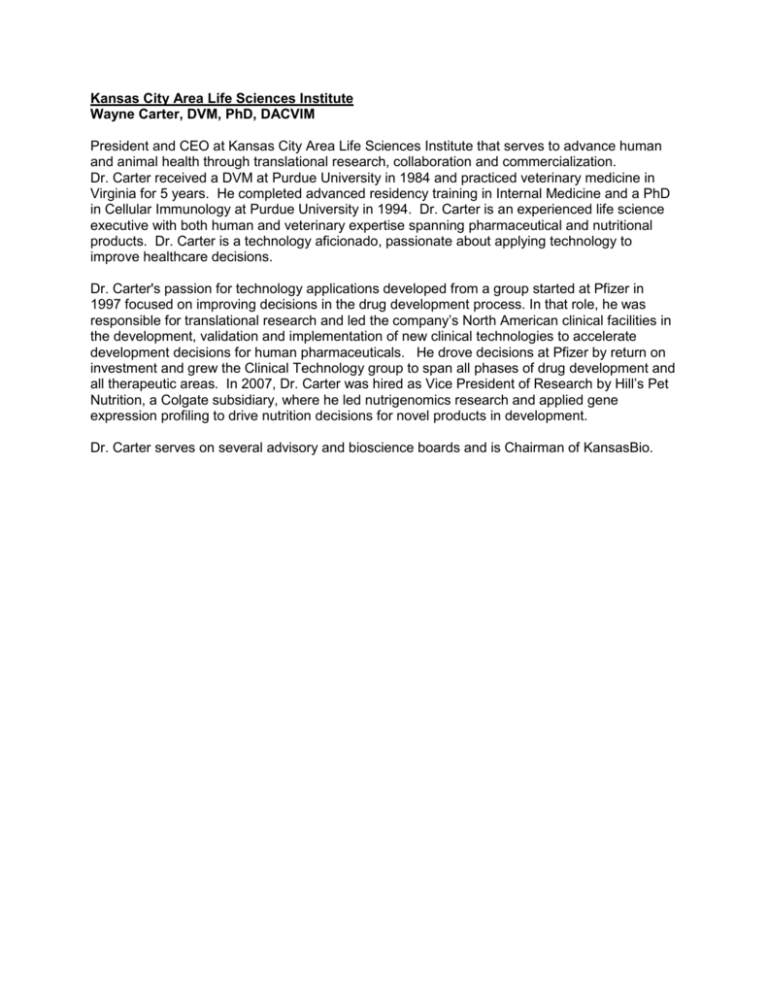 Kansas City Area Life Sciences Institute
Wayne Carter, DVM, PhD, DACVIM
President and CEO at Kansas City Area Life Sciences Institute that serves to advance human
and animal health through translational research, collaboration and commercialization.
Dr. Carter received a DVM at Purdue University in 1984 and practiced veterinary medicine in
Virginia for 5 years. He completed advanced residency training in Internal Medicine and a PhD
in Cellular Immunology at Purdue University in 1994. Dr. Carter is an experienced life science
executive with both human and veterinary expertise spanning pharmaceutical and nutritional
products. Dr. Carter is a technology aficionado, passionate about applying technology to
improve healthcare decisions.
Dr. Carter's passion for technology applications developed from a group started at Pfizer in
1997 focused on improving decisions in the drug development process. In that role, he was
responsible for translational research and led the company's North American clinical facilities in
the development, validation and implementation of new clinical technologies to accelerate
development decisions for human pharmaceuticals. He drove decisions at Pfizer by return on
investment and grew the Clinical Technology group to span all phases of drug development and
all therapeutic areas. In 2007, Dr. Carter was hired as Vice President of Research by Hill's Pet
Nutrition, a Colgate subsidiary, where he led nutrigenomics research and applied gene
expression profiling to drive nutrition decisions for novel products in development.
Dr. Carter serves on several advisory and bioscience boards and is Chairman of KansasBio.