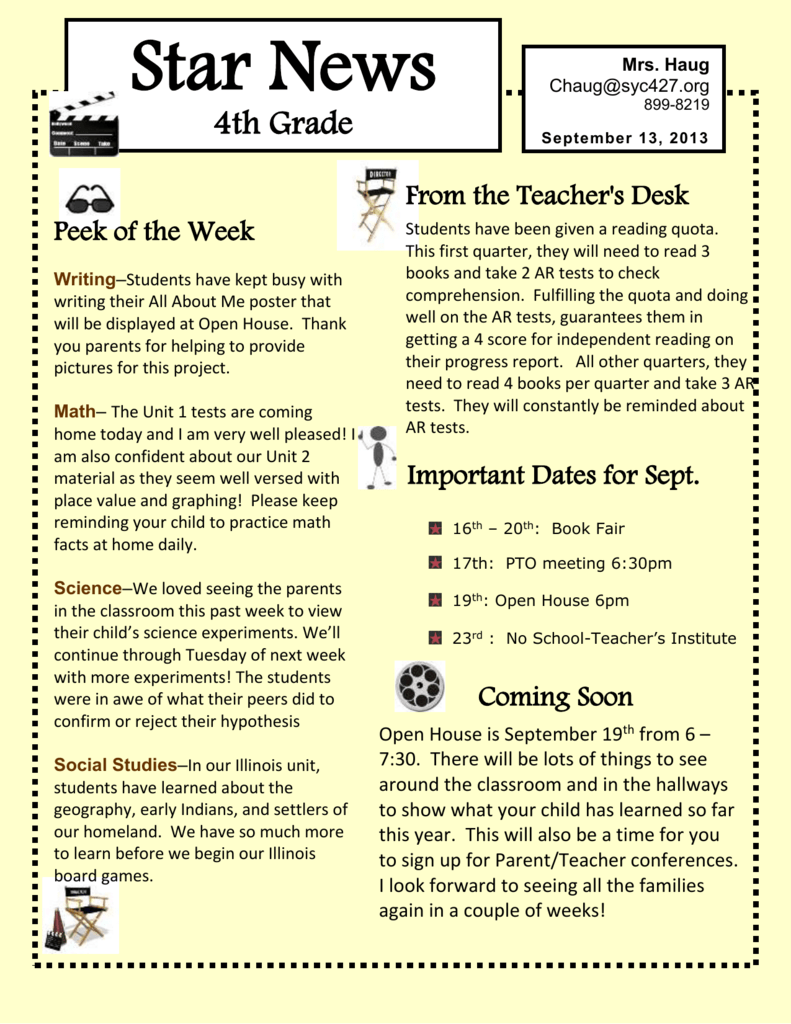 Star News
in
4th Grade
Mrs. Haug
[email protected]
899-8219
September 13, 2013
From the Teacher's Desk
Peek of the Week
Writing–Students have kept busy with
writing their All About Me poster that
will be displayed at Open House. Thank
you parents for helping to provide
pictures for this project.
Math– The Unit 1 tests are coming
home today and I am very well pleased! I
am also confident about our Unit 2
material as they seem well versed with
place value and graphing! Please keep
reminding your child to practice math
facts at home daily.
Science–We loved seeing the parents
in the classroom this past week to view
their child's science experiments. We'll
continue through Tuesday of next week
with more experiments! The students
were in awe of what their peers did to
confirm or reject their hypothesis
Social Studies–In our Illinois unit,
students have learned about the
geography, early Indians, and settlers of
our homeland. We have so much more
to learn before we begin our Illinois
board games.
Students have been given a reading quota.
This first quarter, they will need to read 3
books and take 2 AR tests to check
comprehension. Fulfilling the quota and doing
well on the AR tests, guarantees them in
getting a 4 score for independent reading on
their progress report. All other quarters, they
need to read 4 books per quarter and take 3 AR
tests. They will constantly be reminded about
AR tests.
Important Dates for Sept.
16th – 20th: Book Fair
17th: PTO meeting 6:30pm
19th: Open House 6pm
23rd : No School-Teacher's Institute
Coming Soon
Open House is September 19th from 6 –
7:30. There will be lots of things to see
around the classroom and in the hallways
to show what your child has learned so far
this year. This will also be a time for you
to sign up for Parent/Teacher conferences.
I look forward to seeing all the families
again in a couple of weeks!
Star News Page 2
Students will begin to take reading assessments on fluency and
The Learning Corner
We are looking forward to our
upcoming field trip! I am really excited
for those students who have never
been on a farm. Not only 1 farm are
we visiting, but 3 farms! We are
grateful to DeKalb County Farm Bureau
for the grant to pay for our bus and for
our chaperones that will be assisting
the groups of students. Let's hope for
great weather!
Online Resources
One or two websites that are recommended
are:
http://www.illinoisattorneygeneral.gov/childr
en/kids/factstable.html
Find out some cool and interesting facts
about our state of Illinois. Will be a good
resource when seeking out information for
Illinois State board game.
Reminders to Students
Birthdays
Show our core values each
and every day!
When tardy, be sure to stop
by office before coming to
classroom.
Earn stamps by getting
assignment notebook
signed, completing
homework and reading each
day.
No September birthdays
in our classroom!
Featuring
Kayla
for doing so well on her Aimsweb
fluency assessment.
Avery for being a great leader in her
experiment group.
Brayden for keeping up with his reading log
in his journal
.