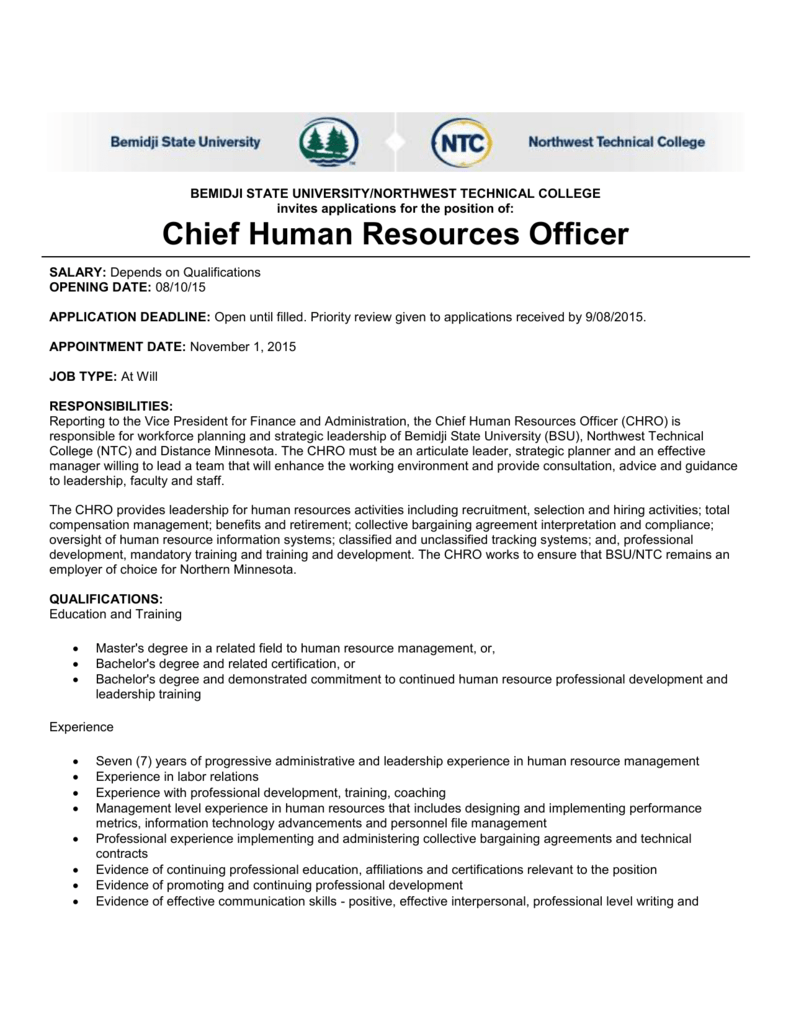 BEMIDJI STATE UNIVERSITY/NORTHWEST TECHNICAL COLLEGE
invites applications for the position of:
Chief Human Resources Officer
SALARY: Depends on Qualifications
OPENING DATE: 08/10/15
APPLICATION DEADLINE: Open until filled. Priority review given to applications received by 9/08/2015.
APPOINTMENT DATE: November 1, 2015
JOB TYPE: At Will
RESPONSIBILITIES:
Reporting to the Vice President for Finance and Administration, the Chief Human Resources Officer (CHRO) is
responsible for workforce planning and strategic leadership of Bemidji State University (BSU), Northwest Technical
College (NTC) and Distance Minnesota. The CHRO must be an articulate leader, strategic planner and an effective
manager willing to lead a team that will enhance the working environment and provide consultation, advice and guidance
to leadership, faculty and staff.
The CHRO provides leadership for human resources activities including recruitment, selection and hiring activities; total
compensation management; benefits and retirement; collective bargaining agreement interpretation and compliance;
oversight of human resource information systems; classified and unclassified tracking systems; and, professional
development, mandatory training and training and development. The CHRO works to ensure that BSU/NTC remains an
employer of choice for Northern Minnesota.
QUALIFICATIONS:
Education and Training



Master's degree in a related field to human resource management, or,
Bachelor's degree and related certification, or
Bachelor's degree and demonstrated commitment to continued human resource professional development and
leadership training
Experience








Seven (7) years of progressive administrative and leadership experience in human resource management
Experience in labor relations
Experience with professional development, training, coaching
Management level experience in human resources that includes designing and implementing performance
metrics, information technology advancements and personnel file management
Professional experience implementing and administering collective bargaining agreements and technical
contracts
Evidence of continuing professional education, affiliations and certifications relevant to the position
Evidence of promoting and continuing professional development
Evidence of effective communication skills - positive, effective interpersonal, professional level writing and

dynamic public speaking
Demonstrated ability to manage employee misconduct investigations
Preferred Qualifications:


Master's Degree or PhD
Higher Education experience
OTHER CONSIDERATIONS:
Application Procedure:
Click 'Apply' button upper right corner to access online application system.
Apply online at
http://www.bemidjistate.edu/offices/human_resources/employment/faculty_administrator/
Applicants please note the following:


Applicants must be able to lawfully accept employment in the United States at the time
of an offer of employment.
BSU/NTC is a tobacco free workplace.
A complete application is required and will include the following:





Cover letter which addresses the responsibilities and qualifications
Resume/Curriculum Vitae
A completed application form
Contact information (name, title, address, phone number, e-mail address) for three
professional references
Transcripts must be provided as part of the application process and official transcripts
upon hire
Links:


Employment for this position is covered by the MnSCU Administrators plan which can
be found at:
http://www.hr.mnscu.edu/contract_plans/documents/Admin_Plan_13_15_Final.pdf
To Apply:
http://www.bemidjistate.edu/offices/human_resources/employment/faculty_administr
ator/


For a copy of the position profile and job description:
http://www.bemidjistate.edu/offices/human_resources/

For additional information about Northwest Technical College:
http://www.ntcmn.edu
NOTICE: In accordance with the Minnesota State Colleges & Universities (MnSCU) Vehicle Fleet
Safety Program, employees driving on college/university business who use a rental or state
vehicle shall be required to conform to MnSCU's vehicle use criteria and consent to a Motor
Vehicle Records check.
Minnesota State Colleges and Universities is an Equal Opportunity employer/educator
committed to the principles of diversity. We prohibit discrimination against qualified individuals
based on their race, sex, color, creed, religion, age, national origin, disability, protected veteran
status, marital status, status with regard to public assistance, sexual orientation, gender
identity, gender expression, or membership in a local commission as defined by law. As an
affirmative action employer, we actively seek and encourage applications from women,
minorities, persons with disabilities, and individuals with protected veteran status.
All applicants must be able to lawfully accept employment in the United States at the time of
employment. For TTY, call Minnesota Relay Service at 7-1-1- or 1-800-627-3529.
UNIVERSITY/COMMUNITY:
BSU has been named one of America's greenest colleges and universities by The Princeton Review. Both BSU and NTC
are located in the regional center of Bemidji, the county seat of Beltrami County, in the beautiful north woods of northern
Minnesota. With a city population of 13,500 and more than 10 times as many residents within the surrounding area,
Bemidji has highly rated K-12 schools, an airport with twice-daily commercial service to Minneapolis-St. Paul, a state-ofthe-art medical center, a full array of retail options, and a year-round calendar of festivals and special events. The city of
Bemidji is on the shore of Lake Bemidji, which the Mississippi River traverses on its journey from the nearby headwaters
of Lake Itasca to the Gulf of Mexico. Renowned for its outdoor recreational opportunities, ranging from world-class
hunting and fishing to hiking, camping, and boating, the Bemidji region is a magnet for visitors and famous for its lakeside
statues of Paul Bunyan and Babe, the blue ox. Bemidji is located in the middle of three large Indian reservations, and the
history, culture, and language of the Ojibwe people are vital aspects of the region's heritage and diversity. The region's
natural beauty and quality of life help BSU and NTC attract and retain talented and dedicated faculty, staff, and
administrators. The CHRO works to ensure that the university and college remain attractive to prospective employees.