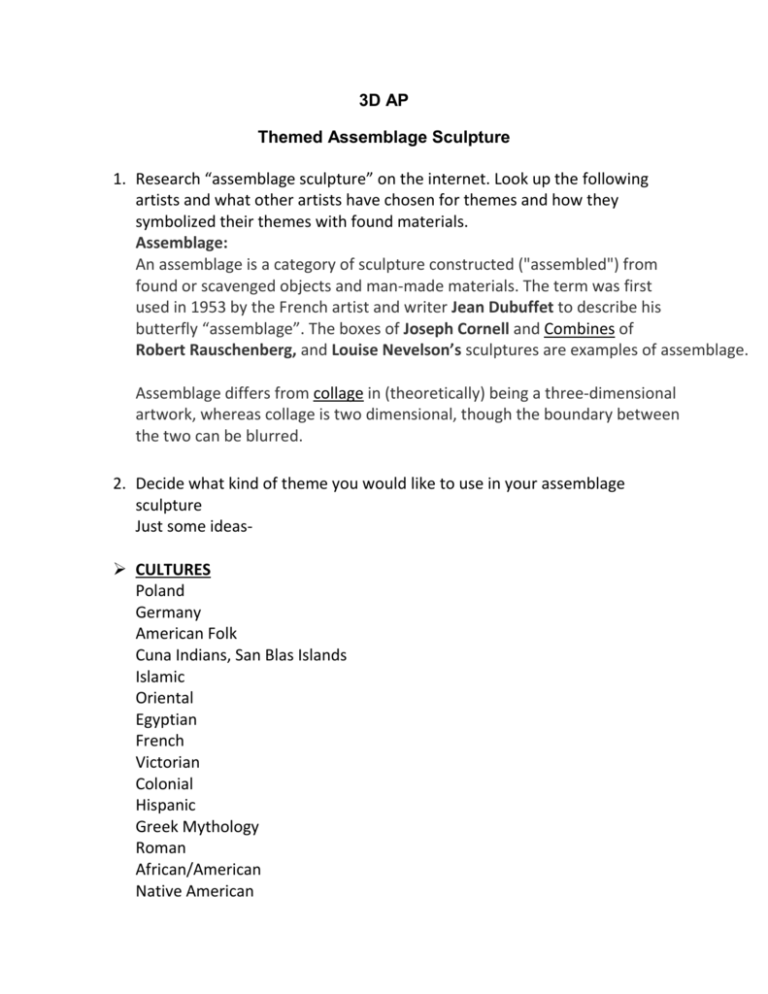 3D AP
Themed Assemblage Sculpture
1. Research "assemblage sculpture" on the internet. Look up the following
artists and what other artists have chosen for themes and how they
symbolized their themes with found materials.
Assemblage:
An assemblage is a category of sculpture constructed ("assembled") from
found or scavenged objects and man-made materials. The term was first
used in 1953 by the French artist and writer Jean Dubuffet to describe his
butterfly "assemblage". The boxes of Joseph Cornell and Combines of
Robert Rauschenberg, and Louise Nevelson's sculptures are examples of assemblage.
Assemblage differs from collage in (theoretically) being a three-dimensional
artwork, whereas collage is two dimensional, though the boundary between
the two can be blurred.
2. Decide what kind of theme you would like to use in your assemblage
sculpture
Just some ideas CULTURES
Poland
Germany
American Folk
Cuna Indians, San Blas Islands
Islamic
Oriental
Egyptian
French
Victorian
Colonial
Hispanic
Greek Mythology
Roman
African/American
Native American
Definitions of culture

a particular society at a particular time and place; "early Mayan civilization"

the tastes in art and manners that are favored by a social group

acculturation: all the knowledge and values shared by a society
 Some other themes in art – to jumpstart your imagination
Adoration
Music
Children
Mythology
Circus
Narrative or historic occasions
Cityscape
Portraiture
Earth, air, fire, water
Processions
Farming/harvest festivals
Religion
Gardens
Seascape
Grief
Storytelling
History
Theater
Hunting
War
Landscape
Family
Love
3. Look for symbolic meanings in the theme chosen and symbols used.
 List symbols
Now combine your ideas of your chosen theme into an assemblage sculpture.
Select items. Look in garage, attic, drawers, thrift stores, junk stores, garage sales,
Re-cycle bin, sewing box, magazines, dollar store (only as a last resort).
Ask family, friends, neighbors, etc. for memorabilia.