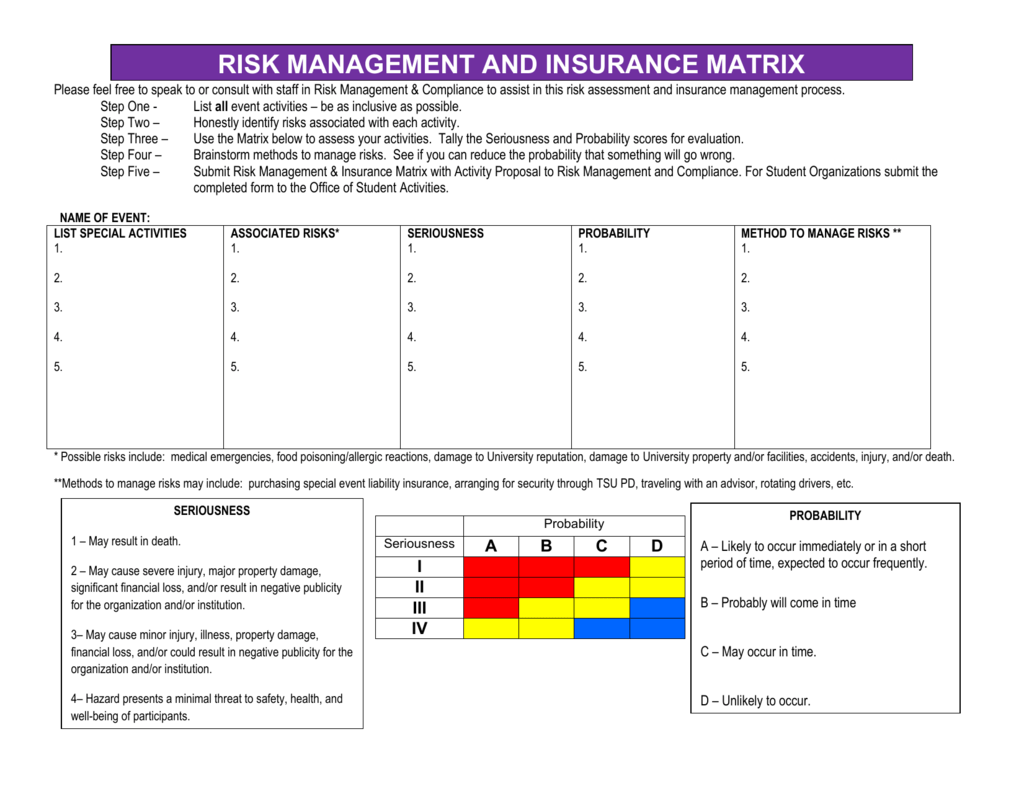 RISK MANAGEMENT AND INSURANCE MATRIX
Please feel free to speak to or consult with staff in Risk Management & Compliance to assist in this risk assessment and insurance management process.
Step One List all event activities – be as inclusive as possible.
Step Two –
Honestly identify risks associated with each activity.
Step Three –
Use the Matrix below to assess your activities. Tally the Seriousness and Probability scores for evaluation.
Step Four –
Brainstorm methods to manage risks. See if you can reduce the probability that something will go wrong.
Step Five –
Submit Risk Management & Insurance Matrix with Activity Proposal to Risk Management and Compliance. For Student Organizations submit the
completed form to the Office of Student Activities.
NAME OF EVENT:
LIST SPECIAL ACTIVITIES
1.
ASSOCIATED RISKS*
1.
SERIOUSNESS
1.
PROBABILITY
1.
METHOD TO MANAGE RISKS **
1.
2.
2.
2.
2.
2.
3.
3.
3.
3.
3.
4.
4.
4.
4.
4.
5.
5.
5.
5.
5.
* Possible risks include: medical emergencies, food poisoning/allergic reactions, damage to University reputation, damage to University property and/or facilities, accidents, injury, and/or death.
**Methods to manage risks may include: purchasing special event liability insurance, arranging for security through TSU PD, traveling with an advisor, rotating drivers, etc.
SERIOUSNESS
PROBABILITY
Probability
1 – May result in death.
2 – May cause severe injury, major property damage,
significant financial loss, and/or result in negative publicity
for the organization and/or institution.
3– May cause minor injury, illness, property damage,
financial loss, and/or could result in negative publicity for the
organization and/or institution.
4– Hazard presents a minimal threat to safety, health, and
well-being of participants.
Seriousness
I
II
III
IV
A
B
C
D
A – Likely to occur immediately or in a short
period of time, expected to occur frequently.
B – Probably will come in time
C – May occur in time.
D – Unlikely to occur.