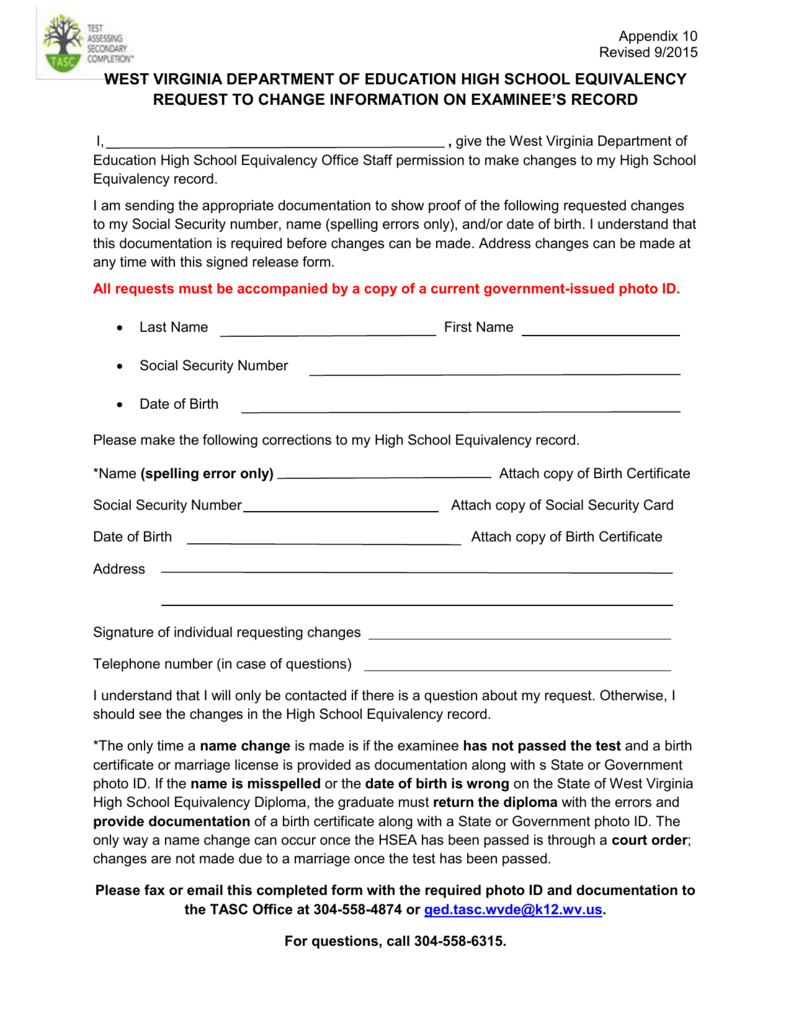 Appendix 10
Revised 9/2015
WEST VIRGINIA DEPARTMENT OF EDUCATION HIGH SCHOOL EQUIVALENCY
REQUEST TO CHANGE INFORMATION ON EXAMINEE'S RECORD
I,
, give the West Virginia Department of
Education High School Equivalency Office Staff permission to make changes to my High School
Equivalency record.
I am sending the appropriate documentation to show proof of the following requested changes
to my Social Security number, name (spelling errors only), and/or date of birth. I understand that
this documentation is required before changes can be made. Address changes can be made at
any time with this signed release form.
All requests must be accompanied by a copy of a current government-issued photo ID.

Last Name

Social Security Number

Date of Birth
First Name
Please make the following corrections to my High School Equivalency record.
*Name (spelling error only)
Attach copy of Birth Certificate
Social Security Number
Attach copy of Social Security Card
Date of Birth
Attach copy of Birth Certificate
Address
Signature of individual requesting changes
Telephone number (in case of questions)
I understand that I will only be contacted if there is a question about my request. Otherwise, I
should see the changes in the High School Equivalency record.
*The only time a name change is made is if the examinee has not passed the test and a birth
certificate or marriage license is provided as documentation along with s State or Government
photo ID. If the name is misspelled or the date of birth is wrong on the State of West Virginia
High School Equivalency Diploma, the graduate must return the diploma with the errors and
provide documentation of a birth certificate along with a State or Government photo ID. The
only way a name change can occur once the HSEA has been passed is through a court order;
changes are not made due to a marriage once the test has been passed.
Please fax or email this completed form with the required photo ID and documentation to
the TASC Office at 304-558-4874 or [email protected]
For questions, call 304-558-6315.