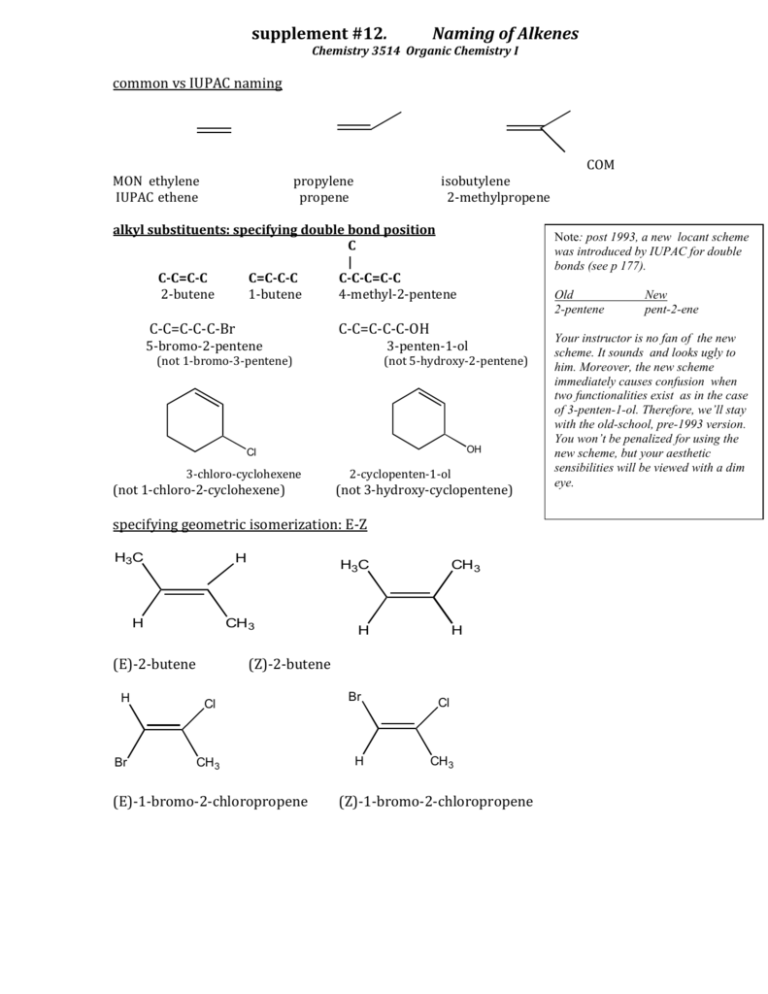 supplement #12.
Naming of Alkenes
Chemistry 3514 Organic Chemistry I
common vs IUPAC naming
COM
MON ethylene
IUPAC ethene
propylene
propene
isobutylene
2-methylpropene
alkyl substituents: specifying double bond position
C
|
C-C=C-C
C=C-C-C
C-C-C=C-C
2-butene
1-butene
4-methyl-2-pentene
C-C=C-C-C-Br
Note: post 1993, a new locant scheme
was introduced by IUPAC for double
bonds (see p 177).
Old
2-pentene
C-C=C-C-C-OH
5-bromo-2-pentene
3-penten-1-ol
(not 1-bromo-3-pentene)
(not 5-hydroxy-2-pentene)
OH
Cl
3-chloro-cyclohexene
(not 1-chloro-2-cyclohexene)
2-cyclopenten-1-ol
(not 3-hydroxy-cyclopentene)
specifying geometric isomerization: E-Z
H3C
H
H
CH 3
(E)-2-butene
H
Br
H3C
CH 3
H
H
(Z)-2-butene
Cl
CH 3
(E)-1-bromo-2-chloropropene
Br
H
Cl
CH 3
(Z)-1-bromo-2-chloropropene
New
pent-2-ene
Your instructor is no fan of the new
scheme. It sounds and looks ugly to
him. Moreover, the new scheme
immediately causes confusion when
two functionalities exist as in the case
of 3-penten-1-ol. Therefore, we'll stay
with the old-school, pre-1993 version.
You won't be penalized for using the
new scheme, but your aesthetic
sensibilities will be viewed with a dim
eye.