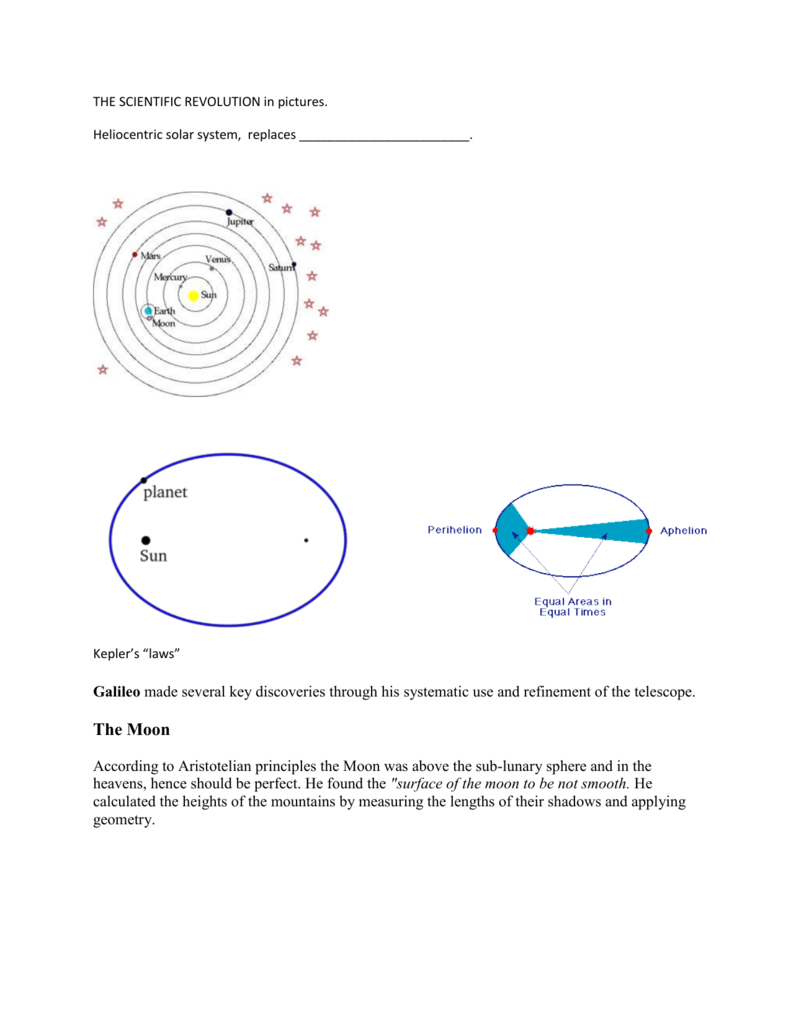 THE SCIENTIFIC REVOLUTION in pictures.
Heliocentric solar system, replaces ________________________.
Kepler's "laws"
Galileo made several key discoveries through his systematic use and refinement of the telescope.
The Moon
According to Aristotelian principles the Moon was above the sub-lunary sphere and in the
heavens, hence should be perfect. He found the "surface of the moon to be not smooth. He
calculated the heights of the mountains by measuring the lengths of their shadows and applying
geometry.
Moons of Jupiter
Observations of the planet Jupiter over successive night revealed four star-like objects in a line
with it. The objects moved from night to night, sometimes disappearing behind or in front of the
planet. Galileo correctly inferred that these objects were moons of Jupiter and orbited it just as
our Moon orbits Earth. For the first time, objects had been observed orbiting another planet, thus
weakening the hold of the Ptolemaic model. Today these four moons are known as the Galilean
satellites; Io, Europa, Ganymede and Callisto.
1. What scientific theories were ridiculed and discredited by the scientific
discoveries of this period?
2. Would you call this a revolution?
Riccioli's dramatic depiction of the hand of God,
creating the world according to mathematical principles, number and
weight and measure written clearly on his fingers to make no mistake
about the inherent, essential mathematical character of the physical
world.
3. Why is math so important to the scientific revolution?
WILLIAM HARVEY DISCOVERED THE CIRCULATION OF THE BLOOD 1610
The Anatomy Lesson by Rembrandt
By: Pieter van Miereveld
3. What fields of study advanced because of such anatomical studies?
4. Do you believe in that progress is possible? Do you believe that the use of reasons and the
scientific method allows us to answer questions and provide for advancement? Why?
https://suite.io/lorri-brown/j052ad much of what follows is adapted from information on this website.
FROM SCIENTIFIC REVOLUTION TO ENLIGHTENMENT
THE BIG IDEA: If the use of reason can help us understand and gain knowledge
and mastery of the natural world, we should also be able to understand and
gain knowledge and mastery of the social world.
5. Hence, "social" sciences: what are they?
6. what made people call into question their social and political traditions?
7. What institutions were ridiculed or criticized by the Enlightenment ?