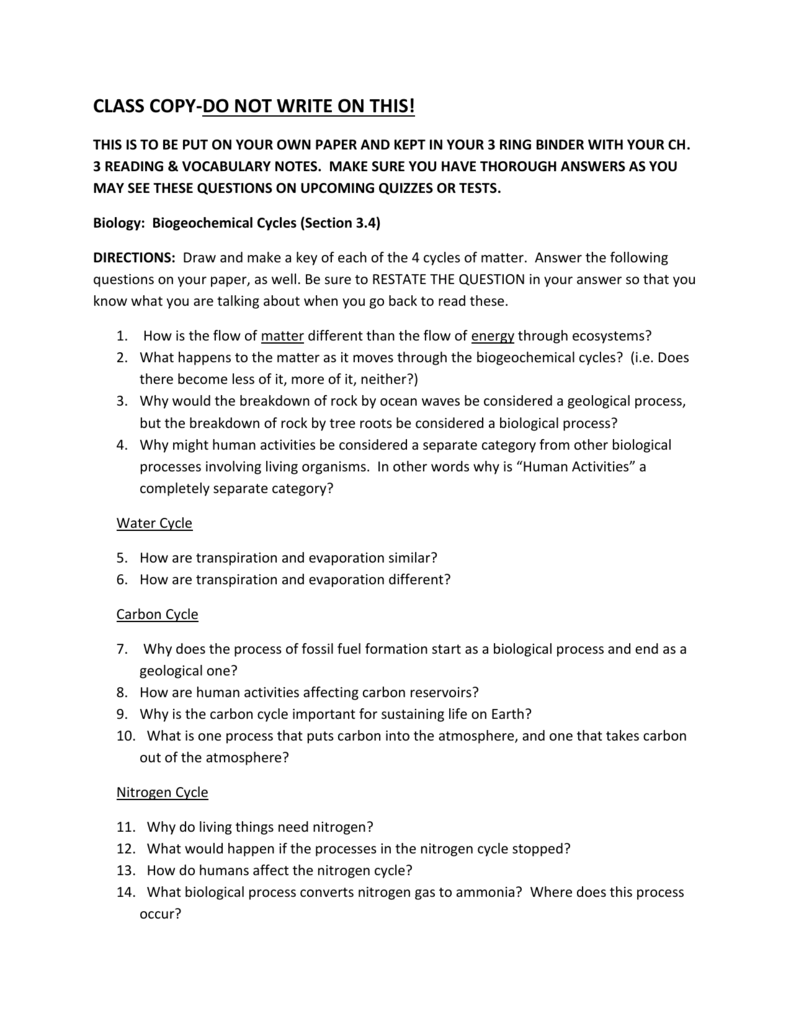 CLASS COPY-DO NOT WRITE ON THIS!
THIS IS TO BE PUT ON YOUR OWN PAPER AND KEPT IN YOUR 3 RING BINDER WITH YOUR CH.
3 READING & VOCABULARY NOTES. MAKE SURE YOU HAVE THOROUGH ANSWERS AS YOU
MAY SEE THESE QUESTIONS ON UPCOMING QUIZZES OR TESTS.
Biology: Biogeochemical Cycles (Section 3.4)
DIRECTIONS: Draw and make a key of each of the 4 cycles of matter. Answer the following
questions on your paper, as well. Be sure to RESTATE THE QUESTION in your answer so that you
know what you are talking about when you go back to read these.
1. How is the flow of matter different than the flow of energy through ecosystems?
2. What happens to the matter as it moves through the biogeochemical cycles? (i.e. Does
there become less of it, more of it, neither?)
3. Why would the breakdown of rock by ocean waves be considered a geological process,
but the breakdown of rock by tree roots be considered a biological process?
4. Why might human activities be considered a separate category from other biological
processes involving living organisms. In other words why is "Human Activities" a
completely separate category?
Water Cycle
5. How are transpiration and evaporation similar?
6. How are transpiration and evaporation different?
Carbon Cycle
7. Why does the process of fossil fuel formation start as a biological process and end as a
geological one?
8. How are human activities affecting carbon reservoirs?
9. Why is the carbon cycle important for sustaining life on Earth?
10. What is one process that puts carbon into the atmosphere, and one that takes carbon
out of the atmosphere?
Nitrogen Cycle
11.
12.
13.
14.
Why do living things need nitrogen?
What would happen if the processes in the nitrogen cycle stopped?
How do humans affect the nitrogen cycle?
What biological process converts nitrogen gas to ammonia? Where does this process
occur?
Phosphorous Cycle
15. Paragraph 1 in this section talks about one key way that this cycle is different from the
others. What is this difference?
16. If wastewater containing phosphates from laundry detergent made its way into
waterways, such as streams, rivers and lakes, how would that affect the phosphorous
cycle? Be specific as to its initial impact!
17. What is one other way human activity affects the phosphorous cycle?