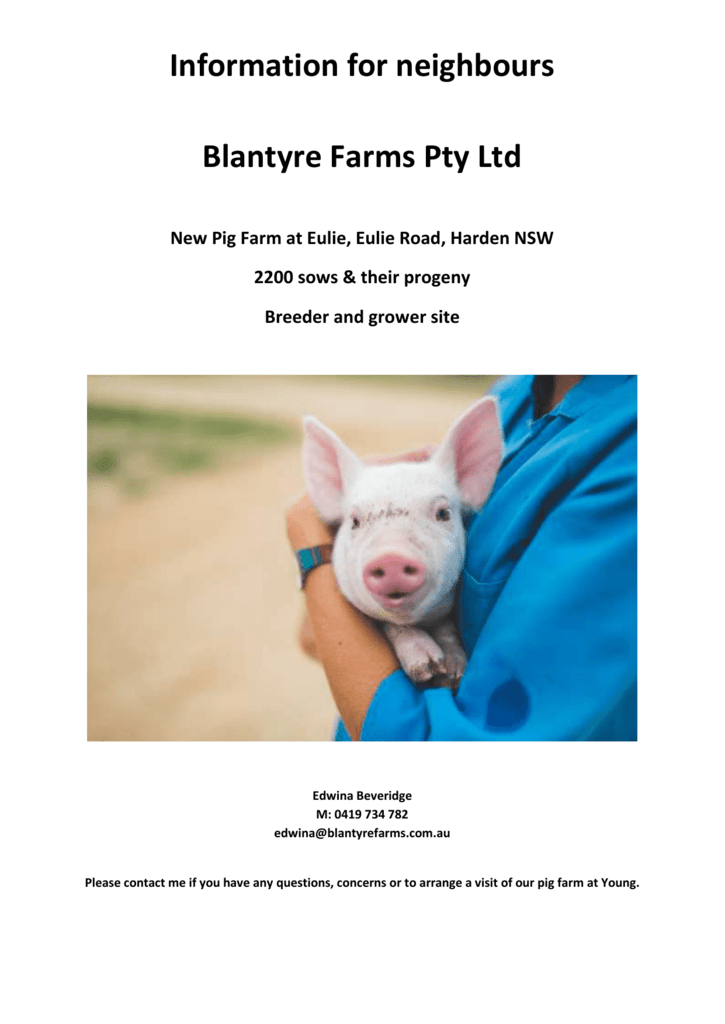 Information for neighbours
Blantyre Farms Pty Ltd
New Pig Farm at Eulie, Eulie Road, Harden NSW
2200 sows & their progeny
Breeder and grower site
Edwina Beveridge
M: 0419 734 782
[email protected]
Please contact me if you have any questions, concerns or to arrange a visit of our pig farm at Young.
Maps
Attached are maps of:



Overall area showing neighbours location and recommended separation distance from pig farm sites
Breeder site plan
Grower site plan
Separation distance
Attached is recommended separation distance from pig farm to rural dwelling & distance to neighbours. This is
determined using a formula provided in the National Environmental Guidelines for Piggeries, Second Edition, 2010.
Odour
Rose of wind direction for a ten year period is attached.
This pig farm is very modern. Covered ponds, regular flushing of sheds and good management all ensure low odour.
We live 1km from our pig farm at Young and smell pigs approximately 3 times per year for a 5 minute period. There
has not been an odour complaint at our pig farm in Young in the last five years.
It is not expected that any neighbour will be adversely impacted by odour, as all dwellings fall outside the
recommended separation distance.
Pig numbers
Breeder Site – Pig Numbers & Standard Pig Units at completion
Pig Type
Lac Sow
Gest sow
Gilts
Boar
suckers
Weaner
Grower
Finisher
Total
Pig No.s Multiplier
426
2.5
1816
1.6
350
1.8
20
1.6
4000
0.1
280
0.5
280
1
280
1.6
7452
SPU
1065
2905.6
630
32
400
140
280
448
5900.6
Grower Site – Pig Numbers & Standard Pig Units at completion
Pig Type
Weaner
Grower
Finisher
Heavy
finisher
Number Multiplier
5733
0.5
5733
1
5733
1.6
800
18000
1.8
SPU
2867
5733
9173
1440
19213
Road & Traffic Information
Peak Traffic Volumes will be 13 truck movements per week or 1.9 truck movements per day, at project completion.
This is based on Blantyre Farms current activities on its existing pig farm, which is a similar size.
Parts of Eulie road will need to be upgraded. Upgrade requirements will be per Harden Shire Council requirements.
At a minimum this will include
 Widening of 3 stock grids along Eulie Road.
 Better surfacing on Eulie road for approximately 1km on either side of the Maniac Creek crossing.
Waste management/ Effluent System
The following diagram shows how the effluent systems will work
Methane gas will be used on site to generate electricity and any excess gas flared.
Liquid effluent is reused to flush underneath sheds, excess will be irrigated on Eulie paddocks
The solid's are dried out and removed from SEP's over summer, the manure will be used as fertiliser on Eulie.
The covered pond significantly reduces odour from the effluent system.
All storage structures, as required by council and EPA are compacted and tested to ensure they will not leak.
Storage structures will have capacity to withstand a 1 in 10 year rainfall event.
Water requirements
Water will be sourced from bores to be drilled on Eulie, permission for these will be gained from the NSW Office of
Water
Monitoring
The project will be licensed with the EPA, annual reporting of monitoring components will be required.
We will drill test piezometer's (bores) and use existing bores on Eulie to monitor the groundwater, as required by the
EPA & NSW Office of Water. These will be monitored on a regular basis.
Soil tests will be monitored to ensure soils are not overloaded with nutrients.
Aboriginal heritage
An aboriginal study is being conducted to ensure the pig sites do not impact aboriginal heritage.
Biodiversity
It is expected that only one small (less than 3m) tree will need to be removed for the development.
We will plant some native tree lines around the pig sites, to limit aesthetic impact & to promote biodiversity.