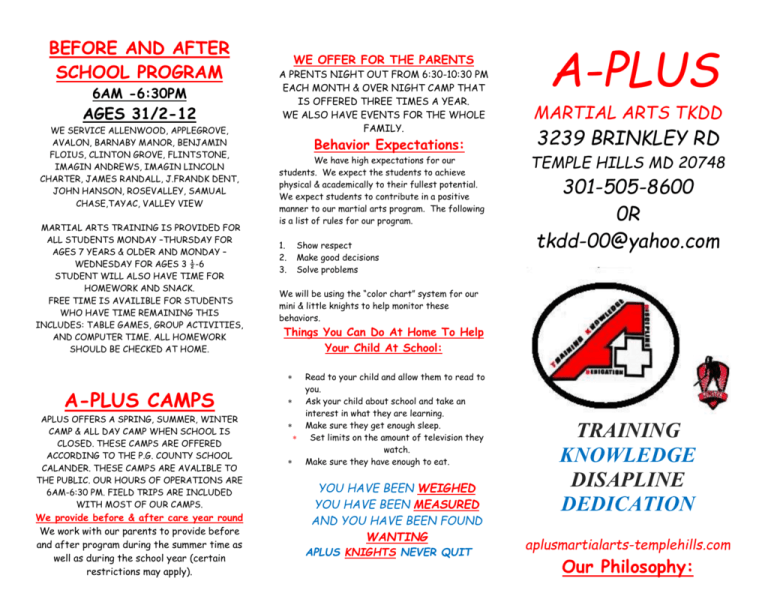 BEFORE AND AFTER
SCHOOL PROGRAM
6AM -6:30PM
AGES 31/2-12
WE SERVICE ALLENWOOD, APPLEGROVE,
AVALON, BARNABY MANOR, BENJAMIN
FLOIUS, CLINTON GROVE, FLINTSTONE,
IMAGIN ANDREWS, IMAGIN LINCOLN
CHARTER, JAMES RANDALL, J.FRANDK DENT,
JOHN HANSON, ROSEVALLEY, SAMUAL
CHASE,TAYAC, VALLEY VIEW
MARTIAL ARTS TRAINING IS PROVIDED FOR
ALL STUDENTS MONDAY –THURSDAY FOR
AGES 7 YEARS & OLDER AND MONDAY –
WEDNESDAY FOR AGES 3 ½-6
STUDENT WILL ALSO HAVE TIME FOR
HOMEWORK AND SNACK.
FREE TIME IS AVAILIBLE FOR STUDENTS
WHO HAVE TIME REMAINING THIS
INCLUDES: TABLE GAMES, GROUP ACTIVITIES,
AND COMPUTER TIME. ALL HOMEWORK
SHOULD BE CHECKED AT HOME.
WE OFFER FOR THE PARENTS
A PRENTS NIGHT OUT FROM 6:30-10:30 PM
EACH MONTH & OVER NIGHT CAMP THAT
IS OFFERED THREE TIMES A YEAR.
WE ALSO HAVE EVENTS FOR THE WHOLE
FAMILY.
Behavior Expectations:
We have high expectations for our
students. We expect the students to achieve
physical & academically to their fullest potential.
We expect students to contribute in a positive
manner to our martial arts program. The following
is a list of rules for our program.
1.
2.
3.
Show respect
Make good decisions
Solve problems
A-PLUS
MARTIAL ARTS TKDD
3239 BRINKLEY RD
TEMPLE HILLS MD 20748
301-505-8600
0R
[email protected]
We will be using the "color chart" system for our
mini & little knights to help monitor these
behaviors.
Things You Can Do At Home To Help
Your Child At School:
Read to your child and allow them to read to
you.

Ask your child about school and take an
interest in what they are learning.

Make sure they get enough sleep.

Set limits on the amount of television they
watch.

Make sure they have enough to eat.

A-PLUS CAMPS
APLUS OFFERS A SPRING, SUMMER, WINTER
CAMP & ALL DAY CAMP WHEN SCHOOL IS
CLOSED. THESE CAMPS ARE OFFERED
ACCORDING TO THE P.G. COUNTY SCHOOL
CALANDER. THESE CAMPS ARE AVALIBLE TO
THE PUBLIC. OUR HOURS OF OPERATIONS ARE
6AM-6:30 PM. FIELD TRIPS ARE INCLUDED
WITH MOST OF OUR CAMPS.
We provide before & after care year round
We work with our parents to provide before
and after program during the summer time as
well as during the school year (certain
restrictions may apply).
YOU HAVE BEEN WEIGHED
YOU HAVE BEEN MEASURED
AND YOU HAVE BEEN FOUND
WANTING
APLUS KNIGHTS NEVER QUIT
TRAINING
KNOWLEDGE
DISAPLINE
DEDICATION
aplusmartialarts-templehills.com
Our Philosophy:
We understand that your child comes to us with
unique experiences, interests and learning styles.
Our goal is to truly know your child well and use
this knowledge to guide, support and motivate him
or her. We believe that good teaching requires
continual physical and mental development,
personal reflection and collaboration. We value
parent involvement at every level and encourage
you to partner with us to give your child the most
powerful and joyous learning experience possible.
About Us:
APLUS has served this community for over 14
year and is will qualified in the field of
martial arts and physical fitness. We employ
qualified, staff members who have experience
with working with students of all ages. We
are in constant communication and are very
committed to providing your child with the
best possible martial arts experience.
Benefits of
A-PLUS PROGRAMS
Enhance self-esteem by heightening students
physical and mental powers.
Build confidence by encouraging students to
succeed and to take control of student's life.
Develop discipline by thoroughly training
student's body and mind in the tenets and
techniques of Taekwondo.
Teach self-defense by training student to
recognize situations in which physical selfdefense may be necessary, and teaching
student show to control such situations to
student's advantage.
Strengthen student's mind and body through
increased physical conditioning and mental
discipline.
EVENING CLASSES:
Ages Five – Adult
Beginner Classes (mini-rising)
Monday & Wednesday from 6:15- 7:15pm
Advanced/Pre-teens – Adult
Tuesdays & Thursdays 6:15- 7:15pm
Tuesday & Thursday 7:15-8:15pm
Advanced Classes for all ages
Saturday 12-2pm
followed by our Saturday Camp
must be yellow belt or higher
Pre-k classes (mini knights)
are available in sessions
please contact director 301-505-8600
CLASSES AND TIMES SUBJECT TO CHANGE
Testing:
We offer a belt testing 4 times a year
February, May, August & November.
Testing is offered to students who have
achieved the entire requirement to obtain
their next belt. This will be decided by the
Head Instructor.
COMMUNICATION
We want to make sure you are informed
of upcoming events and what your child is learning
during training. A monthly reminder board is
posted in the main lobby to keep all parents
informed of upcoming events. It will contain
schedules and information pertinent to the coming
weeks. We will also send e-mails and newsletters
home. Ms Che'ree can also be reached at the studio
during regular hours @ 301-505-8600 (A-PLUS is
open by appointment only during the school year
during the hours of 9 am-1:30pm. Please call in
advance during this time.) or e-mail at anytime
[email protected]
OUR STUDENTS ARE DIVIDED
INTO AGE APPROPREIT GROUPS
MINI KNIGHTS 4 (BY AUG. 31,) -6 YEARS
THIS STUDENTS WILL WORK ON GROSS
MOTER SKILLS ATTENTION SPAN, BEGINNING
MARTIAL ARTS SKILLS AND TUMBLING
SKILLS
LITTLE KNIGHTS 6-8 YEARS
THESE STUDENTS WILL WORK ON TEAMWORK
GROSS MOTER SKILLS, FOCUS AND COODNATION,
DISAPLINE AND RESPECT FOR OTHERS ALONG WILL
THEIR MARTIAL ARTS TRAINNING.
JR KNIGHT 8-9 YEARS
Helping cope with everyday life experiences
and social and emotional development
RISING KNIGHTS 9-13YEARS
Help develop independence prepare them for teenhood and middle school focus on peer pressure and
conflict resolution to provide a smooth transition
to middle school.
TEEN & ADULT 13 & UP
A teen and adult class that is moderate pace
martial arts that endorse mental and physical
challenges.