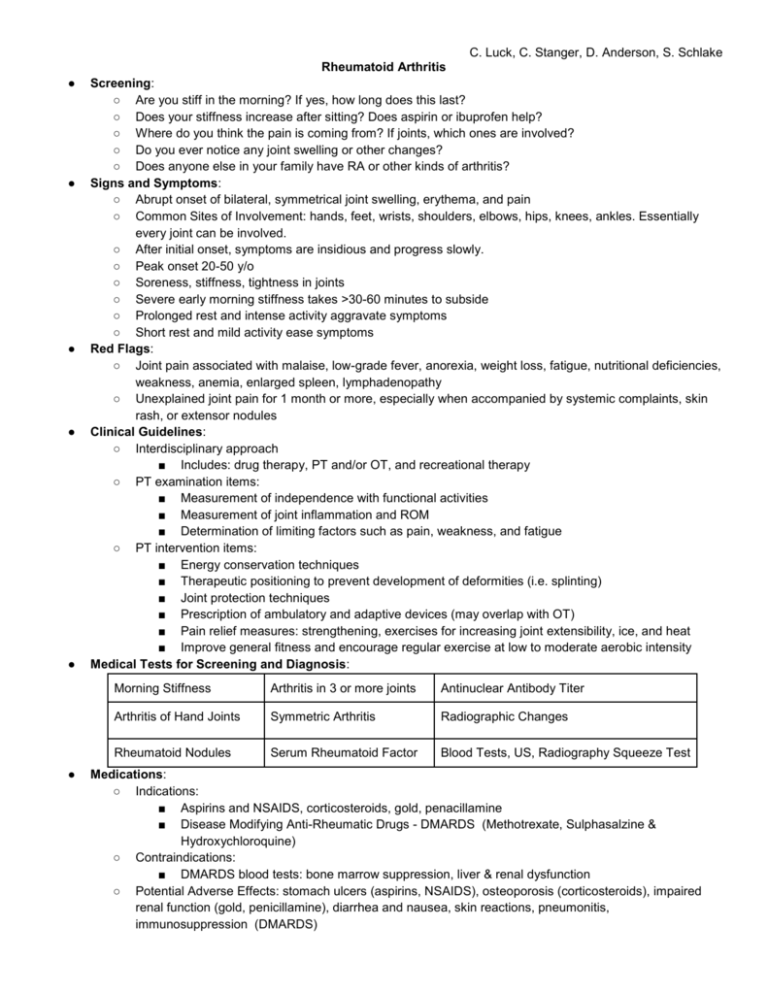 C. Luck, C. Stanger, D. Anderson, S. Schlake
Rheumatoid Arthritis
●
●
●
●
●
●
Screening:
○ Are you stiff in the morning? If yes, how long does this last?
○ Does your stiffness increase after sitting? Does aspirin or ibuprofen help?
○ Where do you think the pain is coming from? If joints, which ones are involved?
○ Do you ever notice any joint swelling or other changes?
○ Does anyone else in your family have RA or other kinds of arthritis?
Signs and Symptoms:
○ Abrupt onset of bilateral, symmetrical joint swelling, erythema, and pain
○ Common Sites of Involvement: hands, feet, wrists, shoulders, elbows, hips, knees, ankles. Essentially
every joint can be involved.
○ After initial onset, symptoms are insidious and progress slowly.
○ Peak onset 20-50 y/o
○ Soreness, stiffness, tightness in joints
○ Severe early morning stiffness takes >30-60 minutes to subside
○ Prolonged rest and intense activity aggravate symptoms
○ Short rest and mild activity ease symptoms
Red Flags:
○ Joint pain associated with malaise, low-grade fever, anorexia, weight loss, fatigue, nutritional deficiencies,
weakness, anemia, enlarged spleen, lymphadenopathy
○ Unexplained joint pain for 1 month or more, especially when accompanied by systemic complaints, skin
rash, or extensor nodules
Clinical Guidelines:
○ Interdisciplinary approach
■ Includes: drug therapy, PT and/or OT, and recreational therapy
○ PT examination items:
■ Measurement of independence with functional activities
■ Measurement of joint inflammation and ROM
■ Determination of limiting factors such as pain, weakness, and fatigue
○ PT intervention items:
■ Energy conservation techniques
■ Therapeutic positioning to prevent development of deformities (i.e. splinting)
■ Joint protection techniques
■ Prescription of ambulatory and adaptive devices (may overlap with OT)
■ Pain relief measures: strengthening, exercises for increasing joint extensibility, ice, and heat
■ Improve general fitness and encourage regular exercise at low to moderate aerobic intensity
Medical Tests for Screening and Diagnosis:
Morning Stiffness
Arthritis in 3 or more joints
Antinuclear Antibody Titer
Arthritis of Hand Joints
Symmetric Arthritis
Radiographic Changes
Rheumatoid Nodules
Serum Rheumatoid Factor
Blood Tests, US, Radiography Squeeze Test
Medications:
○ Indications:
■ Aspirins and NSAIDS, corticosteroids, gold, penacillamine
■ Disease Modifying Anti-Rheumatic Drugs - DMARDS (Methotrexate, Sulphasalzine &
Hydroxychloroquine)
○ Contraindications:
■ DMARDS blood tests: bone marrow suppression, liver & renal dysfunction
○ Potential Adverse Effects: stomach ulcers (aspirins, NSAIDS), osteoporosis (corticosteroids), impaired
renal function (gold, penicillamine), diarrhea and nausea, skin reactions, pneumonitis,
immunosuppression (DMARDS)
C. Luck, C. Stanger, D. Anderson, S. Schlake
References:
Boissonnault WG. Primary Care for the Physical Therapist: Examination and Triage. St. Louis, Missouri: Elsevier,
Inc; 2005.
Clinical Guideline for the Diagnosis and Management of Early Rheumatoid Arthritis. South Melbourne, Victoria,
Australia: The Royal Australian College of General Practitioners; 2009. Available at:
http://www.nhmrc.gov.au/_files_nhmrc/file/publications/synopses/cp118-early-rheum-arthritis.pdf. Accessed
February 14th, 2015.
Dutton M. Dutton's Orthopaedic Examination Evaluation and Intervention, Third Edition. United States: McGrawHill Companies, Inc; 2012: 197-199, 731.
Goodman CC. Pathology: Implications for the Physical Therapist, Third Edition. St. Louis, Missouri: Elsevier, Inc;
2009.
Rheumatoid arthritis: The management of rheumatoid arthritis in adults. National Institute for Health and Care
Excellence Web site. 2014. Available at: http://www.nice.org.uk/guidance/cg79/chapter/1-recommendations#themultidisciplinary-team. Accessed February 14, 2015.
Ryan S. Rheumatoid arthritis diagnosis and management. Practice Nurse [serial online]. June 13, 2014;44(6):3640. Available at: CINAHL with Full Text, Ipswich, MA. Accessed February 16, 2015.