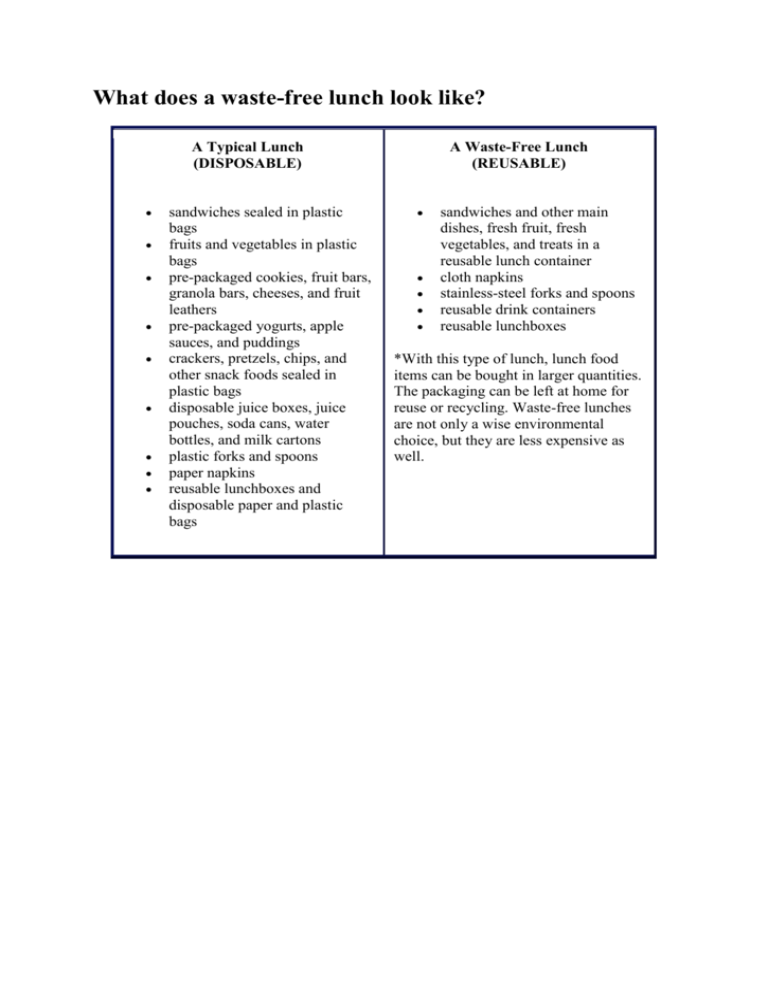 What does a waste-free lunch look like?
A Typical Lunch
(DISPOSABLE)









sandwiches sealed in plastic
bags
fruits and vegetables in plastic
bags
pre-packaged cookies, fruit bars,
granola bars, cheeses, and fruit
leathers
pre-packaged yogurts, apple
sauces, and puddings
crackers, pretzels, chips, and
other snack foods sealed in
plastic bags
disposable juice boxes, juice
pouches, soda cans, water
bottles, and milk cartons
plastic forks and spoons
paper napkins
reusable lunchboxes and
disposable paper and plastic
bags
A Waste-Free Lunch
(REUSABLE)





sandwiches and other main
dishes, fresh fruit, fresh
vegetables, and treats in a
reusable lunch container
cloth napkins
stainless-steel forks and spoons
reusable drink containers
reusable lunchboxes
*With this type of lunch, lunch food
items can be bought in larger quantities.
The packaging can be left at home for
reuse or recycling. Waste-free lunches
are not only a wise environmental
choice, but they are less expensive as
well.