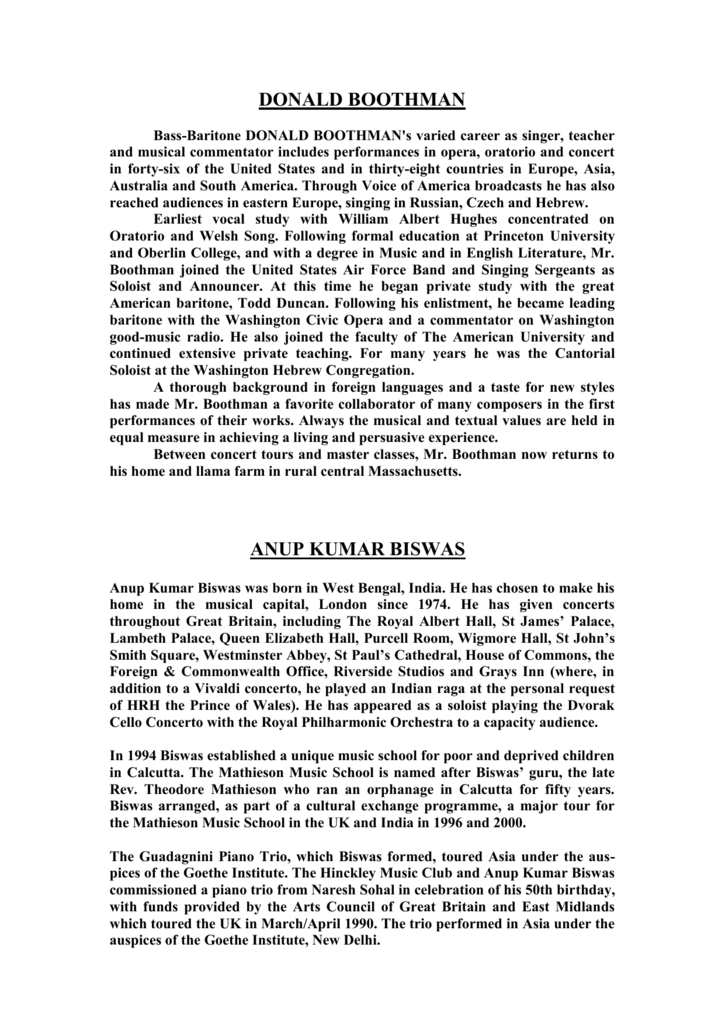 DONALD BOOTHMAN
Bass-Baritone DONALD BOOTHMAN's varied career as singer, teacher
and musical commentator includes performances in opera, oratorio and concert
in forty-six of the United States and in thirty-eight countries in Europe, Asia,
Australia and South America. Through Voice of America broadcasts he has also
reached audiences in eastern Europe, singing in Russian, Czech and Hebrew.
Earliest vocal study with William Albert Hughes concentrated on
Oratorio and Welsh Song. Following formal education at Princeton University
and Oberlin College, and with a degree in Music and in English Literature, Mr.
Boothman joined the United States Air Force Band and Singing Sergeants as
Soloist and Announcer. At this time he began private study with the great
American baritone, Todd Duncan. Following his enlistment, he became leading
baritone with the Washington Civic Opera and a commentator on Washington
good-music radio. He also joined the faculty of The American University and
continued extensive private teaching. For many years he was the Cantorial
Soloist at the Washington Hebrew Congregation.
A thorough background in foreign languages and a taste for new styles
has made Mr. Boothman a favorite collaborator of many composers in the first
performances of their works. Always the musical and textual values are held in
equal measure in achieving a living and persuasive experience.
Between concert tours and master classes, Mr. Boothman now returns to
his home and llama farm in rural central Massachusetts.
ANUP KUMAR BISWAS
Anup Kumar Biswas was born in West Bengal, India. He has chosen to make his
home in the musical capital, London since 1974. He has given concerts
throughout Great Britain, including The Royal Albert Hall, St James' Palace,
Lambeth Palace, Queen Elizabeth Hall, Purcell Room, Wigmore Hall, St John's
Smith Square, Westminster Abbey, St Paul's Cathedral, House of Commons, the
Foreign & Commonwealth Office, Riverside Studios and Grays Inn (where, in
addition to a Vivaldi concerto, he played an Indian raga at the personal request
of HRH the Prince of Wales). He has appeared as a soloist playing the Dvorak
Cello Concerto with the Royal Philharmonic Orchestra to a capacity audience.
In 1994 Biswas established a unique music school for poor and deprived children
in Calcutta. The Mathieson Music School is named after Biswas' guru, the late
Rev. Theodore Mathieson who ran an orphanage in Calcutta for fifty years.
Biswas arranged, as part of a cultural exchange programme, a major tour for
the Mathieson Music School in the UK and India in 1996 and 2000.
The Guadagnini Piano Trio, which Biswas formed, toured Asia under the auspices of the Goethe Institute. The Hinckley Music Club and Anup Kumar Biswas
commissioned a piano trio from Naresh Sohal in celebration of his 50th birthday,
with funds provided by the Arts Council of Great Britain and East Midlands
which toured the UK in March/April 1990. The trio performed in Asia under the
auspices of the Goethe Institute, New Delhi.
The Theatre Taliesin Wales commissioned Biswas to compose music for their
production of Tristan and Essylt in March 1986. The two and a half hour work
was his first composition and was highly praised by critics in both the local and
national press. It was recorded for Kaleidoscope by BBC Radio 4 the World Service, Harlech Television and BBC Television, and has already been broadcast
twice by BBC Radio Wales. He also arranged the music for Hedda in India, a
production of Hedda Gabler featuring Jenny Seagrove.
He was commissioned on two occasions to write music for the Royal Gala
Performance of the Commonwealth Institute in 1987 and during the Centenary
year in May 1993 in which he also performed in the presence of HM Queen
Elizabeth II and the HRH Duke of Edinburgh. In February 1999 he performed
again for Her Majesty the Queen and HRH Duke of Edinburgh at the
Commonwealth Institute, London. He has performed his own compositions in
Germany, Finland, Norway, India and the UK . In 1992 Biswas appeared at the
Royal Albert Hall performing his own composition 'The Celebration' from the
ballet "Ten Guineas Under the Banyan Tree." He was commissioned to compose,
perform and direct for a music theatre production of 'At the Auction of the
Ruby Slippers' by Salman Rushdie, which was on tour in the UK in the Autumn
of 1999. Recently he had a further commission to compose and perform music
for a documentary 'The Twins,' both these compositions have been praised
highly by the critics.
At the age of six he went to an orphanage mission school in Calcutta where his
musical talent was recognised and encouraged by the Rev. Theodore Mathieson.
He started playing the cello at the age of ten, and at sixteen made his concerto
debut and recorded for All-India Radio and Television.
It was Canon Eric James, with the help of many Trusts in the UK which enabled
Anup Biswas to come to London in 1974 to study with Thomas Igloi at the, Royal
Academy of Music and Amaryllis Fleming at the Royal College of Music; he also
studied with Pierre Fournier in Geneva and with Jacqueline du Pre in London.
Anup Biswas has won many awards, including the Suggia Gift for Cello in three
successive years, and a Countess of Munster Scholarship. He attended master
classes with Lynn Harrell in London, with Ebarhart Finke in Berlin and with
Pierre Fournier in Geneva and with Einor Holms in Calcutta.
Biswas, regularly broadcasts on BBC TV, ITV, Channel 4 and various BBC
Radio stations, performs in London at the South Bank Centre, tours, all over the
UK and in Europe. Every year he returns to India to give Master classes for the
children at the Mathieson Music School. He has performed in all the major cities
in India, Bangladesh, Sri Lanka and Pakistan under the auspices of many
organisations including the British Council and the Max Mueller Bhavan and the
Indian Council for Cultural Relations.
Biswas's various festival appearances have included concerts at the Cleveland,
Teesdale, Belfast, Greenwich and Hereford Three Choirs Festivals, and he, has
taken Masterclasses at Dartington International Summer School.
In 1989 he formed the Dante Alighieri Orchestra, of which he is the Artistic
Director and Principal Conductor.
In 1993 Anup Biswas toured Ireland performing Bach cello suites and also
toured Poland where he recorded for Polish Radio and TV. M Biswas was
invited to perform at a Gala concert at the House of Commons, London in
December 1993.
He has toured the USA, including performances at the Weill Recital Hall at
Carnegie Hall, New York and Smithsonian Art Gallery, Washington DC. Biswas
has toured extensively in South Africa, Romania, Germany and Spain,
performing with well known orchestras as soloist and as a recitalist.
He has also appeared with major orchestras playing the magnificeient Double
Concerto by Brahms around various parts of the world.
Anup Biswas is the only solo cellist in the world who is equally at home
performing both European and Indian classical music. He studied Indian
Classical both Hindusthani system (North Indian classical) and the Carnatic
system (South Indian classical) music from Samir Dutta, Ustad Imrat Khan and
various other teachers in India. He has collaborated with many reputed classical
Indian musicians and dancers.
REVIEWS
In the prestigious setting of the packed Margravine Opera House, Bayreuth, a
delightful theatrical visual experience was owed to the cellist Biswas ... he lived the
music in his face and handled the cello as if in ecstasies of love.
Frankenpost, Germany
His mellow tone, technical control, and relish of the importance of punctuation,
mark him out as an exceptionally gifted player for his years. Everything was there
beauty of tone, natural vibrant intensity and above all, a complete affinity with the
gorgeous music.
Music and Musicians
A player of definite and individual talent. He has no technical shortcomings ... a
cellist of great sensitivity and feeling
The Strad
Throughout he produced a quality of sound which was warm and full.
Cork Examiner, Ireland
Masterly performance…superb playing by Mr Biswas.
The Times London
A born communicator…here is an Artist whose physical being, like that of
Rostropovitch or the young Jacqueline du Pre seems intertwined with music and
instrument..
The Guardian London
..superb singing quality.. a master of dynamics, his energy, vitality, fine delicacy of
bowing and a fierce attack, and more fibrous tone suitable to Brahms produced a
magnificent account of the Opus 99 sonata.
The Telegraph London.