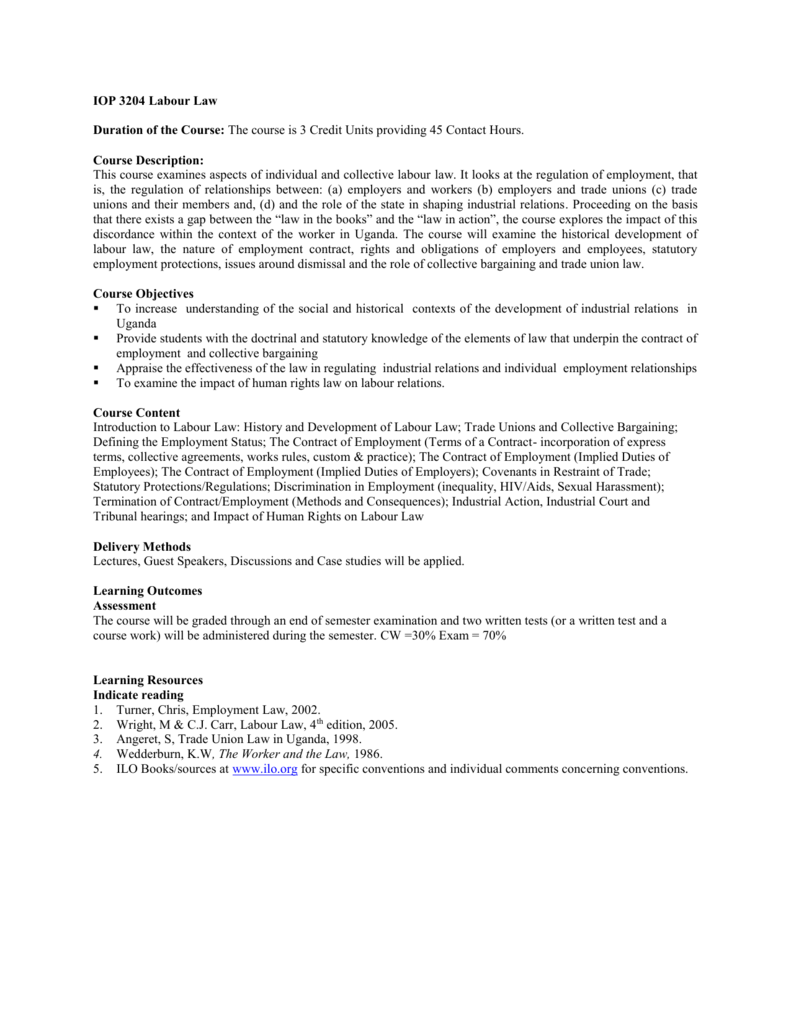 IOP 3204 Labour Law
Duration of the Course: The course is 3 Credit Units providing 45 Contact Hours.
Course Description:
This course examines aspects of individual and collective labour law. It looks at the regulation of employment, that
is, the regulation of relationships between: (a) employers and workers (b) employers and trade unions (c) trade
unions and their members and, (d) and the role of the state in shaping industrial relations. Proceeding on the basis
that there exists a gap between the "law in the books" and the "law in action", the course explores the impact of this
discordance within the context of the worker in Uganda. The course will examine the historical development of
labour law, the nature of employment contract, rights and obligations of employers and employees, statutory
employment protections, issues around dismissal and the role of collective bargaining and trade union law.
Course Objectives
 To increase understanding of the social and historical contexts of the development of industrial relations in
Uganda
 Provide students with the doctrinal and statutory knowledge of the elements of law that underpin the contract of
employment and collective bargaining
 Appraise the effectiveness of the law in regulating industrial relations and individual employment relationships
 To examine the impact of human rights law on labour relations.
Course Content
Introduction to Labour Law: History and Development of Labour Law; Trade Unions and Collective Bargaining;
Defining the Employment Status; The Contract of Employment (Terms of a Contract- incorporation of express
terms, collective agreements, works rules, custom & practice); The Contract of Employment (Implied Duties of
Employees); The Contract of Employment (Implied Duties of Employers); Covenants in Restraint of Trade;
Statutory Protections/Regulations; Discrimination in Employment (inequality, HIV/Aids, Sexual Harassment);
Termination of Contract/Employment (Methods and Consequences); Industrial Action, Industrial Court and
Tribunal hearings; and Impact of Human Rights on Labour Law
Delivery Methods
Lectures, Guest Speakers, Discussions and Case studies will be applied.
Learning Outcomes
Assessment
The course will be graded through an end of semester examination and two written tests (or a written test and a
course work) will be administered during the semester. CW =30% Exam = 70%
Learning Resources
Indicate reading
1. Turner, Chris, Employment Law, 2002.
2. Wright, M & C.J. Carr, Labour Law, 4th edition, 2005.
3. Angeret, S, Trade Union Law in Uganda, 1998.
4. Wedderburn, K.W, The Worker and the Law, 1986.
5. ILO Books/sources at www.ilo.org for specific conventions and individual comments concerning conventions.