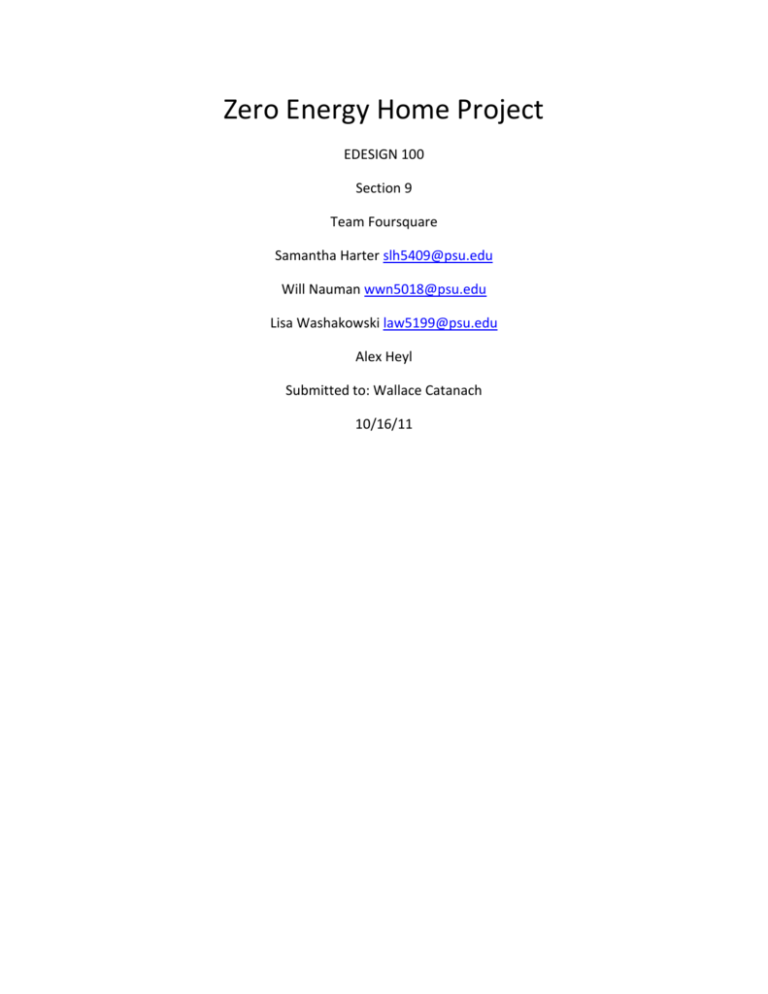 Zero Energy Home Project
EDESIGN 100
Section 9
Team Foursquare
Samantha Harter slh5409@psu.edu
Will Nauman wwn5018@psu.edu
Lisa Washakowski law5199@psu.edu
Alex Heyl
Submitted to: Wallace Catanach
10/16/11
Abstract
The purpose of this project was to create a home that exhibits a net-zero energy
consumption while still meeting the everyday life needs of homeowners. This was to be
accomplished by combining energy sustainable building techniques with energy efficient
alternatives to typical high-energy items of convenience. We chose a simple, yet energy
efficient design, in order to minimize energy consumption and maximize energy output. The
home was also to be placed in a region best suited for the utilization of natural energy
resources.
Introduction
A zero-energy home combines state-of-the-art energy-efficient construction techniques
and equipment with renewable energy systems to return as much energy as it takes on an
annual basis. In order to achieve a net-zero energy consumption, several steps must be taken in
the design process of a home. The first step is to reduce space heating and cooling and water
heating by equipping the house with extra insulation, with efficient air infiltration moisture
barriers and ventilation. Equipment such as furnace, air-conditioner, and water heater within in
the home should also be of the highest affordable efficiency. The next step to achieve energy
efficiency is to use higher efficiency lighting and appliances. These appliances are often marked
with the ENERGY-STAR label, and prove to be not only energy efficiency but financially efficient
as well. Federal tax credits are rewarded to consumers for consumer energy efficiency. Finally,
energy efficiency can be assured by being aware of energy use on a daily basis and turn off
lights and appliances when not in use.
Our plan to achieve energy efficiency was to decrease the need for energy as much as
possible, while simultaneously producing energy from renewable resources.
Table 1: Customer Needs Analysis
Metrics
Needs
Energy-Star
Windows:
quality frame
materials,
multiple panes,
low-e glass, gas
fills, warm
edge spacers
Energy- Thermal
Solar
Solar
Star
Insulation Panels Preheat
Door
water
heater
Trap heat
from
x
x
x
Large
Fluorescent Low-Flow PV
Windows lighting
Water
Systems
facing
Flow
direct
appliances
sun
sunlight
Produce
Energy
from
renewable
resources
x
Heat
Water
With
Minimal
Energy
Consumpti
on
x
Low
energy
lighting
x
x
Produce
Electricity
From
Renewabl
e
Resources
x
Metric
Need
Insulated Vinyl Siding
Energy Efficient Siding
x
Design Description
The first, and possibly the most important decision that needed to be made in the design
process of our zero energy home was that of the location. The ideal environment for and energy
sustainable home is a sunny, temperate clime where you don't need much energy in the first
place. The southern California coastal area is ideal, as far as weather goes. The sun shines more
than in most places which means you can get a lot of energy from solar installations. The mild
climate (mild winters) reduce the need for heat, and the ample sunlight provides the opportunity
to utilize solar energy. The location we decided on was San Diego, California. The house is to be
positioned so that the front is south facing, as to receive direct sun rays.
Since sunlight is so readily available in the location that we chose to position our house,
we decided to utilize solar energy. The main power source to the house is generated by solar
panels placed on the roof. A photo voltaic system was convenient for us because it generates
electricity from the sun, is available and reliable with little maintenance, and is quiet and does
not create pollution.
Large windows located on the south-facing side of the house allow for sunlight to pass
through, which reduces the need to internal lighting during the daylight hours, while also
trapping heat from the sun's rays within the house to minimize the need for extra heating. As to
further assist with heating, the house is insulted with thermal insulation. The outside of the house
is covered with insulated vinyl siding, as to further assist with insulation.
In order to reduce energy consumption for water heating, a solar preheat water heater is
used as opposed to a water heater with a tank. The solar preheat water heater uses energy
generated from the solar panels located on the roof of the house to heat water as it enters the
house. The water is then heated and dispersed throughout the rest of the house through the taps.
Low-flow water fixtures are to be used within the house in order to minimize excess water use.
Also inside the house, energy-star qualified appliances are to be used, as well as fluorescent
lighting, which requires less energy than the typical incandescent lighting.
Conclusion
Our zero energy home achieves net-zero energy efficiency by combining exterior energy
efficient features with interior efficient appliances and fixtures. When proper energy saving
techniques, such as shutting off lights and unplugging appliances when not in use, are used, the
design of a zero energy home can allow for minimal energy consumption, meaning reduced
utility bills and less damage to the ecosystem.