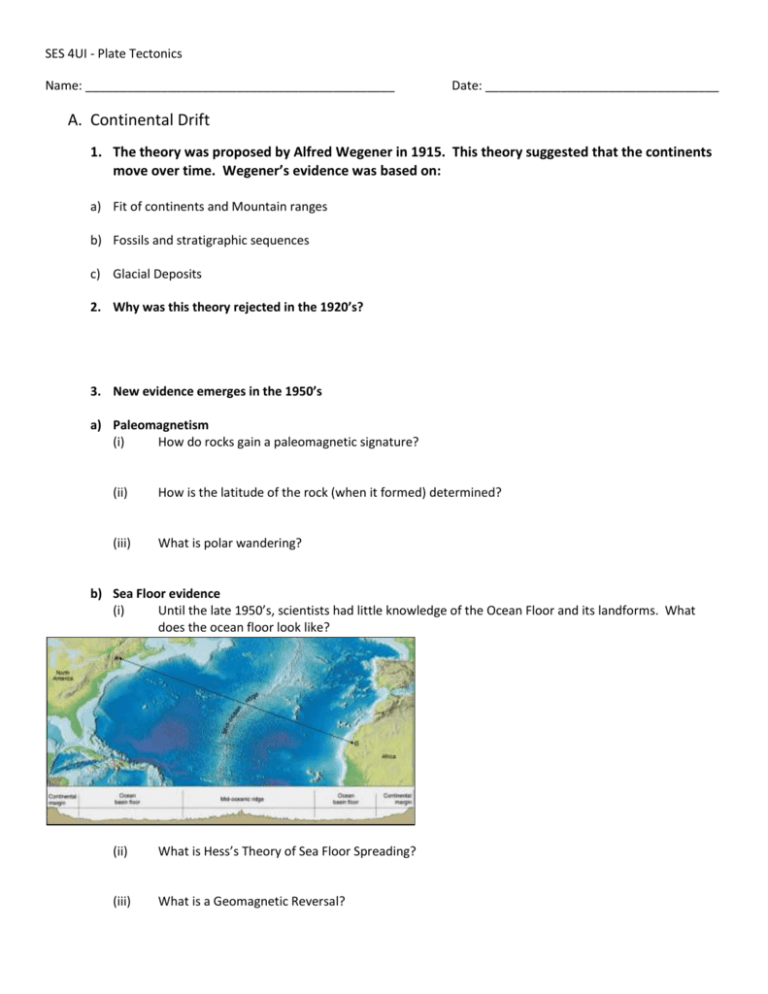 SES 4UI - Plate Tectonics
Name: _____________________________________________
Date: __________________________________
A. Continental Drift
1. The theory was proposed by Alfred Wegener in 1915. This theory suggested that the continents
move over time. Wegener's evidence was based on:
a) Fit of continents and Mountain ranges
b) Fossils and stratigraphic sequences
c) Glacial Deposits
2. Why was this theory rejected in the 1920's?
3. New evidence emerges in the 1950's
a) Paleomagnetism
(i)
How do rocks gain a paleomagnetic signature?
(ii)
How is the latitude of the rock (when it formed) determined?
(iii)
What is polar wandering?
b) Sea Floor evidence
(i)
Until the late 1950's, scientists had little knowledge of the Ocean Floor and its landforms. What
does the ocean floor look like?
(ii)
What is Hess's Theory of Sea Floor Spreading?
(iii)
What is a Geomagnetic Reversal?
(iv)
How did we use this knowledge to learn about Sea Floor Spreading?
(v)
What is the Expanding Earth hypothesis?
B. Plate Tectonics
1. List the tenets of this theory and the dynamics that drive the movement of the Earth's plates:
a)
b)
c)
d)
2. List the three types of Plate Boundaries:
a)
b)
3.
c)
What is the pattern of Earthquakes that we see around the globe?
4.
Divergent Boundaries: Describe the Sea Floor Rifting Process:
5.
What is a divergent boundary?
6.
What is a failed rift?