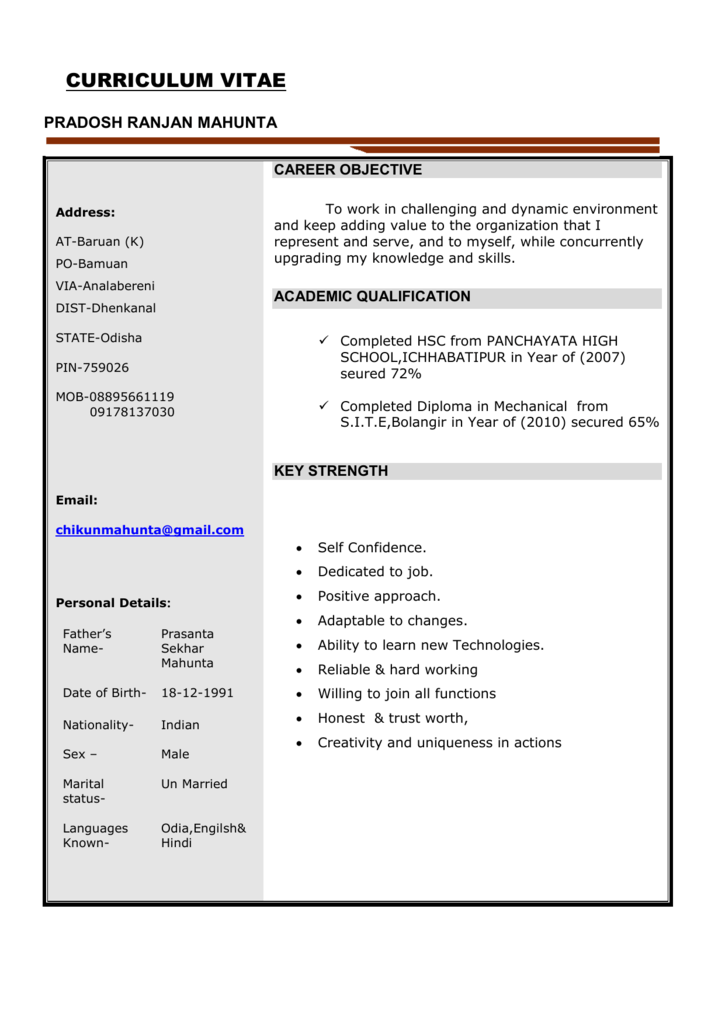 CURRICULUM VITAE
PRADOSH RANJAN MAHUNTA
CAREER OBJECTIVE
To work in challenging and dynamic environment
and keep adding value to the organization that I
represent and serve, and to myself, while concurrently
upgrading my knowledge and skills.
Address:
AT-Baruan (K)
PO-Bamuan
VIA-Analabereni
ACADEMIC QUALIFICATION
DIST-Dhenkanal
STATE-Odisha
 Completed HSC from PANCHAYATA HIGH
SCHOOL,ICHHABATIPUR in Year of (2007)
seured 72%
PIN-759026
MOB-08895661119
09178137030
 Completed Diploma in Mechanical from
S.I.T.E,Bolangir in Year of (2010) secured 65%
KEY STRENGTH
Email:
[email protected]
Personal Details:
Father's
Name-
Prasanta
Sekhar
Mahunta

Self Confidence.

Dedicated to job.

Positive approach.

Adaptable to changes.

Ability to learn new Technologies.

Reliable & hard working
Date of Birth-
18-12-1991

Willing to join all functions
Nationality-
Indian

Honest & trust worth,
Sex –
Male

Creativity and uniqueness in actions
Marital
status-
Un Married
Languages
Known-
Odia,Engilsh&
Hindi
WORKING EXPERIENCE:
Name of the Company
Period of Working
Name of the Position
HINDUSTAN
AERONAUTICS
LTD,SUNABEDA,ODISHA
2011-2012
Apprentices Training
MAHLE FILTER SYSTEMS
INDIA LTD,CHENNAI
2013-2014
Operator Engineer
COMPANY PROFILE:
MAHLE FILTERS SYSTEM INDIA LTD
The scope of the organization is to Design & manufacture, the automotive Plastic
parts like AIR INTAKE MANIFOLD, PLASTIC INTAKE MANIFOLD & Oil mist separator,
cylinder head cover.
Mahle filter system India ltd, has established documented and implemented a quality
management system in accordance with the requirements of ISO 9001: 2000 standards for the
manufacture, sale and service.
Mahle is also the largest exporter of filters from India to renowned customers which
include NISSAN,HONDA,SIMPSON,VOLKSWAGEN,VOLVO etc.
JOB RESPONSIBILITIES:
o
Operating all assembly lines& Trouble shooting.
o
Shift wise following the safety & production activities.
o
Equipment usage and cleaning record maintaining
o
Morning meeting and organization the manpower
o
Online product quality checking
o
Handling measuring instrument
o
Achieve the production target
o
Hourly production monitoring
o
In line rejection monitoring and analysis.
o
Daily QRQC review.
o
Assembly setup change over& monitoring.
o
Machine down time analysis.
o
Kaizen improvement activity.
o
Work instruction preparation.
o
Daily check sheet verification.
o
5S activities
TECHNICAL SKILL:


Fundamental Knowledge in Computer.
ADVANCE DIPLOMA IN CNC TECHNIQUES & PRACTICE (ADCNC)
in C.T.T.C,Bhubaneswar is now continuing…………………
INTERNAL TRAINING PROGRAMS:





5's Training
Fire& Safety Training
How to implement our work, Training
Self-Development
First Aid
DECLARATION
I hereby declare that the information furnished above is true, correct and complete to
the best of my knowledge.
Signature
(PRADOSH RANJAN MAHUNTA)
.
.
.