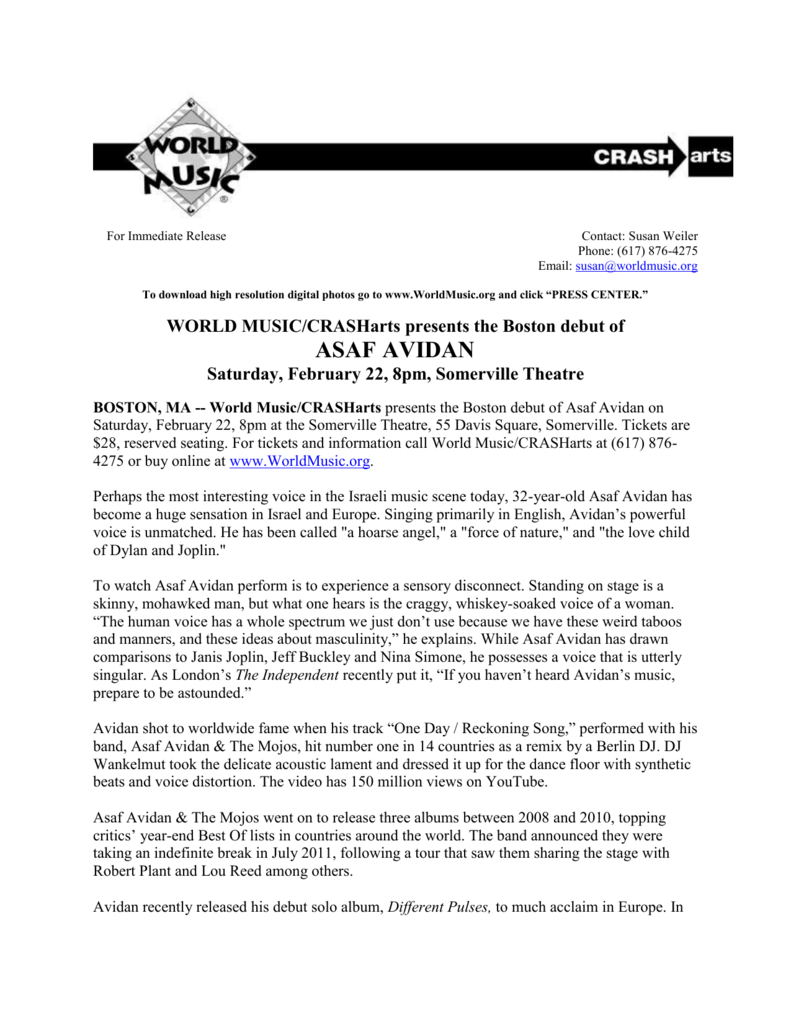 For Immediate Release
Contact: Susan Weiler
Phone: (617) 876-4275
Email: [email protected]
To download high resolution digital photos go to www.WorldMusic.org and click "PRESS CENTER."
WORLD MUSIC/CRASHarts presents the Boston debut of
ASAF AVIDAN
Saturday, February 22, 8pm, Somerville Theatre
BOSTON, MA -- World Music/CRASHarts presents the Boston debut of Asaf Avidan on
Saturday, February 22, 8pm at the Somerville Theatre, 55 Davis Square, Somerville. Tickets are
$28, reserved seating. For tickets and information call World Music/CRASHarts at (617) 8764275 or buy online at www.WorldMusic.org.
Perhaps the most interesting voice in the Israeli music scene today, 32-year-old Asaf Avidan has
become a huge sensation in Israel and Europe. Singing primarily in English, Avidan's powerful
voice is unmatched. He has been called "a hoarse angel," a "force of nature," and "the love child
of Dylan and Joplin."
To watch Asaf Avidan perform is to experience a sensory disconnect. Standing on stage is a
skinny, mohawked man, but what one hears is the craggy, whiskey-soaked voice of a woman.
"The human voice has a whole spectrum we just don't use because we have these weird taboos
and manners, and these ideas about masculinity," he explains. While Asaf Avidan has drawn
comparisons to Janis Joplin, Jeff Buckley and Nina Simone, he possesses a voice that is utterly
singular. As London's The Independent recently put it, "If you haven't heard Avidan's music,
prepare to be astounded."
Avidan shot to worldwide fame when his track "One Day / Reckoning Song," performed with his
band, Asaf Avidan & The Mojos, hit number one in 14 countries as a remix by a Berlin DJ. DJ
Wankelmut took the delicate acoustic lament and dressed it up for the dance floor with synthetic
beats and voice distortion. The video has 150 million views on YouTube.
Asaf Avidan & The Mojos went on to release three albums between 2008 and 2010, topping
critics' year-end Best Of lists in countries around the world. The band announced they were
taking an indefinite break in July 2011, following a tour that saw them sharing the stage with
Robert Plant and Lou Reed among others.
Avidan recently released his debut solo album, Different Pulses, to much acclaim in Europe. In
the new work, Avidan focuses his passion and poetry into a tight suite of songs linked by robust
melodies and intriguing psychological ambivalence. Avidan pushes his remarkable voice to its
limits. The new album has already sold over 200,000 copies in Europe, where the remix single
"Reckoning Day" has sold over 1.5 million. Avidan has filled prestigious 5000-seat venues such
as Olympia and Zenith, and played to crowds of 250,000 in European festivals.
For More Information:
http://www.asafavidanmusic.com/
About World Music/CRASHarts
World Music, a non-profit organization established in 1990, is New England's premier presenter of global culture,
featuring music and dance from the far and near corners of the globe. In 2001, World Music launched CRASHarts
as a division of World Music dedicated to presenting a contemporary performing arts series in greater Boston.
World Music/CRASHarts strives to offer audiences an opportunity to share in many different cultural and artistic
expressions and seeks to foster an atmosphere of discovery and exploration. The organization presents
approximately 70 concerts and 15 educational programs per year. For more information, call (617) 876-4275 or
visit www.WorldMusic.org.
World Music/CRASHarts is funded in part by the Massachusetts Cultural Council, a state agency which also
receives support from the National Endowment for the Arts.