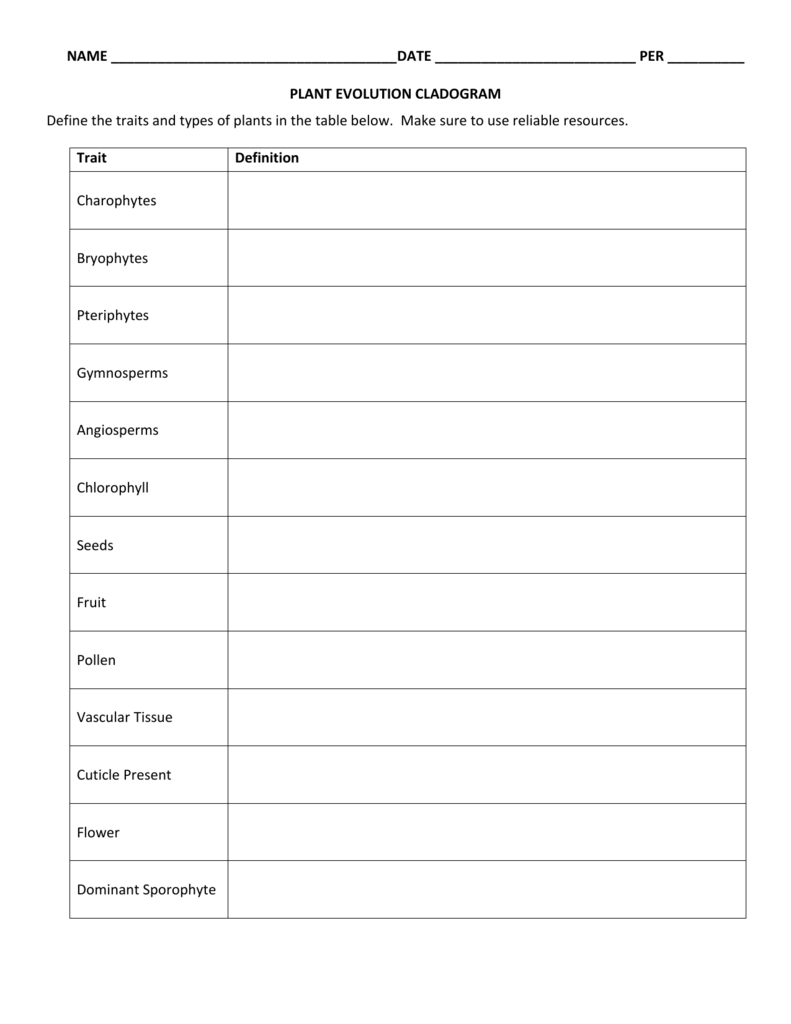 NAME _____________________________________DATE __________________________ PER __________
PLANT EVOLUTION CLADOGRAM
Define the traits and types of plants in the table below. Make sure to use reliable resources.
Trait
Charophytes
Bryophytes
Pteriphytes
Gymnosperms
Angiosperms
Chlorophyll
Seeds
Fruit
Pollen
Vascular Tissue
Cuticle Present
Flower
Dominant Sporophyte
Definition
Now that you know what the traits and types of plants are, mark an "X" in each box for the groups of plants
that share that trait. Then using the information in the table, create a cladogram that outlines the evolution of
plants. The traits are not in the order of evolution. Plant groups should be placed on vertical arrow. Traits
should be located on horizontal lines.
Charophytes Bryophytes
Common Names
Chlorophyll
Seeds
Fruit
Pollen
Vascular Tissue
Cuticle Present
Flower
Dominant
Sporophyte
Pteriphytes
Gymnosperms Angiosperms
1. What were the precursors to land plant?
2. In land plants, which of the taxa (groups) is the oldest?
3. What vascular land plant came next?
4. Looking at the chart, what type of land plants occurred next?
5. What was the last group of land plants to evolve?
6. What is a seed, and why was the evolution of the seed such an important innovation for plants?
7. How do the mechanisms by which sperm reach the egg differ between gymnosperms and seedless
vascular plants?
8. Why was the flower such an important innovation?
9. What role do insects, animals and wind play in plant reproduction?
10. How does the pollination of gymnosperms and angiosperms differ?
11. Explain the difference between the following terms:
a. Vascular and non-vascular plants:
b. Angiosperm and Gymnosperm:
12. What are three differences between algae and land plants?
13. Name two adaptations that ferns have which they do not share with bryophytes.
14. Name one adaptation which gymnosperms have but ferns do not.
15. Name two adaptations, which angiosperms have, but gymnosperms do not.