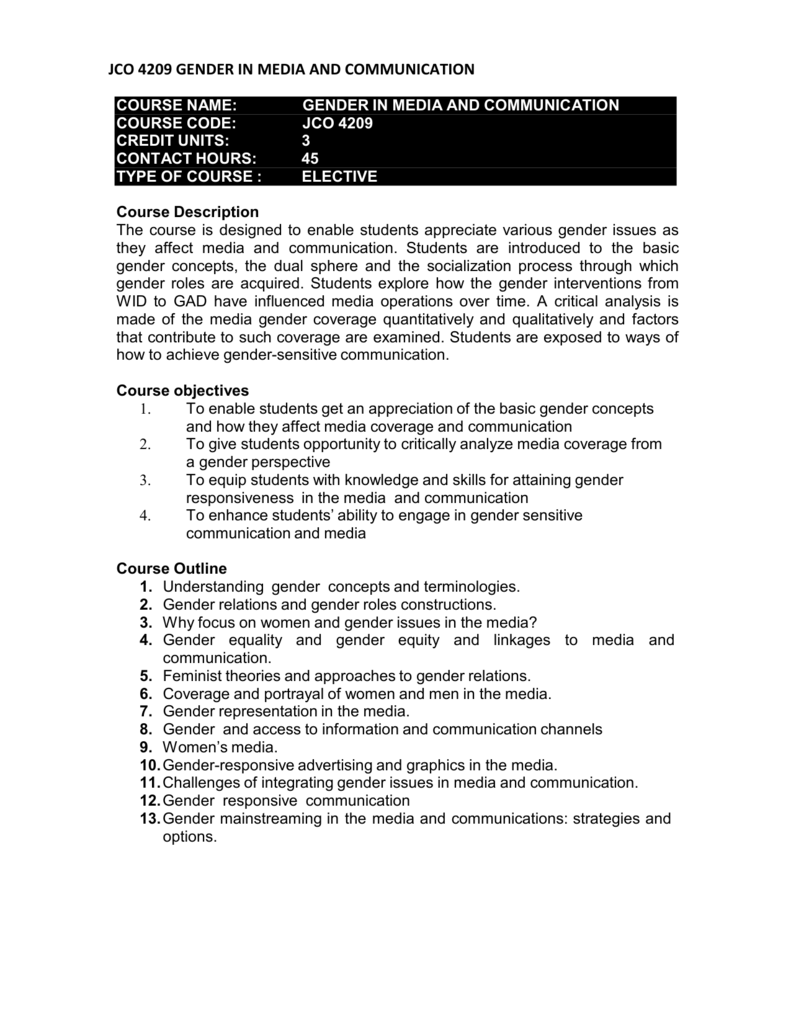 JCO 4209 GENDER IN MEDIA AND COMMUNICATION
COURSE NAME:
COURSE CODE:
CREDIT UNITS:
CONTACT HOURS:
TYPE OF COURSE :
GENDER IN MEDIA AND COMMUNICATION
JCO 4209
3
45
ELECTIVE
Course Description
The course is designed to enable students appreciate various gender issues as
they affect media and communication. Students are introduced to the basic
gender concepts, the dual sphere and the socialization process through which
gender roles are acquired. Students explore how the gender interventions from
WID to GAD have influenced media operations over time. A critical analysis is
made of the media gender coverage quantitatively and qualitatively and factors
that contribute to such coverage are examined. Students are exposed to ways of
how to achieve gender-sensitive communication.
Course objectives
1.
To enable students get an appreciation of the basic gender concepts
and how they affect media coverage and communication
2.
To give students opportunity to critically analyze media coverage from
a gender perspective
3.
To equip students with knowledge and skills for attaining gender
responsiveness in the media and communication
4.
To enhance students' ability to engage in gender sensitive
communication and media
Course Outline
1. Understanding gender concepts and terminologies.
2. Gender relations and gender roles constructions.
3. Why focus on women and gender issues in the media?
4. Gender equality and gender equity and linkages to media and
communication.
5. Feminist theories and approaches to gender relations.
6. Coverage and portrayal of women and men in the media.
7. Gender representation in the media.
8. Gender and access to information and communication channels
9. Women's media.
10. Gender-responsive advertising and graphics in the media.
11. Challenges of integrating gender issues in media and communication.
12. Gender responsive communication
13. Gender mainstreaming in the media and communications: strategies and
options.
Learning Outcomes
By the end of the course, students should:
1. Have capacity for critical gender analysis and report in a gender
responsive manner.
2. Use gender sensitive language in communication and the media.
3. Have an appreciation of how gender imbalances in the media contribute to
stereotype and perpetuation of gender inequalities and negatively the impacts
on national development.
Methods of Teaching/Delivery
• Interactive lectures
• Group Work Practical Sessions
• Seminar Presentations
• Case studies
Assessment Methods
• Coursework of at least 2 assignments will constitute 40%
• Final examination will account for 60%
Reference Materials/Learning Resources
• Who makes the news? The Global Media Monitoring Project 2010.
www.whomakesthenews.org
• Creedon, P.J. (ed) (1993) Women in Mass Communication.
• Nassanga, G.L. (1997) 'Women, Development and the Media: Case Study of
Uganda.' Media, Culture and Society, Vol. 19(3) 471-476.
• Nassanga, G.L. (2002) 'The Road to a Gendered Media in Uganda:
Challenges and prospects'. Women's Congress Papers. Makerere University,
Kampala. www.makerere.ac.ug/genderstudies
• Teri Kwai Gamble & Michael W. Gamble (2003) The Gender
Communication Connection.
• Gail Dines & Jean M. Humez (eds) ( 2003) Gender, Race & Class in
Media
• Ivy Backlund (2004) Gendered Speak
• Julia T. Wood (2001) Communication, Gender & Culture
• Boserup Ester (1989) Women's Role in Economic Development.
• Rodda Annabel (1994) Women and the Environment.