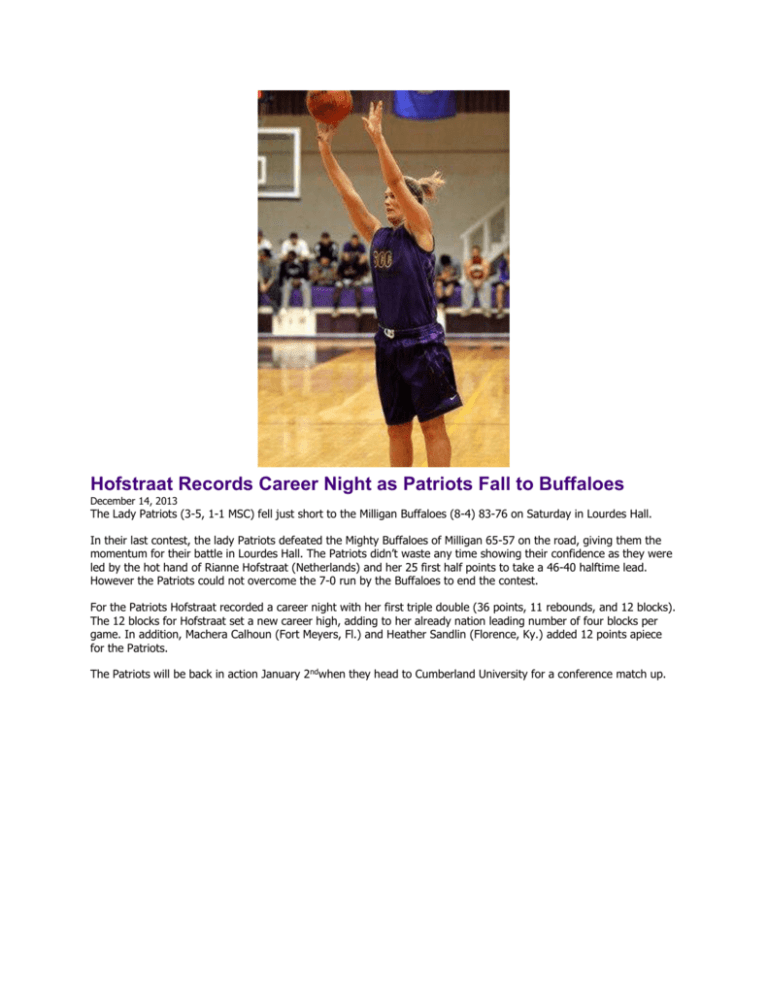 Hofstraat Records Career Night as Patriots Fall to Buffaloes
December 14, 2013
The Lady Patriots (3-5, 1-1 MSC) fell just short to the Milligan Buffaloes (8-4) 83-76 on Saturday in Lourdes Hall.
In their last contest, the lady Patriots defeated the Mighty Buffaloes of Milligan 65-57 on the road, giving them the
momentum for their battle in Lourdes Hall. The Patriots didn't waste any time showing their confidence as they were
led by the hot hand of Rianne Hofstraat (Netherlands) and her 25 first half points to take a 46-40 halftime lead.
However the Patriots could not overcome the 7-0 run by the Buffaloes to end the contest.
For the Patriots Hofstraat recorded a career night with her first triple double (36 points, 11 rebounds, and 12 blocks).
The 12 blocks for Hofstraat set a new career high, adding to her already nation leading number of four blocks per
game. In addition, Machera Calhoun (Fort Meyers, Fl.) and Heather Sandlin (Florence, Ky.) added 12 points apiece
for the Patriots.
The Patriots will be back in action January 2ndwhen they head to Cumberland University for a conference match up.