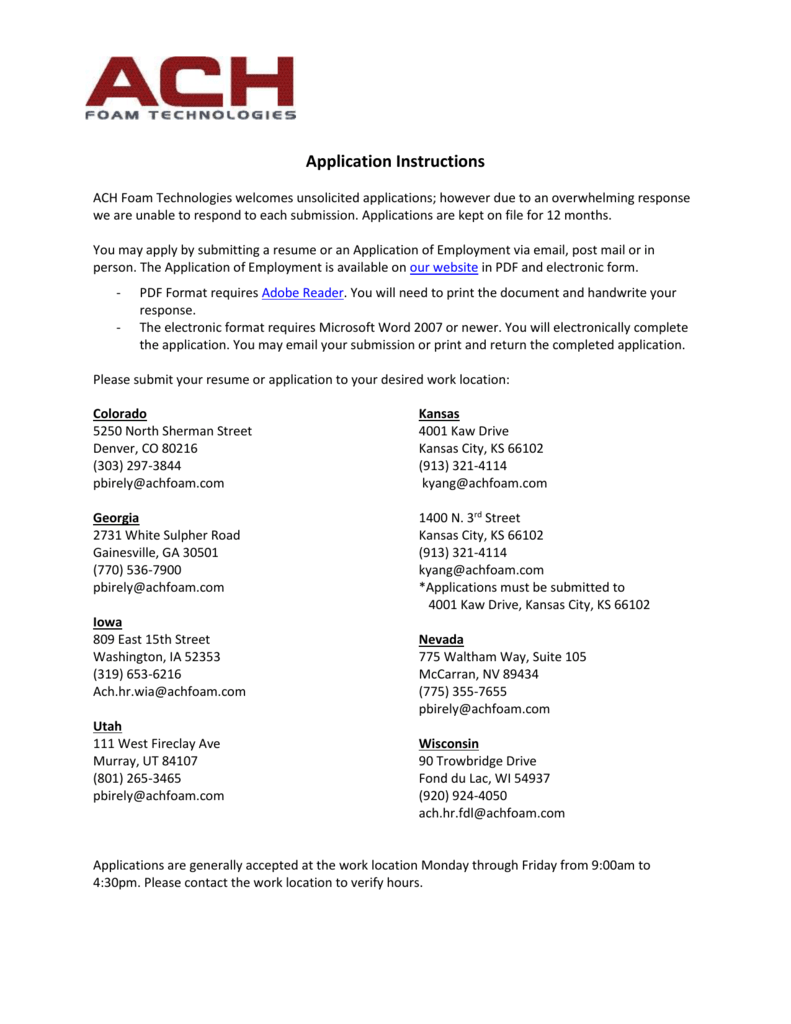 Application Instructions
ACH Foam Technologies welcomes unsolicited applications; however due to an overwhelming response
we are unable to respond to each submission. Applications are kept on file for 12 months.
You may apply by submitting a resume or an Application of Employment via email, post mail or in
person. The Application of Employment is available on our website in PDF and electronic form.
-
PDF Format requires Adobe Reader. You will need to print the document and handwrite your
response.
The electronic format requires Microsoft Word 2007 or newer. You will electronically complete
the application. You may email your submission or print and return the completed application.
Please submit your resume or application to your desired work location:
Colorado
5250 North Sherman Street
Denver, CO 80216
(303) 297-3844
[email protected]
Kansas
4001 Kaw Drive
Kansas City, KS 66102
(913) 321-4114
[email protected]
Georgia
2731 White Sulpher Road
Gainesville, GA 30501
(770) 536-7900
[email protected]
1400 N. 3rd Street
Kansas City, KS 66102
(913) 321-4114
[email protected]
*Applications must be submitted to
4001 Kaw Drive, Kansas City, KS 66102
Iowa
809 East 15th Street
Washington, IA 52353
(319) 653-6216
[email protected]
Utah
111 West Fireclay Ave
Murray, UT 84107
(801) 265-3465
[email protected]
Nevada
775 Waltham Way, Suite 105
McCarran, NV 89434
(775) 355-7655
[email protected]
Wisconsin
90 Trowbridge Drive
Fond du Lac, WI 54937
(920) 924-4050
[email protected]
Applications are generally accepted at the work location Monday through Friday from 9:00am to
4:30pm. Please contact the work location to verify hours.