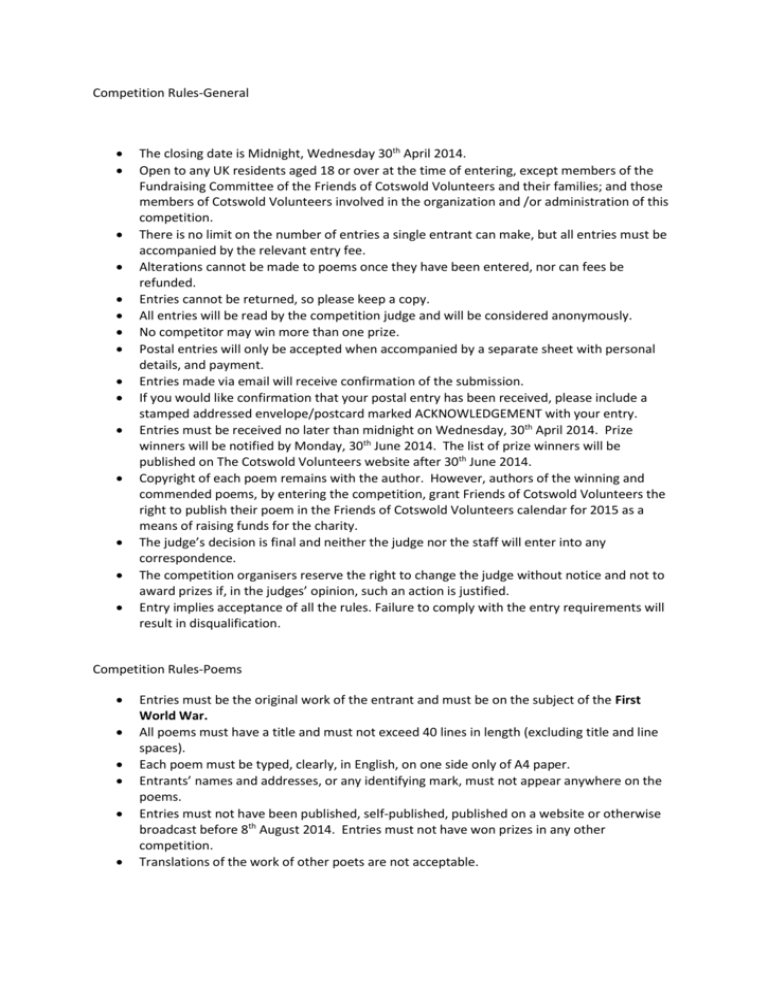 Competition Rules-General















The closing date is Midnight, Wednesday 30th April 2014.
Open to any UK residents aged 18 or over at the time of entering, except members of the
Fundraising Committee of the Friends of Cotswold Volunteers and their families; and those
members of Cotswold Volunteers involved in the organization and /or administration of this
competition.
There is no limit on the number of entries a single entrant can make, but all entries must be
accompanied by the relevant entry fee.
Alterations cannot be made to poems once they have been entered, nor can fees be
refunded.
Entries cannot be returned, so please keep a copy.
All entries will be read by the competition judge and will be considered anonymously.
No competitor may win more than one prize.
Postal entries will only be accepted when accompanied by a separate sheet with personal
details, and payment.
Entries made via email will receive confirmation of the submission.
If you would like confirmation that your postal entry has been received, please include a
stamped addressed envelope/postcard marked ACKNOWLEDGEMENT with your entry.
Entries must be received no later than midnight on Wednesday, 30th April 2014. Prize
winners will be notified by Monday, 30th June 2014. The list of prize winners will be
published on The Cotswold Volunteers website after 30th June 2014.
Copyright of each poem remains with the author. However, authors of the winning and
commended poems, by entering the competition, grant Friends of Cotswold Volunteers the
right to publish their poem in the Friends of Cotswold Volunteers calendar for 2015 as a
means of raising funds for the charity.
The judge's decision is final and neither the judge nor the staff will enter into any
correspondence.
The competition organisers reserve the right to change the judge without notice and not to
award prizes if, in the judges' opinion, such an action is justified.
Entry implies acceptance of all the rules. Failure to comply with the entry requirements will
result in disqualification.
Competition Rules-Poems






Entries must be the original work of the entrant and must be on the subject of the First
World War.
All poems must have a title and must not exceed 40 lines in length (excluding title and line
spaces).
Each poem must be typed, clearly, in English, on one side only of A4 paper.
Entrants' names and addresses, or any identifying mark, must not appear anywhere on the
poems.
Entries must not have been published, self-published, published on a website or otherwise
broadcast before 8th August 2014. Entries must not have won prizes in any other
competition.
Translations of the work of other poets are not acceptable.
Competition Rules-Entry Fees

Each poem submitted costs £4, or £10 for 3 entries.
Competition Rules-Winners



Winners will be notified 30th June 2014 and invited to read their winning poem at a WWI
commemoration ceremony at the Cirencester Parish Church, on 8th August 2014.
Unfortunately, as we are a charity, we are not able to reimburse any travel costs incurred in
attending.
The 3 winning and 3 commended poets will also have their poems featured, along with
professional photographs of the area, on the Cotswold Volunteers Calendar for 2015, and
will each receive a complimentary copy of the calendar on publication.
All winners will be asked to provide a biography and photograph that will appear with their
winning poem on the Cotswold Volunteers website and in the calendar.