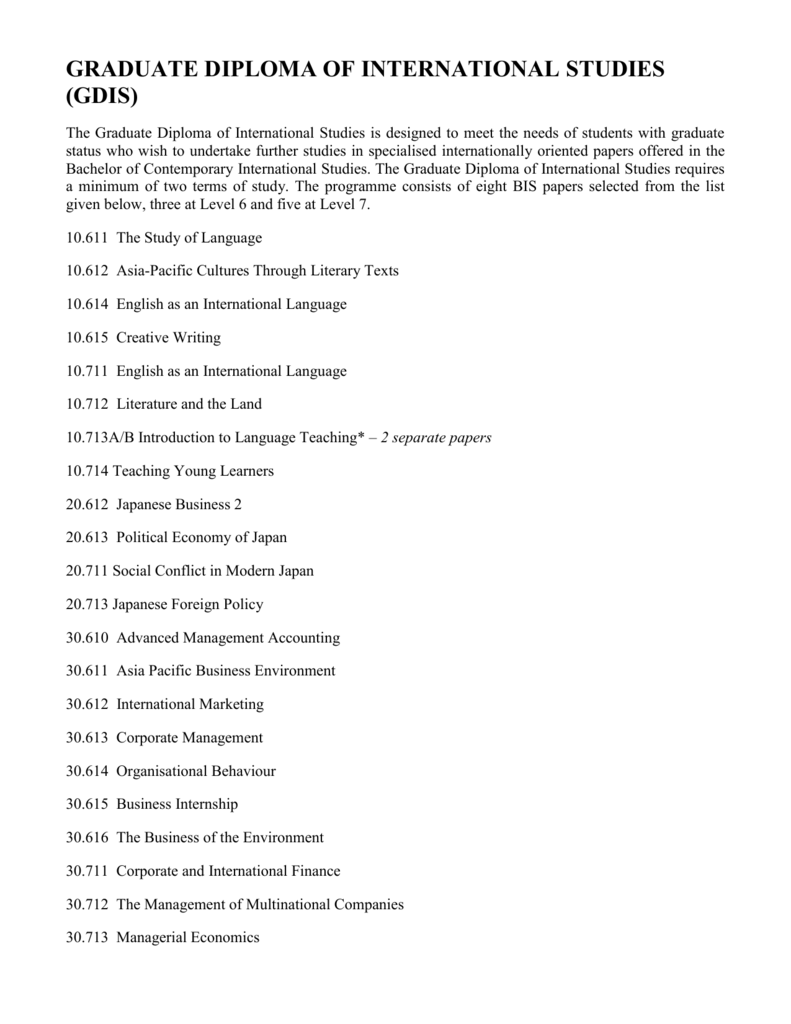 GRADUATE DIPLOMA OF INTERNATIONAL STUDIES
(GDIS)
The Graduate Diploma of International Studies is designed to meet the needs of students with graduate
status who wish to undertake further studies in specialised internationally oriented papers offered in the
Bachelor of Contemporary International Studies. The Graduate Diploma of International Studies requires
a minimum of two terms of study. The programme consists of eight BIS papers selected from the list
given below, three at Level 6 and five at Level 7.
10.611 The Study of Language
10.612 Asia-Pacific Cultures Through Literary Texts
10.614 English as an International Language
10.615 Creative Writing
10.711 English as an International Language
10.712 Literature and the Land
10.713A/B Introduction to Language Teaching* – 2 separate papers
10.714 Teaching Young Learners
20.612 Japanese Business 2
20.613 Political Economy of Japan
20.711 Social Conflict in Modern Japan
20.713 Japanese Foreign Policy
30.610 Advanced Management Accounting
30.611 Asia Pacific Business Environment
30.612 International Marketing
30.613 Corporate Management
30.614 Organisational Behaviour
30.615 Business Internship
30.616 The Business of the Environment
30.711 Corporate and International Finance
30.712 The Management of Multinational Companies
30.713 Managerial Economics
30.714 International Business
30.715 Advanced Financial Accounting
30.716 Small Business and Entrepreneurship
40.612/717 Environmental Monitoring and Assessment
40.613 Natural Disasters and Emergency Management
40.614/712 Biological Conservation
40.615 Rural Environmental Systems and Management
40.616 Urban Environmental Systems and Management
40.713 Global Environmental Issues
40.715 Rural Environmental Studies
40.716 Urban Environmental Issues
50.610 Internationalism
50.611 Human Rights: The Politics of Democracy and Authoritarianism
50.612 Politics of the Free Market
50.613 Politics of the Environment
50.614 New Zealand – East Asian Relations
50.615 Southeast Asia
50.711 War and Peace: Security and Stability
50.712 Foreign Policy in the Information Age
50.713 North East Asia
*Papers 10.713A and B are equivalent to the Trinity College London TESOL Certificate, and must be
taken in semester three.