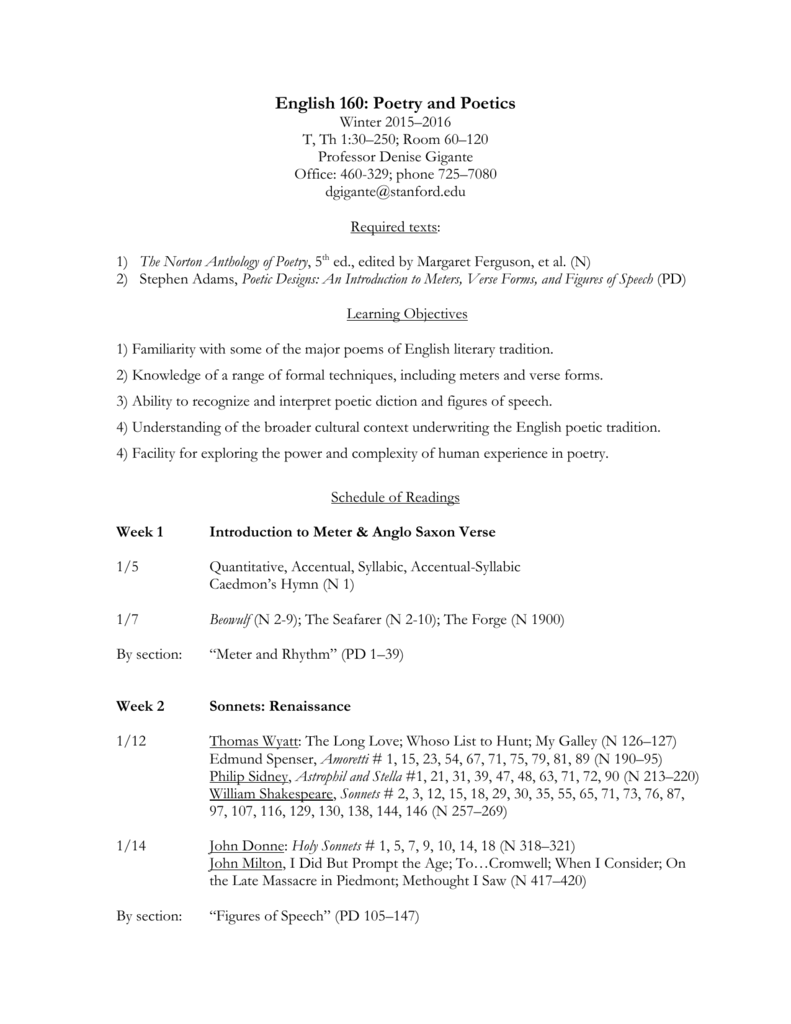 English 160: Poetry and Poetics
Winter 2015–2016
T, Th 1:30–250; Room 60–120
Professor Denise Gigante
Office: 460-329; phone 725–7080
[email protected]
Required texts:
1) The Norton Anthology of Poetry, 5th ed., edited by Margaret Ferguson, et al. (N)
2) Stephen Adams, Poetic Designs: An Introduction to Meters, Verse Forms, and Figures of Speech (PD)
Learning Objectives
1) Familiarity with some of the major poems of English literary tradition.
2) Knowledge of a range of formal techniques, including meters and verse forms.
3) Ability to recognize and interpret poetic diction and figures of speech.
4) Understanding of the broader cultural context underwriting the English poetic tradition.
4) Facility for exploring the power and complexity of human experience in poetry.
Schedule of Readings
Week 1
Introduction to Meter & Anglo Saxon Verse
1/5
Quantitative, Accentual, Syllabic, Accentual-Syllabic
Caedmon's Hymn (N 1)
1/7
Beowulf (N 2-9); The Seafarer (N 2-10); The Forge (N 1900)
By section:
"Meter and Rhythm" (PD 1–39)
Week 2
Sonnets: Renaissance
1/12
Thomas Wyatt: The Long Love; Whoso List to Hunt; My Galley (N 126–127)
Edmund Spenser, Amoretti # 1, 15, 23, 54, 67, 71, 75, 79, 81, 89 (N 190–95)
Philip Sidney, Astrophil and Stella #1, 21, 31, 39, 47, 48, 63, 71, 72, 90 (N 213–220)
William Shakespeare, Sonnets # 2, 3, 12, 15, 18, 29, 30, 35, 55, 65, 71, 73, 76, 87,
97, 107, 116, 129, 130, 138, 144, 146 (N 257–269)
1/14
John Donne: Holy Sonnets # 1, 5, 7, 9, 10, 14, 18 (N 318–321)
John Milton, I Did But Prompt the Age; To…Cromwell; When I Consider; On
the Late Massacre in Piedmont; Methought I Saw (N 417–420)
By section:
"Figures of Speech" (PD 105–147)
2
Week 3
Metaphysical & Cavalier Poetry
1/19
John Donne: The Good Morrow; The Sun Rising; The Canonization; The
Anniversary; A Valediction of Weeping; A Valediction Forbidding Mourning;
The Ecstasy; The Funeral; The Flee; The Relic; Elegy XIX (N 293–313)
George Herbert, The Temple: The Altar, Easter Wings; Sin; The Pulley; The
Forerunners; Discipline; Love (N 367–369)
1/21
Christopher Marlowe, The Passionate Shepherd to His Love (N 256)
Robert Herrick: The Argument of his Book; The Vine; The Sour Reader;
Corinna's Going a-Maying; To the Virgins; Upon Julia's Breasts; Upon a Child
that Died; His Prayer to Ben Jonson; The Night-Piece to Julia (N 354–359)
Edmund Waller, Go, lovely Rose (N 393)
Richard Lovelace, To Althea; To Lucasta; To Amarantha (N 472–474)
Andrew Marvell, To his Coy Mistress (478); Mower poems; The Garden (N 482-86)
By section:
"Beyond Iambic Pentamber" (PD 37–69)
Week 4
Augustan Verse: Didactic and Satiric
1/26
Alexander Pope, An Essay on Criticism; An Essay on Man (N 596–626)
Samuel Johnson, The Vanity of Human Wishes (N 656–664)
Jonathan Swift, Stella's Birthday
1/28
Swift: A Description of the Morning; A Description of a City Shower; The
Lady's Dressing Room; A Beautiful Young Nymph Going to Bed; Verses on the
Death of Dr. Swift (N 568-577)
By section:
"The Terminology of Rhyming (PD 199–217)
Week 5
Odes: Pindaric and Horatian
2/2
Ben Jonson, To the Immortal Memory (N 337-341)]
Ann Finch, The Spleen (N 558–562)
William Collins: Ode on the Poetical Character (N 673–675)
William Wordsworth, Intimations of Immortality (N 796-800)
T. Coleridge, Dejection (N 828–831)
2/4
John Milton, On the Morning of Christ's Nativity (N 394–401)
Thomas Gray: Ode on a Distant Prospect of Eton College; Ode on the Death of
a Favorite Cat (N 666–669)
John Keats, Ode to Psyche; Ode on Melancholy; Ode on a Grecian Urn; To
Autumn (N 933-939)
Percy Bysshe Shelley, Ode on the West Wind (N 872–874)
By section:
"Stanza and Form" "Stanza and Form" (PD 71–92; 101–103)
3
Week 6
French Forms: Sestina and the Villanelle
2/9
MIDTERM
2/11
Sestina: Elizabeth Bishop: Sestina (N 1520)
Villanelle: Elizabeth Bishop: One Art (N 1527)
Robert Frost: Acquainted with the Night (N 1237–38)
Louise Bogan: Song for the Last Act (N 1408–09)
Theodore Roethke: The Waking (N 1500)
Dylan Thomas: Do Not Go Gentle into That Good Night (N 1572–73)
By section:
"Stanza and Form" (PD 92–101)
Week 7
Conversation Poetry
2/16
Wordsworth, Lines Composed a Few Miles Above Tintern Abbey (N 765–768);
The Prelude, Book I (N 781–789)
Coleridge, Aeolian Harp; This Lime-Tree Bower; Frost at Midnight (N 805-812)
2/18
Matthew Arnold, Dover Beach (N 1101)
W.H. Auden, In Praise of Limestone (N 1477–1479)
W. B. Yeats: A Prayer for my Daughter (N 1196–98)
Wallace Stevens, Idea of Order at Key West (N 1264–1265
By section:
2pp. on a Conversation Poem
Week 8
Dramatic Monologue
2/23
Tennyson: Lotos Eaters (N 988-991); Ulysses (992-993); Tithonous (N 1006-07)
Robert Browning: Porphyria's Lover (N 1009); My Last Duchess (N 1012);
Bishop Orders his Tomb (N 1014-16); Fra Lippo Lippi (N 1026); Andrea del
Sarto (N1034)
2/25
T.S. Eliot, The Love Song of J. Alfred Prufrock (N 1340)
Robert Lowell: Mr. Edwards and the Spider (N 1596–97)
Sylvia Plath: Lady Lazarus (N 1843–1845)
By section:
2pp. on a Dramatic Monologue
Week 9
Free Verse
3/2
Walt Whitman: from Song of Myself (N 1060–66); Crossing Brooklyn Ferry (1066–72)
Carl Sandburg: Chicago (N 1252–53)
4
3/4
William Carlos Williams: Danse Russe; Portrait of a Lady; Queen Anne's Lace;
The Red Wheelbarrow; This is Just to Say; Poem; A Sort of a Song; Asphodel;
Landscape with Fall of Icarus (1272–83)
Jean Toomer: Face, Portrait in Georgia, Harvest Song (N 1398–1400)
By section:
"Form in Free Verse" (PD 149–98)
Week 10
Elegy
3/9
John Milton, Lycidas (N 410–415)
Thomas Gray, Elegy Written in a Country Churchyard; On the Death of Richard
West (N 669–673)
Shelley, Adonais (N 879-91)
Tennyson, from In Memoriam (N 996-1004)
3/11
W.B. Yeats, Under Ben Bulben (N 1208–1210)
Auden, In Memory of W. B. Yeats (N 1472-73); September 1, 1939 (N 1747)
Whitman, When Lilacs Last in the Doorway Bloomed (N 1078–85)
John Berryman, Elegy for W[illiam].C[arlos].W[illiams] (N 1551)
Frank O'Hara; The Day Lady Died (N 1728)
Alan Ginsberg: from Howl (1708–13)
By section:
2pp. on an Elegy
Course Requirements
1) Attendance, Preparation, and Participation. No absences unexcused in advance.
2) Midterm (in class, 2/9), consisting of questions on poetic form, and a short essay-analysis.
You will be provided with more detailed information in advance, and you can pre-prepare.
You will be allowed to use the Norton, but no notes. N. B.: The honor code will apply.
3) Three 2 pp. essay responses to questions regarding the reading for weeks 7, 8, and 10 (when
no poetics readings are assigned).
4) Final Exam, weighted toward material not covered on the midterm. Similar format: short
questions and two more synthetic essay responses. You'll have a range of selection, and you
will be allowed to use the Norton, but no notes. N. B.: The honor code will apply.
Special Accommodations
Students with documented disabilities may initiate a request for special accommodations
with the Office of Accessible Education (http://studentaffairs.stanford.edu/oae). They may
provide you with an Accommodation Letter to present the first week of class.