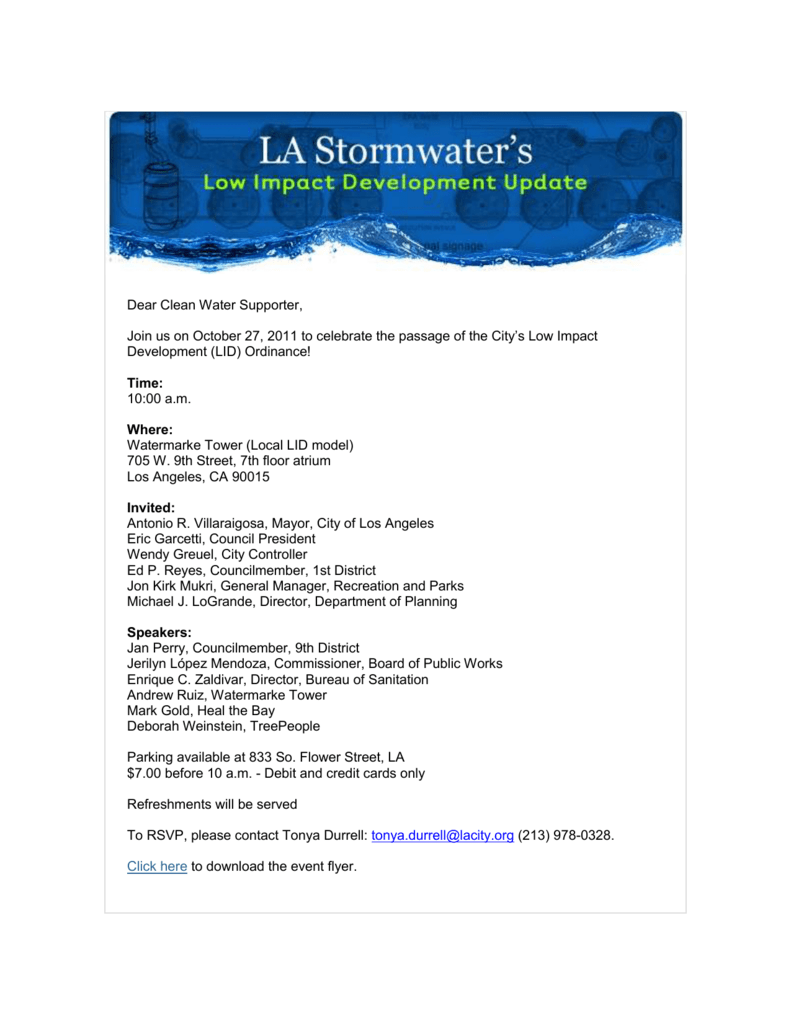 Dear Clean Water Supporter,
Join us on October 27, 2011 to celebrate the passage of the City's Low Impact
Development (LID) Ordinance!
Time:
10:00 a.m.
Where:
Watermarke Tower (Local LID model)
705 W. 9th Street, 7th floor atrium
Los Angeles, CA 90015
Invited:
Antonio R. Villaraigosa, Mayor, City of Los Angeles
Eric Garcetti, Council President
Wendy Greuel, City Controller
Ed P. Reyes, Councilmember, 1st District
Jon Kirk Mukri, General Manager, Recreation and Parks
Michael J. LoGrande, Director, Department of Planning
Speakers:
Jan Perry, Councilmember, 9th District
Jerilyn López Mendoza, Commissioner, Board of Public Works
Enrique C. Zaldivar, Director, Bureau of Sanitation
Andrew Ruiz, Watermarke Tower
Mark Gold, Heal the Bay
Deborah Weinstein, TreePeople
Parking available at 833 So. Flower Street, LA
$7.00 before 10 a.m. - Debit and credit cards only
Refreshments will be served
To RSVP, please contact Tonya Durrell: [email protected] (213) 978-0328.
Click here to download the event flyer.