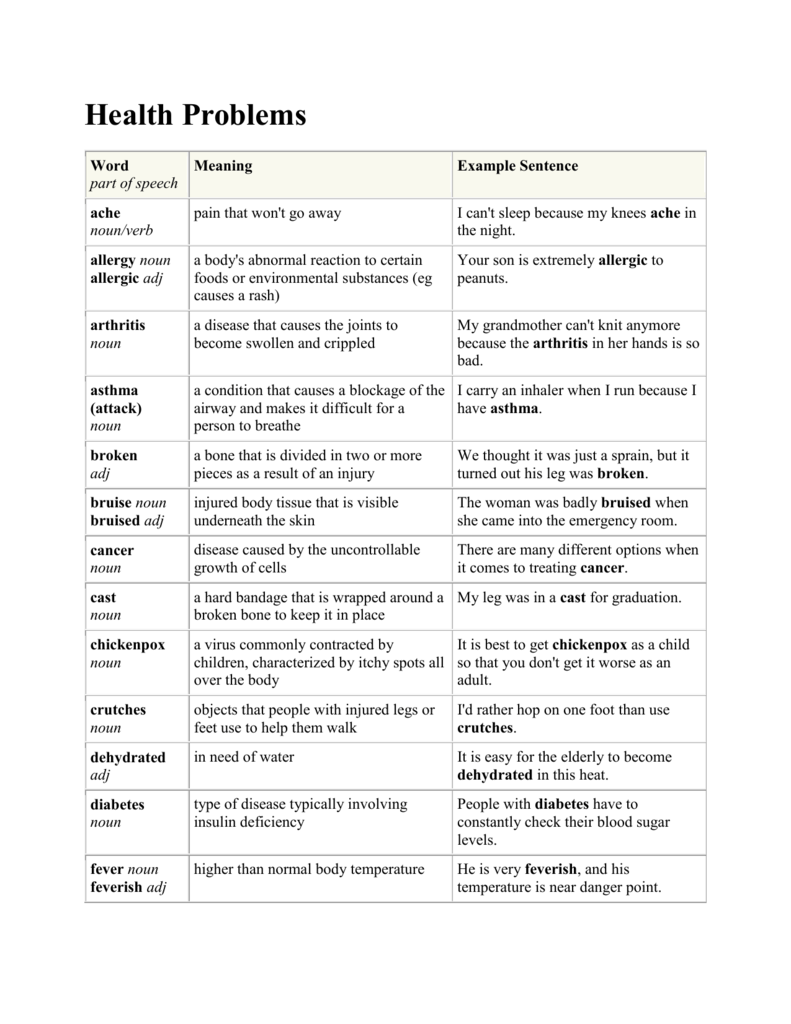 Health Problems
Word
part of speech
Meaning
Example Sentence
ache
noun/verb
pain that won't go away
I can't sleep because my knees ache in
the night.
allergy noun
allergic adj
a body's abnormal reaction to certain
foods or environmental substances (eg
causes a rash)
Your son is extremely allergic to
peanuts.
arthritis
noun
a disease that causes the joints to
become swollen and crippled
My grandmother can't knit anymore
because the arthritis in her hands is so
bad.
asthma
(attack)
noun
a condition that causes a blockage of the I carry an inhaler when I run because I
airway and makes it difficult for a
have asthma.
person to breathe
broken
adj
a bone that is divided in two or more
pieces as a result of an injury
We thought it was just a sprain, but it
turned out his leg was broken.
bruise noun
bruised adj
injured body tissue that is visible
underneath the skin
The woman was badly bruised when
she came into the emergency room.
cancer
noun
disease caused by the uncontrollable
growth of cells
There are many different options when
it comes to treating cancer.
cast
noun
a hard bandage that is wrapped around a My leg was in a cast for graduation.
broken bone to keep it in place
chickenpox
noun
a virus commonly contracted by
It is best to get chickenpox as a child
children, characterized by itchy spots all so that you don't get it worse as an
over the body
adult.
crutches
noun
objects that people with injured legs or
feet use to help them walk
I'd rather hop on one foot than use
crutches.
dehydrated
adj
in need of water
It is easy for the elderly to become
dehydrated in this heat.
diabetes
noun
type of disease typically involving
insulin deficiency
People with diabetes have to
constantly check their blood sugar
levels.
fever noun
feverish adj
higher than normal body temperature
He is very feverish, and his
temperature is near danger point.
flu
(influenza)
noun
many types of respiratory or intestinal
infections passed on through a virus
People who have the flu should not
visit hospital patients.
heart attack
noun
instance in which blood stops pumping
through the heart
People who smoke are at greater risk
of having a heart attack.
infection
noun
infected adj
diseased area of the body (viral or
bacterial)
The wound should be covered when
you swim to prevent it from becoming
infected.
itchy
adj
feeling a discomfort on the skin's
surface that makes you want to scratch
it
If you are allergic to this medication
your skin will get red and itchy.
light-headed
adj
feeling of dizziness and being offIf you are feeling light-headed again,
balance, caused by lack of oxygen in the lie down and call me.
brain
numb
adj
no feeling in a certain body part
The needle will make your lower body
feel numb.
paralyzed
adj
unable to move certain areas of the
body
We thought her legs were paralyzed
for life, but she is learning how to
walk.
poison noun
a substance that is very dangerous if it
poisonous adj enters the human body
The child was bitten by a poisonous
snake.
routine
check-up
noun
a doctor's appointment to check a
person's general health
I'd like to see you a year from now for
a routine check-up.
second
opinion
noun
input from a second doctor about an
illness or symptom
I went to another doctor to get a
second opinion about these
headaches.
side effects
noun
other symptoms that might occur as a
result of a certain medication or
procedure
One of the side effects of
antidepressants is a loss of appetite.
sprain
noun/verb
an injury (less serious than a break) to a
joint (ankle, wrist, knee etc)
I sprained my knee playing soccer.
stress noun
stressed adj
worry that causes muscles to tighten and You need to take some time off work
blood pressure to rise
and relieve some of your stress.
swelling noun ligaments (parts that hold the joints
swollen adj
together) growing bigger and rounder
after an injury to a joint
I knew my ankle was sprained because
it was so swollen.
temperature
noun
amount of heat measured in a body;
higher than normal temperature
We brought Jesse to emergency
because he was running a (high)
temperature.
tender
adj
painful when touched or used
The incision was tender after the
surgery.
unconscious
adj
alive, but appearing to be asleep and
unaware of the surroundings
I hit my head on the steering wheel
and was still unconscious when the
ambulance arrived.
vomit
noun/verb
discharge of a person stomach contents
through the mouth
The pregnant woman can't stop
vomiting.
wound noun
wounded adj
injury to body ("flesh wound" means
not deep)
The wounded soldiers are being
airlifted to the hospital.