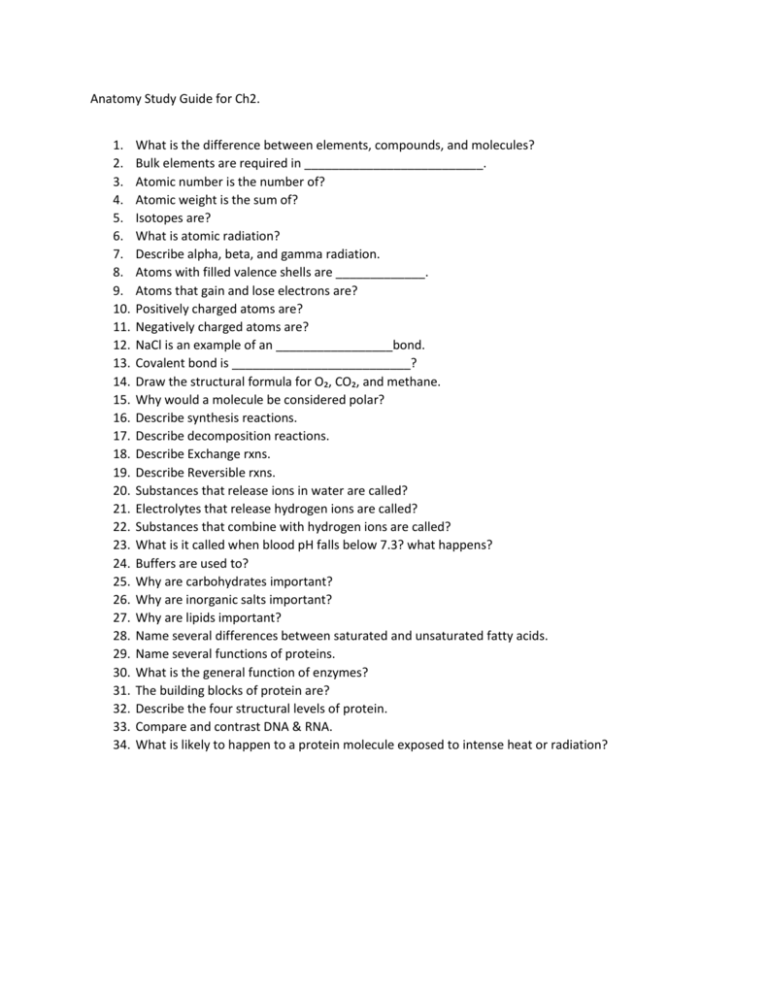 Anatomy Study Guide for Ch2.
1.
2.
3.
4.
5.
6.
7.
8.
9.
10.
11.
12.
13.
14.
15.
16.
17.
18.
19.
20.
21.
22.
23.
24.
25.
26.
27.
28.
29.
30.
31.
32.
33.
34.
What is the difference between elements, compounds, and molecules?
Bulk elements are required in __________________________.
Atomic number is the number of?
Atomic weight is the sum of?
Isotopes are?
What is atomic radiation?
Describe alpha, beta, and gamma radiation.
Atoms with filled valence shells are _____________.
Atoms that gain and lose electrons are?
Positively charged atoms are?
Negatively charged atoms are?
NaCl is an example of an _________________bond.
Covalent bond is __________________________?
Draw the structural formula for O₂, CO₂, and methane.
Why would a molecule be considered polar?
Describe synthesis reactions.
Describe decomposition reactions.
Describe Exchange rxns.
Describe Reversible rxns.
Substances that release ions in water are called?
Electrolytes that release hydrogen ions are called?
Substances that combine with hydrogen ions are called?
What is it called when blood pH falls below 7.3? what happens?
Buffers are used to?
Why are carbohydrates important?
Why are inorganic salts important?
Why are lipids important?
Name several differences between saturated and unsaturated fatty acids.
Name several functions of proteins.
What is the general function of enzymes?
The building blocks of protein are?
Describe the four structural levels of protein.
Compare and contrast DNA & RNA.
What is likely to happen to a protein molecule exposed to intense heat or radiation?