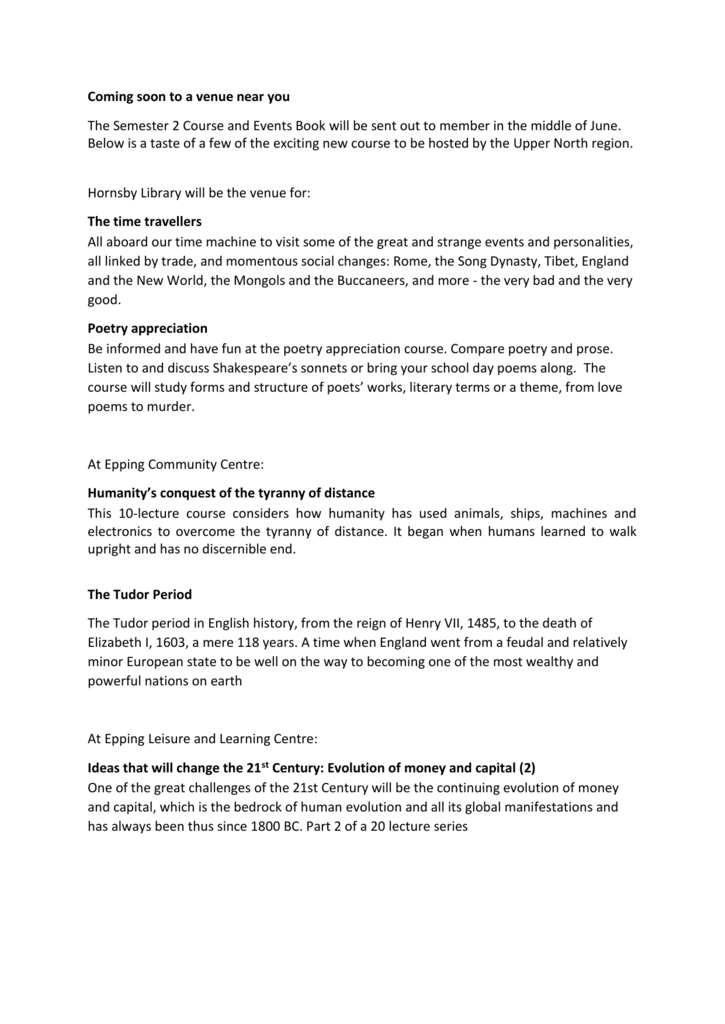 Coming soon to a venue near you
The Semester 2 Course and Events Book will be sent out to member in the middle of June.
Below is a taste of a few of the exciting new course to be hosted by the Upper North region.
Hornsby Library will be the venue for:
The time travellers
All aboard our time machine to visit some of the great and strange events and personalities,
all linked by trade, and momentous social changes: Rome, the Song Dynasty, Tibet, England
and the New World, the Mongols and the Buccaneers, and more - the very bad and the very
good.
Poetry appreciation
Be informed and have fun at the poetry appreciation course. Compare poetry and prose.
Listen to and discuss Shakespeare's sonnets or bring your school day poems along. The
course will study forms and structure of poets' works, literary terms or a theme, from love
poems to murder.
At Epping Community Centre:
Humanity's conquest of the tyranny of distance
This 10-lecture course considers how humanity has used animals, ships, machines and
electronics to overcome the tyranny of distance. It began when humans learned to walk
upright and has no discernible end.
The Tudor Period
The Tudor period in English history, from the reign of Henry VII, 1485, to the death of
Elizabeth I, 1603, a mere 118 years. A time when England went from a feudal and relatively
minor European state to be well on the way to becoming one of the most wealthy and
powerful nations on earth
At Epping Leisure and Learning Centre:
Ideas that will change the 21st Century: Evolution of money and capital (2)
One of the great challenges of the 21st Century will be the continuing evolution of money
and capital, which is the bedrock of human evolution and all its global manifestations and
has always been thus since 1800 BC. Part 2 of a 20 lecture series
At St Ives Uniting Church
Medical school for everyone
Watching doctors investigate and solve medical problems like detectives is a fascinating way
to explore the world of medicine: an adventure filled with clues, false leads and races
against time, factual. DVDs used. Retired anaesthetist will be on hand to explain and discuss
the content.
Experiencing Medieval Europe
A series of DVD sessions taking you through time to the golden ages of 12 of Europe's most
beautiful medieval cities and discover the sights, sounds and smells of teeming markets,
royal feasts and ritual, dramatic military engagements, magnificent religious pageantry and
the many colourful layers of daily medieval life.
Chopin and Liszt
Two pianist/composers who were so very different and yet had so much in common. We
will review their life stories and listen to examples of their music
At Turramurra Uniting Church:
Disharmony: Race, racism and religion
Throughout the world and through all ages, social problems have been primarily created and
affected by race, racism and religion. These three factors are examined and discussed in the
light of their relevance to the present century. The format is lecture/discussion.
Australian political and social history
We will examine change and continuity with regard to many aspects of our lives such as
Consumerism, Capitalism, Alcohol, Crime and the Law, Standardisation and Diplomacy. The
connection between past and present should be fascinating.
At Turramurra Rohini Village
Great Pharaohs of Ancient Egypt
This course of DVDs traces the rise of Egypt from a scattering of villages along the Nile to the
greatest power the world had seen. Power in the world's first nation was concentrated in the
hands of her pharaohs. A compelling history given by a world authority.
Please refer to the course book for booking details.