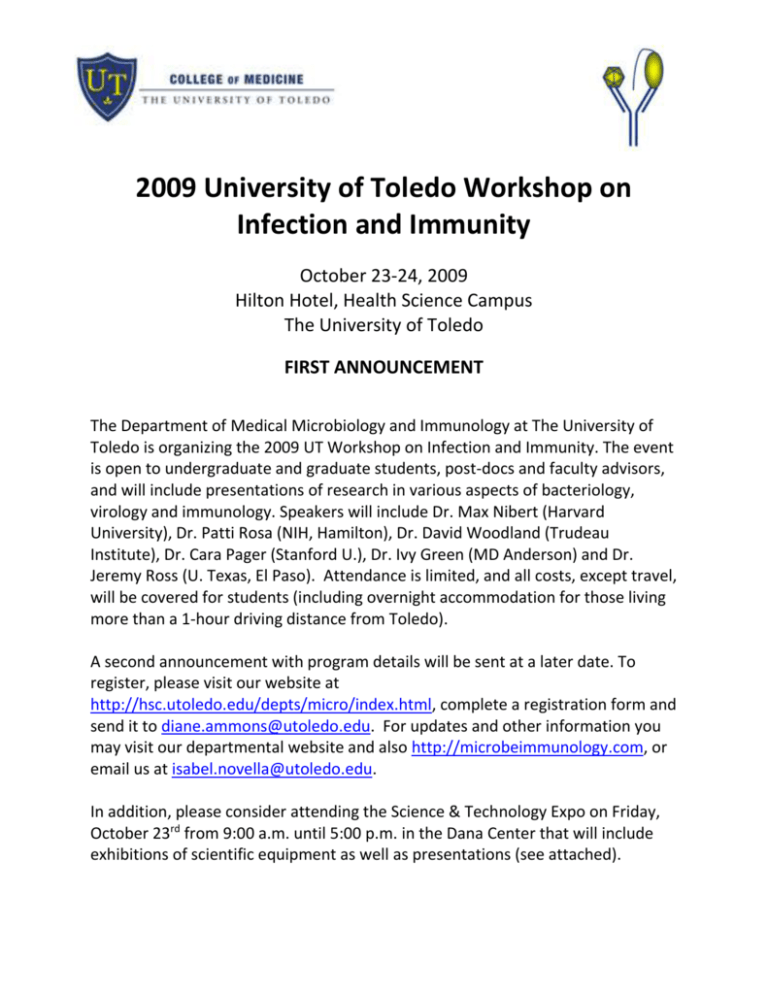 2009 University of Toledo Workshop on
Infection and Immunity
October 23-24, 2009
Hilton Hotel, Health Science Campus
The University of Toledo
FIRST ANNOUNCEMENT
The Department of Medical Microbiology and Immunology at The University of
Toledo is organizing the 2009 UT Workshop on Infection and Immunity. The event
is open to undergraduate and graduate students, post-docs and faculty advisors,
and will include presentations of research in various aspects of bacteriology,
virology and immunology. Speakers will include Dr. Max Nibert (Harvard
University), Dr. Patti Rosa (NIH, Hamilton), Dr. David Woodland (Trudeau
Institute), Dr. Cara Pager (Stanford U.), Dr. Ivy Green (MD Anderson) and Dr.
Jeremy Ross (U. Texas, El Paso). Attendance is limited, and all costs, except travel,
will be covered for students (including overnight accommodation for those living
more than a 1-hour driving distance from Toledo).
A second announcement with program details will be sent at a later date. To
register, please visit our website at
http://hsc.utoledo.edu/depts/micro/index.html, complete a registration form and
send it to diane.ammons@utoledo.edu. For updates and other information you
may visit our departmental website and also http://microbeimmunology.com, or
email us at isabel.novella@utoledo.edu.
In addition, please consider attending the Science & Technology Expo on Friday,
October 23rd from 9:00 a.m. until 5:00 p.m. in the Dana Center that will include
exhibitions of scientific equipment as well as presentations (see attached).