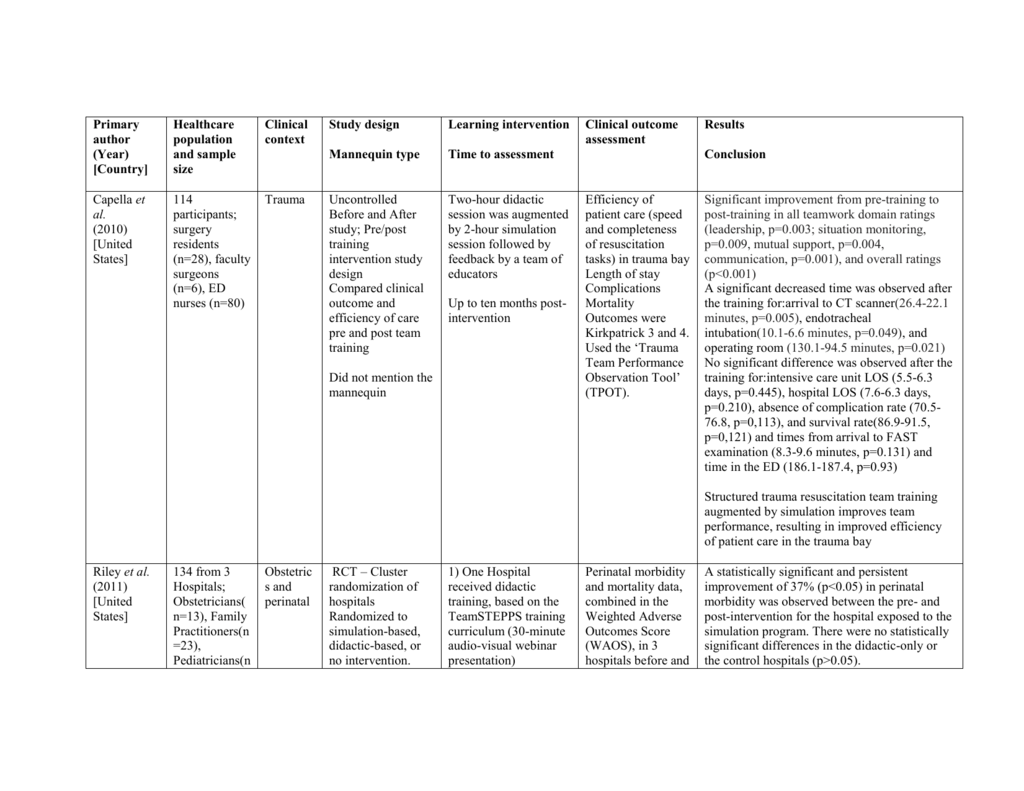 Primary
author
(Year)
[Country]
Healthcare
population
and sample
size
Clinical
context
Capella et
al.
(2010)
[United
States]
114
participants;
surgery
residents
(n=28), faculty
surgeons
(n=6), ED
nurses (n=80)
Trauma
Study design
Learning intervention
Mannequin type
Time to assessment
Uncontrolled
Before and After
study; Pre/post
training
intervention study
design
Compared clinical
outcome and
efficiency of care
pre and post team
training
Two-hour didactic
session was augmented
by 2-hour simulation
session followed by
feedback by a team of
educators
Up to ten months postintervention
Did not mention the
mannequin
Clinical outcome
assessment
Results
Conclusion
Efficiency of
patient care (speed
and completeness
of resuscitation
tasks) in trauma bay
Length of stay
Complications
Mortality
Outcomes were
Kirkpatrick 3 and 4.
Used the 'Trauma
Team Performance
Observation Tool'
(TPOT).
Significant improvement from pre-training to
post-training in all teamwork domain ratings
(leadership, p=0.003; situation monitoring,
p=0.009, mutual support, p=0.004,
communication, p=0.001), and overall ratings
(p<0.001)
A significant decreased time was observed after
the training for:arrival to CT scanner(26.4-22.1
minutes, p=0.005), endotracheal
intubation(10.1-6.6 minutes, p=0.049), and
operating room (130.1-94.5 minutes, p=0.021)
No significant difference was observed after the
training for:intensive care unit LOS (5.5-6.3
days, p=0.445), hospital LOS (7.6-6.3 days,
p=0.210), absence of complication rate (70.576.8, p=0,113), and survival rate(86.9-91.5,
p=0,121) and times from arrival to FAST
examination (8.3-9.6 minutes, p=0.131) and
time in the ED (186.1-187.4, p=0.93)
Structured trauma resuscitation team training
augmented by simulation improves team
performance, resulting in improved efficiency
of patient care in the trauma bay
Riley et al.
(2011)
[United
States]
134 from 3
Hospitals;
Obstetricians(
n=13), Family
Practitioners(n
=23),
Pediatricians(n
Obstetric
s and
perinatal
RCT – Cluster
randomization of
hospitals
Randomized to
simulation-based,
didactic-based, or
no intervention.
1) One Hospital
received didactic
training, based on the
TeamSTEPPS training
curriculum (30-minute
audio-visual webinar
presentation)
Perinatal morbidity
and mortality data,
combined in the
Weighted Adverse
Outcomes Score
(WAOS), in 3
hospitals before and
A statistically significant and persistent
improvement of 37% (p<0.05) in perinatal
morbidity was observed between the pre- and
post-intervention for the hospital exposed to the
simulation program. There were no statistically
significant differences in the didactic-only or
the control hospitals (p>0.05).
=14),
registered
nurse(n=65),
certified
registered
nurse
anesthetist(n=
18), physician
assistant(n=1)
Groups were
compared using
clinical outcome
scores.
Did not mention the
mannequin
2) One hospital
received TeamSTEPPS
augmented by repeated
in-situ simulation
training; total 11
sessions (30 to 45
minutes each) then 2h
debriefing session
3) One hospital had no
intervention (Control)
Up to ten months postintervention
Steinemann
et al.
(2011)
[United
States]
137 team
members;
staff surgeons
(n=9), staff
ED physicians
(n=21),
residents
(n=24),
physician
assistants
(n=3), nurses
(n=44),
respiratory
therapists
(n=23), and
technicians
(n=13)
Trauma
Uncontrolled
Before and After
study; Pre/post
training
intervention study
design
compared clinical
outcome pre and
post team training
during actual
trauma
resuscitations
Simman®
(Laerdal®)
The intervention was a
high-fidelity simulatorbased, in situ team
training:
(1) an online pretest
and one-hour webbased presentation; (2)
a three-hour simulation
session, comprised of a
30 minute didactic plus
2½ hours of
videotaping and
debriefing scenarios
(19 sessions with 3
scenarios in each);
(3) an online post-test.
Up to ten months postintervention
after intervention,
calculated quarterly
up to 10 months
after the
intervention.
Safety Attitudes
Questionnaire
(SAQ)to measure
the subjective
impression of the
culture of safety at
each hospital before
and after a one year
period of
intervention
Efficiency of
patient care (the
speed and
completeness of
resuscitation tasks)
during 141 actual
trauma
resuscitations
before the
intervention and
103 after.
Blood transfusion
Procedures
Length of stay
Mortality
Also measured
process of care
(behaviour:
Kirkpatrick 3).
Used the 'NonTechnical Skills
Scale for Trauma'
No significant change in the perception of
culture of safety (p>0.05) at the 3 hospitals
Interdisciplinary in situ simulation training is
effective in decreasing perinatal morbidity and
mortality for perinatal emergencies
Didactics alone were not effective in improving
perinatal outcomes
Significant improvements in the objective
parameters of speed and completeness of
resuscitation: 76% increase in the frequency of
near-perfect task completion (p<0.001) and
reduction by 16% of mean overall ED
resuscitation time (p<0.05)
Significant increase in CRM performance scores
from the pre-to post-training periods (TNOTECHS score 16.7 to 17.7, p<0.05). There
was a 76% increase in the frequency of nearperfect task completion. The mortality rate,
mean ICU and hospital LOS were not
significantly different before and after the
training all p>0.05)
A relatively brief (4 hour) simulation-based
curriculum can improve clinical performance of
multidisciplinary trauma teams and patients'
outcomes
Andreatta et
al.
(2011)
[United
States]
Phipps et al.
(2012)
[United
States]
228, junior
and senior
pediatric
medicine
resident with
code team
members:
RNs, medical
students,
pediatric
hospitalists,
pharmacists)
About 185
subjects(186
Pre CRM, 120
post CRM);
obstetrician,
perinatologist,
Labor and
delivery RN,
certified nurse
midwives,
Anesthesiologi
s, certified
registered
nurse
anesthetists,
Resident
physician
/fellow
Pediatric
s
resuscitat
ion
Mixed quantitative
and qualitative
methodsLongitudinal cohort
study for 4 years
Observed patients'
outcome as the
training occur over
several years
METI Pediatric
HPS® (METI®) or
SimBaby®
(Laerdal®)
Obstetric
s and
perinatal
ITS Patient outcomes
were assessed using
data collected
quarterly for 8
quarters prior to
initiating the
program and for the
6 quarters after
implementing
the program
Hospital wide,
multidisciplinary
simulation -based
CRM intervention
was applied to
assess clinical
outcome data
collected 8 quarters
Participants responded
to 252 pediatric
resuscitations mock
codes randomly, at the
frequency of at least
once a month in the
hospital
Events were recorded
and used for immediate
debriefing facilitated
by clinical faculty to
provide subjects
feedback about their
performance
Up to several years
post-intervention
CRM was taught using
a didactic portion
lasted 4 hours, and was
followed 3-7 days later
by a 4-hour highfidelity medical
simulation (2
scenarios) and
debriefing session
Up to several years
post-intervention
(T-NOTECHS).
Hospital records for
real pediatric
resuscitation
survival rates
through the 48month study
duration
After the routine integration of the formal mock
code program into residency curriculum,
resuscitation survival rates significantly
increased from 33% to 50% within 1 year, in
increments that correlated with the increasing
number of mock code events (r =0.87), and held
steady for 3 consecutive years
Simulation-based mock codes can provide a
sustainable and transferable learning context for
advanced clinical training and assessment that
ultimately decreased mortality for pediatric
resuscitations
The Adverse
Outcomes Index
(AOI); Healthcare
professionals
attitude towards
culture of safety
using the Agency
for Healthcare
Research and
Quality (AHRQ)
Hospital Survey on
Patient Safety
Culture;
Patient satisfaction.
AOIs significantly decreased from 0.052 (95%
CI:0.048-0.055) at baseline to 0.043 (95%:CI,
0.04 – 0.047).
Overall, the frequency of event reporting and
the overall perception of safety did not change
significantly.
No change in patient perception but were
satisfied >90% even before the intervention
Using the combination of a didactic and
simulation-based CRM training was noted to
improve patient outcomes
pre-interruption and
6 quarters post
interruption.
Noel® (Gaumard®)
CRM = crisis resource management; ED = emergency department; ITS = interrupted time series; MD = medical doctor; RCT = randomized controlled trial; RN
= registered nurse; WAOS = weighted adverse outcomes score; LOS = length of stay.