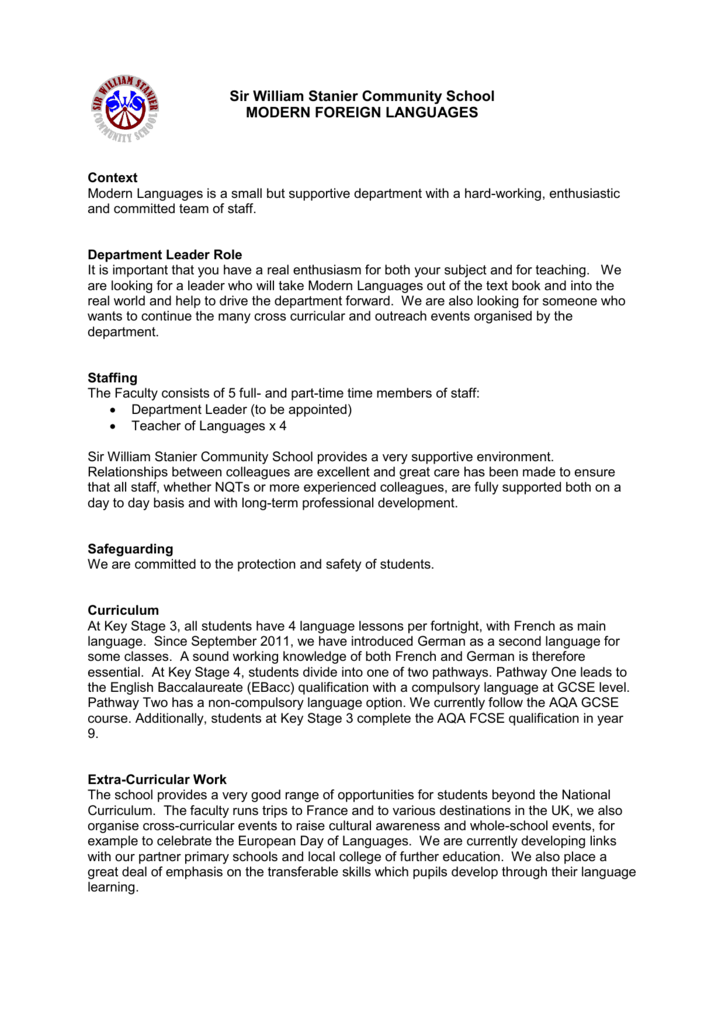 Sir William Stanier Community School
MODERN FOREIGN LANGUAGES
Context
Modern Languages is a small but supportive department with a hard-working, enthusiastic
and committed team of staff.
Department Leader Role
It is important that you have a real enthusiasm for both your subject and for teaching. We
are looking for a leader who will take Modern Languages out of the text book and into the
real world and help to drive the department forward. We are also looking for someone who
wants to continue the many cross curricular and outreach events organised by the
department.
Staffing
The Faculty consists of 5 full- and part-time time members of staff:
 Department Leader (to be appointed)
 Teacher of Languages x 4
Sir William Stanier Community School provides a very supportive environment.
Relationships between colleagues are excellent and great care has been made to ensure
that all staff, whether NQTs or more experienced colleagues, are fully supported both on a
day to day basis and with long-term professional development.
Safeguarding
We are committed to the protection and safety of students.
Curriculum
At Key Stage 3, all students have 4 language lessons per fortnight, with French as main
language. Since September 2011, we have introduced German as a second language for
some classes. A sound working knowledge of both French and German is therefore
essential. At Key Stage 4, students divide into one of two pathways. Pathway One leads to
the English Baccalaureate (EBacc) qualification with a compulsory language at GCSE level.
Pathway Two has a non-compulsory language option. We currently follow the AQA GCSE
course. Additionally, students at Key Stage 3 complete the AQA FCSE qualification in year
9.
Extra-Curricular Work
The school provides a very good range of opportunities for students beyond the National
Curriculum. The faculty runs trips to France and to various destinations in the UK, we also
organise cross-curricular events to raise cultural awareness and whole-school events, for
example to celebrate the European Day of Languages. We are currently developing links
with our partner primary schools and local college of further education. We also place a
great deal of emphasis on the transferable skills which pupils develop through their language
learning.
Accommodation
The school was newly built in September 2009 and offers state-of-the-art facilities. All
classrooms have interactive whiteboards and each faculty has its own set of laptops for pupil
use. All teaching staff are provided with their own computer and lap-top.
The Languages department enjoys excellent facilities, with 3 large classrooms, each
equipped with an interactive whiteboard, and a suite of laptops for use within the faculty.
If you are passionate about teaching Languages and are seeking an exciting opportunity as
a Department Leader then we would like to hear from you.